Tesla's New CFO Will Have To Do Double Duty In New Position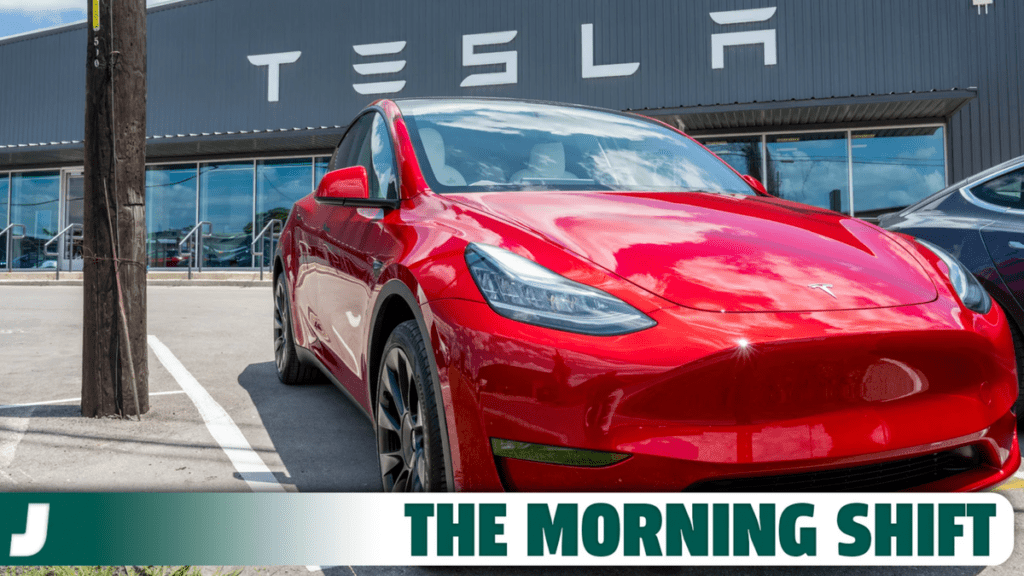 Good morning! It's Tuesday, August 8, 2023, and this is The Morning Shift, your daily roundup of the top automotive headlines from around the world, in one place. Here are the important stories you need to know.
The Hype Behind Tesla Stock Success In 2023
1st Gear: Tesla's New CFO Has Two Jobs
Vaibhav Taneja will serve as Tesla's new chief financial officer after Zach Kirkhorn, a 13-year veteran of the automaker, abruptly stepped down from his post. It all sounds fairly normal until you realize that Taneja already serves as Tesla's chief accounting officer, and he will continue to do so. It's a big change for the Austin, Texas-based company. From Bloomberg:
While Kirkhorn has been a calm, steady presence and regularly spoke at length with investors, even playing the role of Musk's surrogate the time he skipped Tesla's earnings presentation, Taneja is less well-known. He worked for Tesla's accounting firm and later at SolarCity, a troubled company many investors wish the EV maker hadn't acquired. He has spoken briefly on just one Tesla earnings call, back in early 2019.
[…]
The change comes at a critical time for Tesla. The company is building a new factory in Mexico and preparing to bring its Cybertruck pickup to the market as it fends off rivals in the increasingly crowded EV market. Tesla has been cutting prices across its lineup to maintain its position atop the electric-car industry, and profitability has taken a hit.
Taneja started his career in New Delhi. He graduated in 1999 with a bachelor's degree in commerce from Delhi University, according to his LinkedIn profile. He then spent almost 17 years at PricewaterhouseCoopers, Tesla's longtime accounting firm.
He joined SolarCity in 2016 and became corporate controller. Tesla soon thereafter acquired the solar panel installer. The automaker's shareholders later sued Musk and Tesla's board, accusing them of hiding SolarCity's financial woes.
Bloomberg reports that he became Tesla's corporate controller back in May of 2018, and he was named chief accounting officer in March of 2019. He also apparently owned about 105,000 shares of Tesla stock as of last month, according to the outlet. That take is currently valued at about $26 million. Good for him.
2nd Gear: Lucid Isn't Too Worried About Money Yet
Lucid may have just posted a second-quarter net loss of $764.2 million, but it isn't worried about that at all. The automaker reportedly says it expects better sales in the second half of the year through price cuts and lots of deliveries in Saudi Arabia as well as the launch of a new version of its Air sedan.
The big driver behind this optimism is the fact that the Saudi government has agreed to buy 50,000 Lucids over the next 10 years. Cars will also be sold to consumers in the country as well. From Automotive News:
The Public Investment Fund of Saudi Arabia is the majority shareholder of Lucid Group, of Newark, Calif., and recently purchased an additional $1.8 billion in shares as part of a $3 billion stock offering to boost Lucid's cash position.
Lucid reported a second-quarter net loss of $764.2 million on Monday compared with a loss of $553.3 million in the same quarter last year. Revenue grew 55 percent to $150.9 million on deliveries of 1,404 vehicles.
[…]
In addition, Lucid expects to start limited production of the Air in Saudi Arabia in September by sending partially assembled vehicles from the U.S. to a new Saudi plant that will finish the production process, Rawlinson said.
So far this year, Lucid has produced 4,487 Airs and delivered 2,810. The build-up of vehicle inventory pushed Lucid to offer deep discounts starting on Saturday. The base price of the Air was cut by $5,000 to $84,050 with shipping.
Lucid says its 2023 production goal is still 10,000 units, and its "cheaper" Air Pure sedan with rear-wheel drive is also coming soon. Its second vehicle, the Gravity crossover will be formally unveiled in November of this year.
3rd Gear: Miata Is Not The Answer For Mazda
Mazda is back in the black after its Q2 earnings report, thanks in no small part of strong U.S. deliveries of its crossovers like the CX-50 and CX-90. Both those vehicles help the Japanese automaker reverse a loss from the year before and put the brand on track to nearly beat its U.S. sales record. From Automotive News:
Operating profit rang up at 30.0 billion yen ($207.5 million) in the company's fiscal first quarter ended June 30, wiping out an operating loss of 19.5 billion yen ($134.9 million) a year earlier, the company said in a statement.
Net income more than doubled to 37.2 billion yen ($257.3 million), from 15.0 billion yen ($103.8 million), as revenue climbed 72 percent to 286.0 billion ($1.98 billion) in the three-month period.
Global sales expanded 32 percent to 309,000 vehicles in the quarter, soaring on the wings of a 61 percent jump in North American shipments to 128,000 vehicles.
Sales in Europe, Mazda's second-biggest market, rose 46 percent to 44,000.
Mazda's new CFO reportedly said that a number of larger crossovers, like the CX-90 in North America and CX-60 in Europe and Japan, create about double the per-unit profit as Mazda's average vehicle sold.
4th Gear: Self-Driving Car Companies Await SF's Decision
San Francisco has long been, in essence, the wild west when it comes to self-driving vehicle development, but just how wild it is may be changed this week. The California Public Utilities Commission is reportedly scheduled to decide whether Cruise (a General Motors subsidiary) and Waymo, a couple of U.S. robotaxi development companies, can expand their presence in the city.
Both of these companies have reportedly spent a whole lot of money and used a ton of operational resources in order to prepare for widespread commercial deployments in The Golden City. From Automotive News:
But the commission has twice delayed decisions on their respective applications in recent months amid an increasing backlash on self-driving vehicles, resistance from labor unions and concern about the cars' performance in interactions with emergency responders.
Further delays or an outright rejection of their applications would have implications not only for continued AV developments in San Francisco, but could affect how self-driving vehicles are perceived and regulated in other markets.
[…]
Further delays or an outright rejection of their applications would have implications not only for continued AV developments in San Francisco, but could affect how self-driving vehicles are perceived and regulated in other markets.
Whether the commissioners evaluate the performance of the individual companies or lump them together as they consider the applications remains one unknown headed into Thursday's meeting.
GM's Cruise first began its driverless commercial service in a handful of San Francisco neighborhoods in June 2022 between 10 a.m. and 5 p.m. It's looking to expand throughout the city and offer service during daytime hours.
Waymo has been around a while longer. It's been testing AVs on San Francisco streets since its inception back in 2009. It currently carries passengers who are part of a "Trusted Tester" program and cannot charge for those rides. Its pending application would allow it to start driverless commercial services in the city.
Reverse: One Tricky Dick
Neutral: It's Chewsday
IT'S CHEWSDAY, INNIT?
On The Radio: Taylor Swift – "I Can See You" (Taylor's Version)"
Taylor Swift – I Can See You (Taylor's Version) (From The Vault) (Official Video)