Spring is just around the corner, and it's time to get your garage goodies all up to snuff. This might include pumping up your tires, bike tubes, and basketballs.
Pro Series Garage Inflator
But what's a fast, easy way to do that? Not all of us can afford big air compressors, and hand pumps are a drag. But there is something that combines the best of both worlds—and we tried it out.
Enter the Slime Pro-Series Garage Inflation Station. Just mount it on your wall with the included four screws, plug into any 120-volt wall outlet, and you're ready to get going. We were impressed with the ease of installation and the attachment kit that came along in the package. Inside this kit are a ball needle, valve-stem caps, and other adapters.
The 25-foot retractable hose works well, locking and retracting without any issues. At the end of that hose is a digital gauge that allows you to change the unit of measurement, as well as a connection tip that easily screws onto valve stems.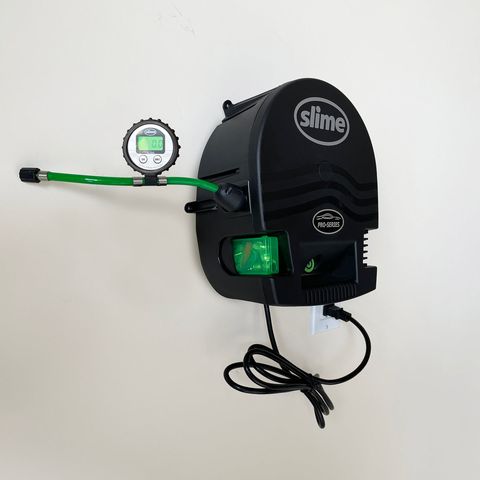 Slime
Just connect the hose, turn on the gauge to display the current air pressure, push the power button on the main inflator unit, and let it run until the desired pressure is reached. Easy-peasy.
We'd like the power cord to be a bit longer, as the six-foot length limits your mounting location a bit without using an extension cord. We also wish that there was the ability to set your desired pressure and have an auto shut-off function, but it'll keep inflating until you hit the power button again. Those quibbles aside, the Garage Inflation Station operated as advertised. It's definitely worth picking up in time for spring.
This content is created and maintained by a third party, and imported onto this page to help users provide their email addresses. You may be able to find more information about this and similar content at piano.io