The 2023 Chevrolet Colorado ZR2 Has Substantially Upped Its Game
Michael Simari|Car and Driver
"Reset your trip odometers when you get to the steer standing on the small hill next to the trail," came the call over the radio. You'd think that using a potentially mobile animal as a waypoint would be an unwise move, but the longhorn was on his territory. He stood stock-still (as only stock can do) and stared balefully as the queue of 2023 Chevrolet Colorado ZR2 pickups filed respectfully past.
Once clear, we dialed our ZR2 into Baja mode, put the hammer down, and sent stones and dirt flying. This was our second day attacking the highly variable and uneven terrain of the Best in the Desert series's Las Vegas-to-Reno off-road race course, and the new ZR2 was completely in its element. Plumes of dust erupted from the truck's haunches as we careened along the various rocky, silty, and dusty two-track trails and wash-bottoms, and we found ourselves chortling when the lead truck called out the occasional "good graded road" that made us question the applicability of all three words.
play iconThe triangle icon that indicates to play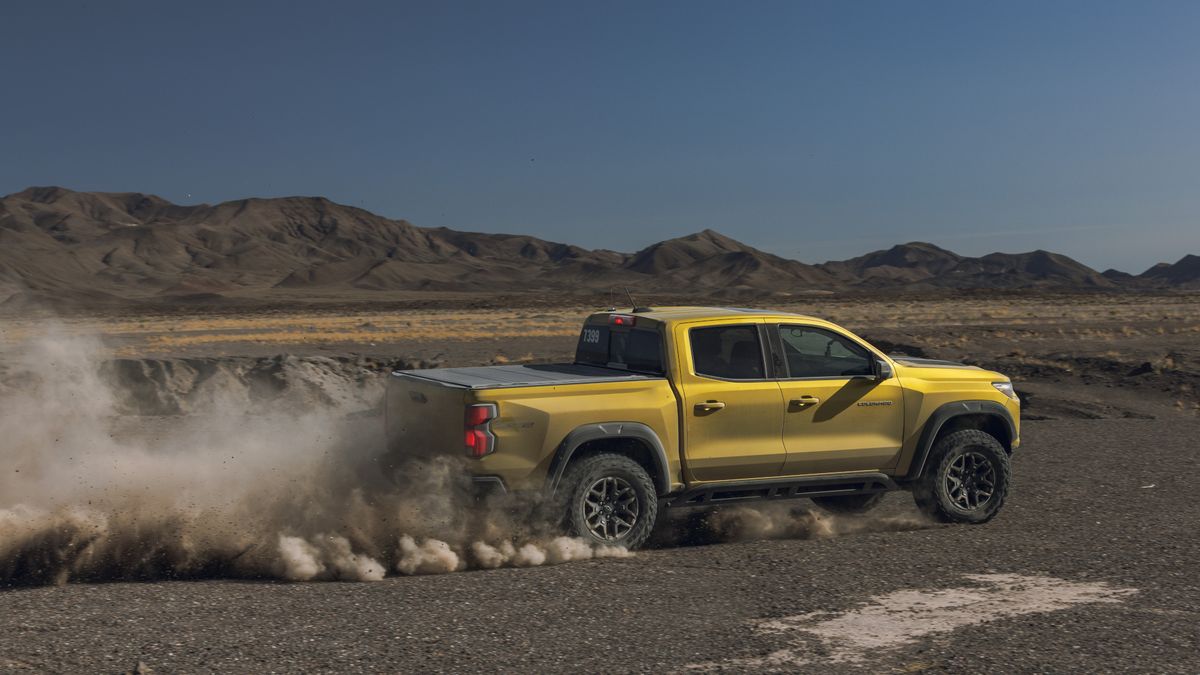 The previous-generation Colorado ZR2 would not have fared nearly as well on this terrain, particularly at this pace. Sure, it also had off-road tires, decent clearance, front and rear locking differentials, and durable Multimatic DSSV spool-valve dampers, but the underlying Colorado on which it was based was not great source material. The new 2023 Chevrolet Colorado is demonstrably better in almost every respect, and that makes for a significantly more capable and credible ZR2 off-roader.
More on the Colorado Pickup
As it turns out, the Colorado's 2.9-inch wheelbase stretch looms large here. GM essentially moved the front axle forward by that amount relative to the front door hinge line and nearby body mount, and that created space for much larger tires. The last-gen ZR2's 31-inch rubber looks puny next to this year's standard 33-inch Goodyear Wrangler Territory Mud Terrains, but the magnitude of this change will also allow for the fitment of 35-inch tires on the ZR2 Bison prototype that Chevy teased at trail's end. It's enough to bring a Tacoma owner to tears, because the dubious "body mount chop" is necessary to fit similar-size tires on that truck.
Larger tires allow the new ZR2 to roll over cross-grain gullies that would snag smaller tires, and the extra inch of tire radius also amounts to one inch of the new truck's 1.8 inches of extra ground clearance, now 10.7 inches instead of 8.9 inches. The rest comes from a suspension lift, but it's more than rejiggered springs. There's also a significant gain in suspension travel; the front's total increases from 8.7 to 9.9 inches, and the entire surplus has been allocated to the compression side. In back, total travel increases from 9.8 to 11.6 inches, with compression and rebound sharing the bounty. Extra travel equals less bottoming out and an enhanced ability to progressively absorb uneven terrain, but it also leads to better crawling articulation on boulders—and our RTI ramp.
Up front, the approach angle improves from 30.0 degrees to a healthy 38.3 degrees because the transformative wheelbase stretch was offset by a similar reduction in front overhang to keep the truck's overall length in check. The front fascia retains the ZR2-signature cutouts ahead of the front tires to make the approach angle in that crucial area even more aggro, but they're more cleanly integrated into the overall design because less cutting is necessary when you have a stubbier nose to work with.
Additional significant changes are found in back. The last ZR2's lower rear shock mounts were positioned extremely inboard and low down. You had to cope with three points of potential contact when straddling rocks, not just the differential in the middle. Normal 2023 Colorados position them closer to the leaf springs, but they're still inboard. The wide-track ZR2 has the right answer: Its rear Multimatic DSSV dampers now live outboard of the leaf springs and the frame rails, and the lower mount is tucked up tight against the brake backing plate, like on a Tacoma. What's more, the spare tire is positioned some 2.5 inches higher and no longer looks like someone forgot to crank it all the way up, letting it drag ass through ditches.
The new-to-the-Colorado turbocharged 2.7-liter inline-four engine was a welcome surprise, because it pulls strong and sounds powerful–especially in Baja mode, where the eight-speed automatic transmission willingly holds onto gears under power and downshifts when braking. The ZR2's high-output tune makes 310 horsepower versus the old V-6's 308 horses, but torque is the big differentiator, with 430 pound-feet of the stuff on tap at 3000 rpm versus the old model's measly 275 pound-feet at 4000 revs. No one should mourn the discontinued diesel, which only gave up 369 pound-feet and a meager 181 horsepower and saddled you with a six-speed automatic. This new singular ZR2 powertrain is miles better than both predecessors in all respects, and its EPA rating of 18 mpg combined (17 city/19 highway) is 1 mpg better across the board than last year's V6.
The Baja mode we relied on is exclusive to the ZR2, and you can engage it in two- or four-wheel drive. In addition to the more aggressive shift action, Baja also runs with traction and stability control off, which let us hang the tail out and rally the truck through tighter bends. The same aggressive approach in the more straightforward Off-Road mode leads to frequent ESC interventions, less fun, and stinky rear brakes. Terrain mode, which caps the truck's speed at 50 mph, is an exceptional off-road creep mode with one-pedal drive action that seems more at home tiptoeing over rocks than it does on any EV. Tow/Haul mode is here, along with an integrated trailer brake controller, befitting a ZR2 good for 6000 pounds instead of last year's 5000 pounds.
Inside, the ZR2 is clearly better than its predecessor, looking more bespoke than parts-bin. Like the other trims, the ZR2 features the same 11.3-inch touchscreen with Google built-in, along with logically arrayed climate controls. Its stitched-dash treatment looks better than the Z71's padding, and the faux-camo trim insert is attractive. The seats feel full-size, not seven-eighths scale. But the indoors is also where the ZR2's biggest flaws reside. The rental-spec dash and door-panel graining and gloss make no attempt to hide the truck's hard-plastic composition. The headlight controls are on the touchscreen, albeit with a clairvoyant "Auto" setting and ever-present access icon. Too much usable stuff is buried in said touchscreen, such as the trip-meter reset we went hunting for when we drew level with the bull.
All told, the new Colorado ZR2 is something its predecessor was not: an extremely well-rounded and capable off-road mid-size truck that performs at a high level and wants for little. That it costs just $1600 more than last year's model is frankly remarkable. The Toyota Tacoma TRD Pro is no longer a match, and the 2024 Tacoma is going to have to make a giant step of its own to keep up. What about Ford's upcoming Ranger and Ranger Raptor? Time will tell, but there's an even more capable ZR2 Bison waiting in the wings.
Arrow pointing downArrow pointing down
Specifications
Specifications
2023 Chevrolet Colorado ZR2

Vehicle Type: front-engine, rear/4-wheel-drive, 5-passenger, 4-door pickup
PRICE

Base ZR2, $48,295; Desert Boss Special Edition, $58,285
ENGINE
turbocharged and intercooled DOHC 16-valve inline-4, aluminum block and head, direct fuel injection

Displacement: 166 in3, 2727 cm3

Power: 310 hp @ 5600 rpm

Torque: 430 lb-ft @ 3000 rpm
TRANSMISSION

8-speed automatic
DIMENSIONS

Wheelbase: 131.4 in

Length: 212.7 in

Width: 76.3 in

Height: 81.8 in

Passenger Volume, F/R: 58/43 ft3

Curb Weight (C/D est): 5000 lb
PERFORMANCE (C/D EST)

60 mph: 6.5 sec

1/4-Mile: 14.0 sec

Top Speed: 100 mph
EPA FUEL ECONOMY

Combined/City/Highway: 18/17/19 mpg

Technical Editor
Dan Edmunds was born into the world of automobiles, but not how you might think. His father was a retired racing driver who opened Autoresearch, a race-car-building shop, where Dan cut his teeth as a metal fabricator. Engineering school followed, then SCCA Showroom Stock racing, and that combination landed him suspension development jobs at two different automakers. His writing career began when he was picked up by Edmunds.com (no relation) to build a testing department.