The 2024 Porsche 718 Spyder RS Sends The Platform Out With A Scream
It's been a week now since I drove the 2024 Porsche 718 Spyder RS in the rolling hills of the Swabian Alps in Germany. Normally I don't get this much time to reflect on a day of driving a new car before writing about it, but I'm glad that in this case, I did. See, the 718 Spyder RS is a relatively simple car, but it generates some complex feelings in me, not the least of which is regret because this will be the last mid-engine internal combustion vehicle to come from Zuffenhausen. With that weight on its shoulders, the Spyder RS needs to make a statement. But does it succeed?
Porsche's Latest Concept Is The Sexy Electric EV HyperCar Of Our Dreams
To start, the easiest way to describe the 718 Spyder RS is as the roofless sibling of the Cayman GT4 RS. They share a drivetrain – the 911 GT3's 4.0-liter 9,000-rpm 500-hp flat-six and that car's seven-speed PDK dual-clutch gearbox, exclusively – and they share some body panels, too, plus an interior (minus the roof, obvs). Where they differ is in their intended purpose and the tuning that Porsche GT czar Andy Preuninger has given them to achieve that purpose.
Photo: Porsche
Where the Cayman GT4 RS is a hardcore track-rat's dream, with unflinching suspension and a big adjustable wing out back, the 718 Spyder RS is meant as a car for the road and for driving engagement. It's a softer, more comfortable car (though given the quality of German roads, it's hard to say by how much that's noticeable) with less aero thanks to a shorter front lip and the change to a ducktail spoiler with Gurney flap (or wicker bill if you're a Corvette engineer reading this).
If you're thinking that it's weird that a Porsche product with a big fat RS at the end of its model name being set up for fast, fun road driving is weird, you're not wrong. When compared to something like the utterly bananas 911 GT3 RS, it almost doesn't make since that Porsche didn't call it something else. Still, I will confirm to you now that this car is still razor sharp and impossibly quick down a curvy road – likely quicker and sharper than you are as a driver, if we're being honest. Luckily, it's still a fairly forgiving car, and Porsche's electronic safety systems are among the best in the business, so you're not likely to need your brown pants if you take the car out for a real rip.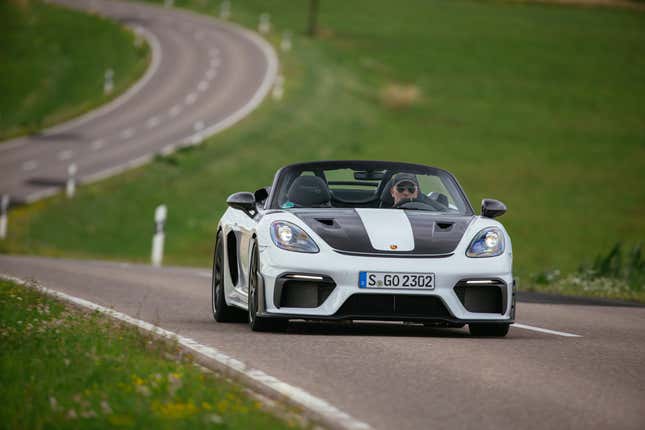 Photo: Porsche
The suspension setup is mechanically almost identical to what you'd find on the GT4 RS, just with significantly reduced spring rates. It's still heim-jointed and ultra-adjustable, and while you'd normally feel and hear all the vibrations, clunks, creaks and rattles that a hard-mounted suspension brings with it, in this car, you don't, and that brings me to the next best thing about the Spyder RS: the intakes.
If you've read anything about the GT4 RS, then you've likely heard people wax on about the car's epic, all-consuming intake noise. With that air-hungry GT3 motor spinning at 9,000 rpm, those side window-mounted air scoops make for one hell of a racket, and in the Spyder, that racket is even wilder because the intakes are open and mounted pretty much right by your head.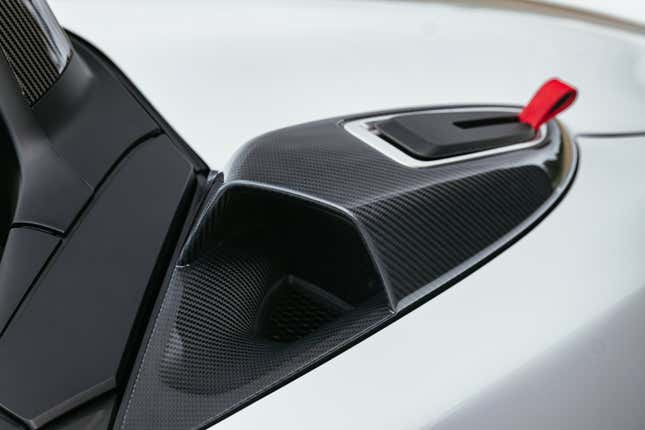 Photo: Porsche
During the press drive, my co-driver used a phone app to measure the volume of that intake honk under full throttle. He saw a high of 106 dB. Of course, a phone app isn't that accurate, but even if it's off by five decibels, that's still loud enough to cause permanent hearing damage after 30 minutes. This is the first time I've wanted a pair of earplugs in a stock road car and while that's undoubtedly gnarly, it's also pretty fucking rock-and-roll if you ask me.
Everything else about the car and how it drives is more or less fantastic, but that shouldn't come as a surprise. The 718 platform is now pretty old and extremely well-sorted. The drivetrain is a known quantity and one of the best ever created, though I do lament the lack of a manual transmission option. The reason it doesn't have one is two-fold. First, the six-speed from the 911 wouldn't fit (the axles are in the wrong place) and redeveloping it to work with a mid-engine platform just wasn't cost-effective. Secondly, Porsche maintains that RS models should be dual-clutch only since it's faster.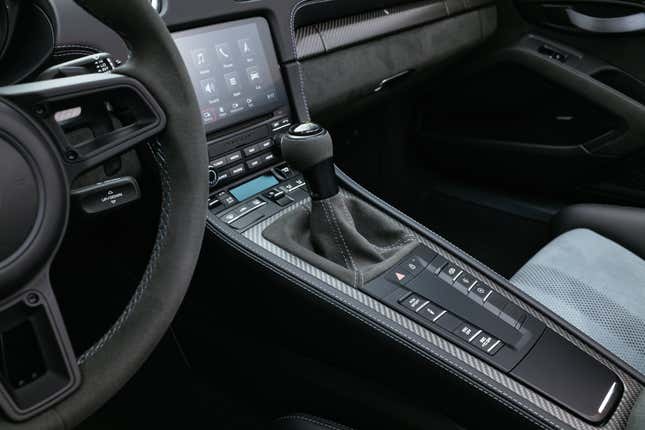 Photo: Porsche
The 718 Spyder's other trick is its relatively light (at least by today's standards) curb weight of 3,109 lbs (in European trim). That makes the car a whopping 88 pounds lighter than the PDK Boxster Spyder and 11 pounds lighter even than the Cayman GT4 RS. That delta increases if you buck up for the Weissach package which adds a bunch of carbon fiber bits and a titanium exhaust and you can spend even more ($15,650, to be specific) on magnesium wheels, which drop a total of 22 lbs of unsprung and rotating mass.
The other big change from the 718 Boxster and Boxster Spyder is the move to a completely manual roof. The only power component is you popping the rear clamshell to access the roof and most of its fixings. As manual roofs go, this one feels a little bit too DIY, but it's not unmanageable, it offers two more ways to experience the car and it looks dope when its up. It's a single layer of fabric, and the hard parts are mostly carbon fiber, so it's wicked light. How light? Try 40 pounds, all in, and you can just leave most of that 40 lbs at home if you're convinced it won't rain. Bonus!
Here's a phone video of me trying to put it up after having done it for practice a few times. I apologize for the wind noise and for being a spaz, but it was really windy.
Putting on the 2024 Porsche 718 Spyder RS' manual top
The midway position with the main part of the top up, but no wind deflector/rear window might be my favorite way to drive the car. It acts like a sun sail and offers up plenty of weather protection but doesn't curb any of that giggle-inducing and ear-splitting intake sound. One major annoyance with the top is that if it's installed, you can no longer open the rear clamshell. You have to unbuckle the two rear tensioning flaps (manually, on each side of the car) before you can access the rear trunk. Is it a dealbreaker? No. Does it kind of suck? Yeah, but that's why you have a big front trunk to use, right?
So, we've so far established that the 2024 Porsche 718 Spyder RS is a wicked fast and super agile mid-engine sports car that is way less convenient to have and use than a regular ol' 718 Boxster. We've established too that this isn't the car for you if you're trying to go out and chase lap times. Lastly, we've established that this car will probably ruin your hearing permanently but that it's worth it. With all that, does the 718 Spyder RS make a big enough statement to justify its lofty $162,350 starting price (including a $1,650 destination charge)?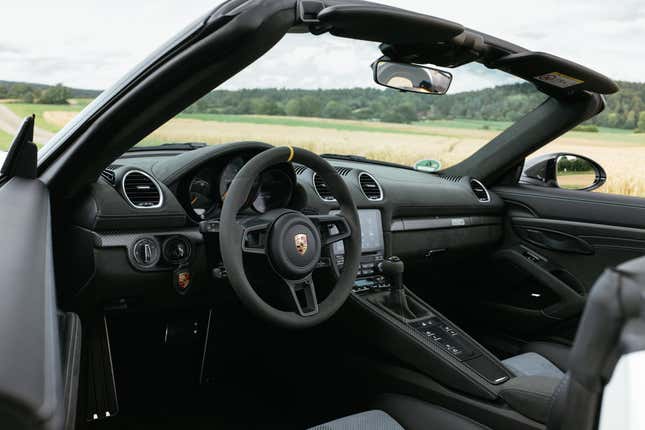 Photo: Porsche
Hell yes, it does. It feels like the GT department's love letter to the outgoing mid-engine chassis, and it also feels like Andy and his crew letting loose a little bit and making the kind of car that they'd want to drive rather than one that's out to set Nurburgring lap times. It's special, and for so many reasons, it's an easy car to love. I can't wait to spend more time in it on my home roads, where my wife and I can share a pair of earplugs (left for me, right for her) and let that beautiful flat-six yowl its guts out.
The 2024 718 Spyder RS is set to hit the US market in early 2024, but the always-absurdly-granular Porsche configurator is live now, so show me your ideal spec. Here's how I'd have mine: