The HANS Device Came Too Late
Photo: effrey Vest/Icon SMI/Corbis/Icon Sportswire (Getty Images)
If you don't have an active interest in motorsports history, you might be shocked to learn that much of the gear that a driver wears today was considered either optional or simply didn't exist even a few decades ago. (If you do have an interest in motorsports history, you won't be shocked at all.) One really good example of this is the HANS device, which stands for Head and Neck Support.
The HANS device has a much shorter history than you might expect, given its current ubiquity at race tracks across the world, and the road to its widespread adoption is one paved with more than a few likely preventable deaths, including possibly Dale Earnhardt Sr. However, it was the death of Renault's US racing boss Patrick Jacquemart in 1981 that spurred the HANS device into being.
Jacquemart was responsible for importing three road-going Renault 5 Turbos into the US to compete in IMSA's GTU class and working to turn them into rolling billboards for Renault's floundering Le Car (aka a rebranded Renault 5 hatchback). Unfortunately, Jacquemart was killed after colliding head-on with a dirt embankment during testing at Mid-Ohio raceway, resulting in what's known as a basilar skull fracture.
The American Renault that changed motorsport forever
A basilar skull fracture often occurs when a body in motion collides with something, and the skull keeps traveling forward as the body slows rapidly, resulting in a fracture of the bones at the base of the skull. These are considered to be among the most serious head injuries. They are also not only not mitigated by wearing a helmet, they, in many cases, are made worse by it because of the helmet's extra mass.
After hearing of Jacquemart's injury, friend and fellow racer Jim Downing figured out what was happening with these fatal head-on collisions and worked with his brother-in-law, biomechanical engineer Robert Hubbard, to develop a solution that became the HANS device. Unfortunately, though Hubbard and Downing had a working prototype – crash testing revealed that the device reduced forces transmitted to the head and neck by 80% – in the mid-1980s, they could not convince any existing racing safety equipment manufacturers to build it at scale.
This response from the industry forced Downing and Hubbard to set up their own company in 1990, called Downing Inc., but it wasn't until 1994 when Formula One got interested after the death of Roland Ratzenberger at the San Marino Grand Prix that it started to become more widely adopted. But even that series didn't mandate the device until 2003, and only after extensive testing by Mercedes-Benz showed its efficacy.
G/O Media may get a commission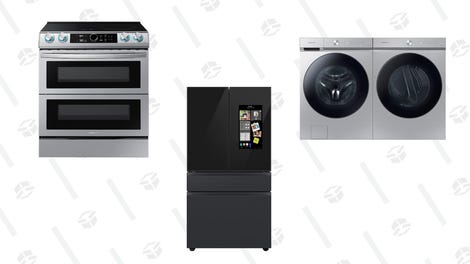 BUNDLE AND SAVE
Samsung Presidents Day Appliance Sale
Save on refrigerators, washers and dryers, and more
The Samsung Presidents Day Sale event features price cuts and promotions on refrigerators, washers and dryers, vacuums, and much more. Unsure which pieces are worth your time? We've got a great selection here to choose from so you can pick up what best speaks to you before the sale ends on March 1.
While the HANS device isn't the only kind of head and neck restraint that has been approved for use by the SFI Foundation, it's one of the most popular, and it is used across multiple disciplines of motorsport, from drag racing to road racing to monster trucks to stock car racing and beyond.