The Quail Is Ground Zero for the Auto Industry's New Gilded Age
The Quail bills itself as "A Motorsports Gathering," but it's really something more. Oh, sure, there are historic racing cars and other vintage classics on display, but with the event now in its 20th year, that focus clearly has changed, and today The Quail has emerged as a contemporary auto show.
It is not, however, a mainstream auto show, a dying medium that carmakers increasingly are fleeing. Big motor shows in the U.K., France, and Switzerland have been canceled (Geneva's having been moved to Qatar), and others, such as Detroit, languish on life support. By contrast, The Quail has been embraced by automakers because it aligns perfectly with a key reality: The automobile business has entered a new Gilded Age.
We can identify two forces driving that trend, one longer-acting and one more recent. The more recent catalyst was the COVID pandemic. It caused supply shortages—particularly of the silicon chips that are critical to so many automotive systems—that spurred carmakers to craftily rejigger their offerings and production plans, focusing on high-dollar, high-margin vehicles to squeeze maximum profit from reduced output.
And it worked. Set that against an economic backdrop that has seen the richest members of society grow their wealth at a rate far outpacing everyone else, and you have turbocharged growth at the very highest echelon.
Indeed, after electrification, the biggest trend in the new-car space is this increase in offerings at the very top of the market and a concurrent shift upmarket for the mainstream luxury brands. In the first case, that would be the wave of supercars and specialty products, not just from traditional players (Aston Martin, Bugatti, Ferrari, Koenigsegg, Lamborghini, McLaren, Mercedes-AMG, Pagani) but also from a host of relative newbies (BAC, Czinger, Gordon Murray Automotive, Hennessey, Pininfarina, Rimac, Zenvo, et al.). In the onward-and-upward corner, think BMW, Cadillac, Lotus, Mercedes-Maybach, Range Rover, and even Genesis. And perennial top-enders Bentley and Rolls-Royce have joined in by rolling out new offerings with prices that are streaking skyward.
Courtesy photo Rolex
A Festival of Wealth
Nowhere is this reach-for-the-stars'-wallets trend more clearly on display than during mid-August, during Monterey Car Week. That week under the Californian sun and stars historically has been anchored by the big Sunday concours at Pebble Beach and the historic racing at Laguna Seca (the annual happening's initial raison d'être at its launch in 1950). But The Quail, held at the Quail Lodge and Golf Club in Carmel on the Friday and hosted by the Peninsula Hotel Group and a bevy of blue-chip sponsors, stands out as a singularly shiny emblem of the new business reality. A festival of wealth, if you will.
To begin with, The Quail costs $1000 to get in, which begets a certain type of instant exclusivity. Children are few, while champagne, caviar, and costly togs are everywhere to be found. Excluding scattered schleppers from the Fourth Estate and jetloads of stylish influencers brought in by car-company hosts to bask in that rich-for-a-weekend feeling, plus the event's copious support staff, the 5000 people who paid big money to be here make for a most happy hunting ground, a sort of curated game park, for purveyors of luxury goods, whose number in many years will include not just automakers but makers of helicopters, private jets, and pricey watches.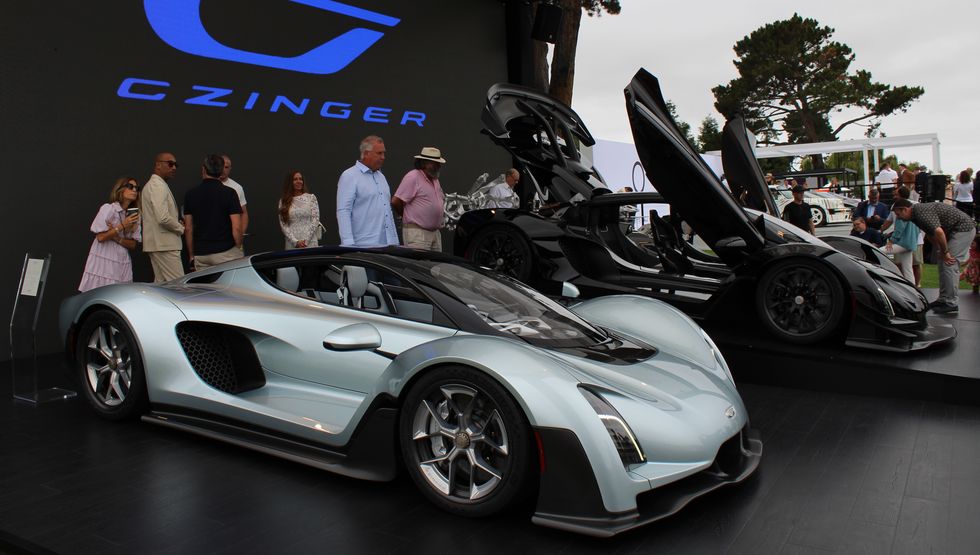 Czinger's stand at The Quail.
Joe Lorio|Car and Driver
Following the story wherever it leads, Car and Driver soldiered out to The Quail again this year and slipped into appropriate gear for a day spent swanning around the manicured golf course lawns that accommodate the day's events. With colleagues Joe Lorio, Elana Scherr, and Dave VanderWerp, we spoke to several carmakers about the Quail's big day and the Monterey Car Week of which it is a part as well as the reasons for their religious attendance, changes in the market, the thinking behind their presence, and where it's all headed.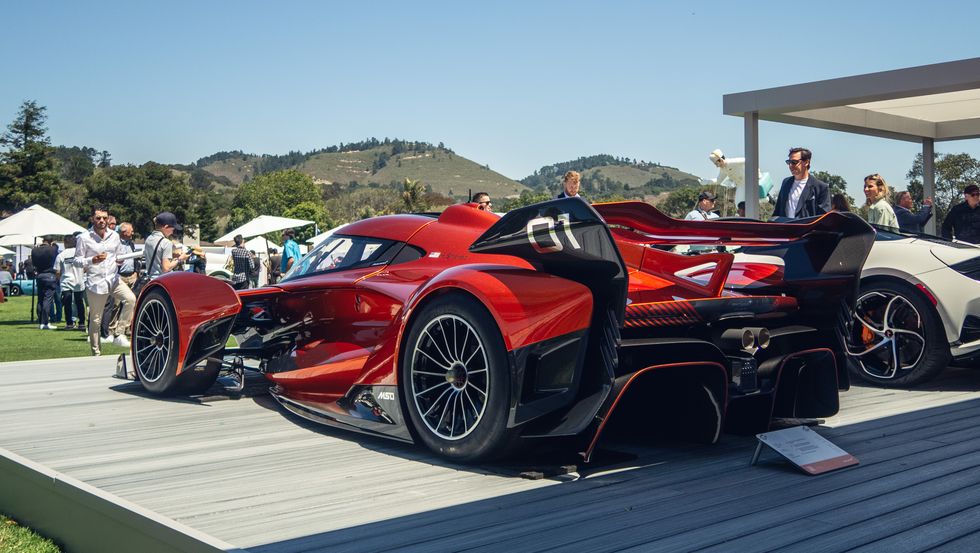 McLaren Solus GT.
Simari Photography LLC|Car and Driver
"A Fantastic Environment"
Alex Long, global head of market and product strategy for Aston Martin, said the 110-year-old British carmaker wouldn't dream of missing The Quail. "You and your best clients are all together in a fantastic environment where they can be relaxed, circulate amongst the cars, meet key people from the OEM—the designers, the engineers—and really interact with them. It allows people to spend longer with you and spend more time talking with you. I think Pebble and The Quail in particular are the global benchmark for that."
Rolls-Royce North American CEO Martin Fritsches amplified the thought, putting it in the context of the company's overall strategy of increasing customer engagement. "We don't only sell products. More and more we're selling experience." The Quail, with its self-selected audience and air of heightened luxury, is a natural for further engaging with customers, old and new. "Obviously, we're trying to be closer to our customers. They want to hang out with us, and through us also mingle with their peers." Toward that end, the company offers an app, "Whispers," which permits owners not only to be in touch with Rolls-Royce but other owners.
"We have been realizing, particularly in the last two years, that more and more of our patrons, as we call them, enjoy our presence here and being part of the Concours but also enjoy our space and hospitality. So that's one of the main reasons why we continue to invest here and dedicate valuable time to them." Underscoring the point, on its show stand at The Quail Rolls staged the North American debut of its first EV, the new Spectre coupe (base price $422,750, although most are expected to transact around $500K).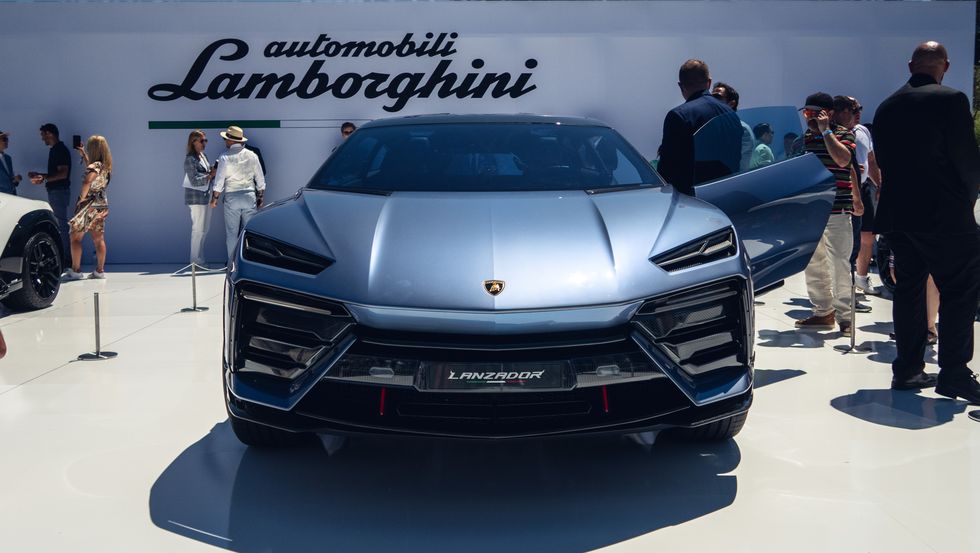 Lamborghini Lanzador concept.
Simari Photography LLC|Car and Driver
Curating an Experience for Buyers
It's not just OEMs that have a presence here. Matt Boguradzki is director of sales and marketing at the O'Gara dealership group, one of the nation's largest sellers of ultra-luxury cars, with showrooms in Beverly Hills, Westlake, and San Diego. Speaking behind O'Gara's spacious stand lined with extra-custom McLarens and a Porsche 911 art car, he outlined his employers' goals. "We're exploring ways to create this global community of people because O'Gara is a super brand. Ours is a luxury house. And as we position ourselves into the future, everything we're focused on now is really about that brand experience, curating coachbuilt and one-off bespoke experiences wherever and whenever we can, offering our community the best cars and best experience."
Fostering a personal connection with buyers is, of course, a recurrent theme. And with so few buyers in absolute terms in the market for cars that might cost half a million dollars or more, meeting with them one on one is not an impossible task. However, Cristina Cheever, senior vice-president for Robb Report, which organizes many luxury events and trips for its most affluent readers, cautioned it must be done right. Courting the hyper-wealthy, she explained, "is about engaging on a very intimate, one-on-one level. Secondly, it's providing them with everything that you think they might have thought they needed during that day, whether it's the food, the wine, or the chairs they're sitting in. The hospitality has to be right, from the cars they drive to the bubbles in their glass, and then, who else is in the room? Put interesting people in the room that people can have access to. That's a home run."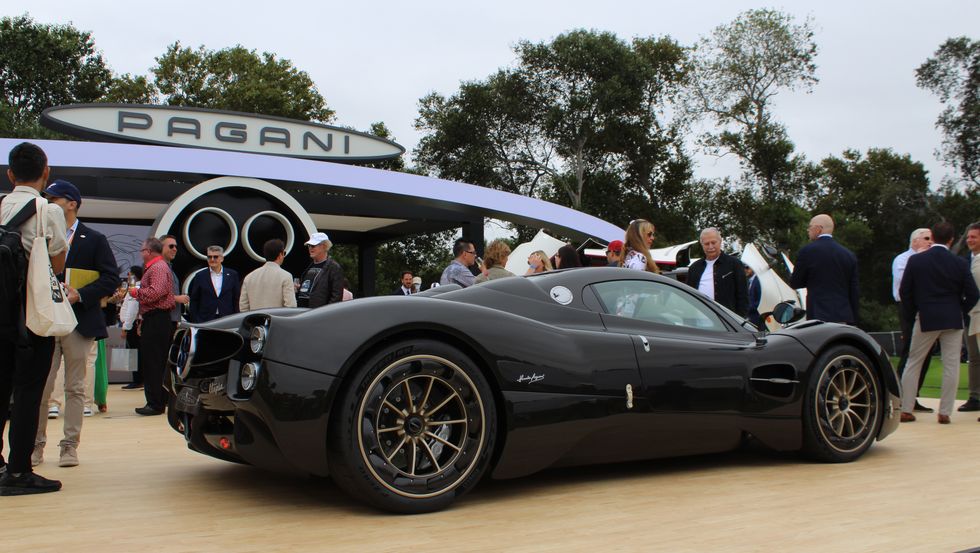 Pagani Utopia.
Joe Lorio|Car and Driver
Brand Houses
For some carmakers, a reviewing stand at The Quail is not enough. Several carmakers rented showpiece luxury homes of the sort that dot the nearby Pacific Coast environs and Pebble Beach's famed 17 Mile Drive. Over the course of the week, they invite customers to come, er, chill with them in places guaranteed to make you jealous. Casa Ferrari, Range Rover House, Zenvo House, the House of Maserati, and the House of BAC were among them. In Pebble Beach, Aston Martin's Club 1913 (celebrating the year of the brand's establishment) showcased the new $800,000 Valhalla hypercar and developments in VR technology. And Mercedes erected its pop-up Star Lounge (nearly the size of a city block), filled with the Vision One-Eleven concept (a C111 tribute) and new models including the just-launched 2024 Mercedes-AMG GT coupe, while old-timer classics from its Classic Center stood sentinel out front. So much value could be found in maintaining nearby brand houses through the week that some makers, notably Ferrari and Land Rover, eschewed stands at The Quail in favor of showpiece houses worth eight figures.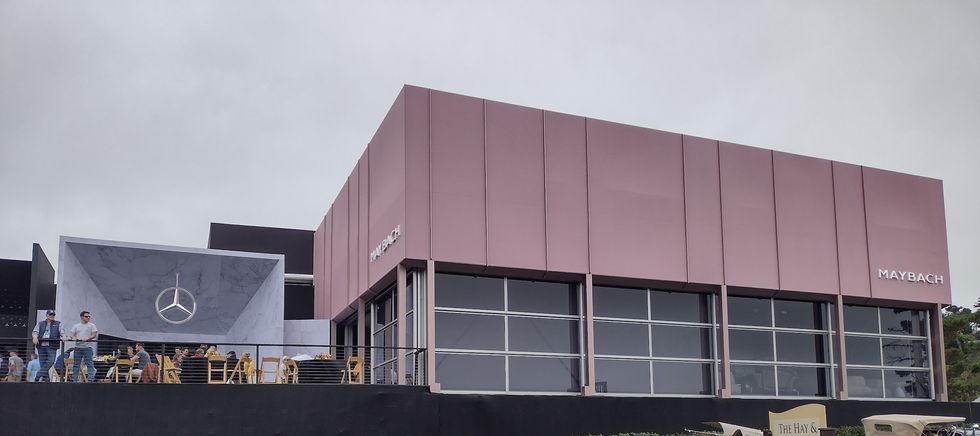 The Mercedes-Maybach popup at Pebble Beach.
Joe Lorio|Car and Driver
Reportedly, more than 500 Ferrari customers turned up at Casa Ferrari during the week. That's a healthy percentage of all the storied marque's owners—even taking into account the brand's record 13,221 sales in 2022, an almost 20 percent spike from its record in 2021[. On display at Ferrari's humble Casa: the SF90 XX (starting price: $844,000) and the 812 Competizione, for which you'd spend a minimum of $601,570 if you could get one, but you can't because it's sold out.
"Why do we come to places like this?" began Joe Eberhardt, president and CEO of Jaguar Land Rover, as, cocktails in hand, we repaired from the massive decks overlooking the Pacific to a sheltered patio area of JLR's modern masterpiece home for the week. Nearby, hummingbirds toiled alongside a butterfly tree, and a dinner table for 50 was being laid.
"You can engage with your clients in a very different way here," Eberhardt explained. "I was walking around The Quail today, and I wouldn't want to be there. Seriously. Because people don't interact with a brand there, they stand in line to get a glass of champagne or whatever, then they're trying to look at some cars for two minutes, then some other cars on another stand, and the dwell time is just not there. Then at some of the other homes or houses, it's all just very hectic. But then you can come here, and people spend six hours here, they're just relaxed, they sit back and you can build a relationship, really get to know them."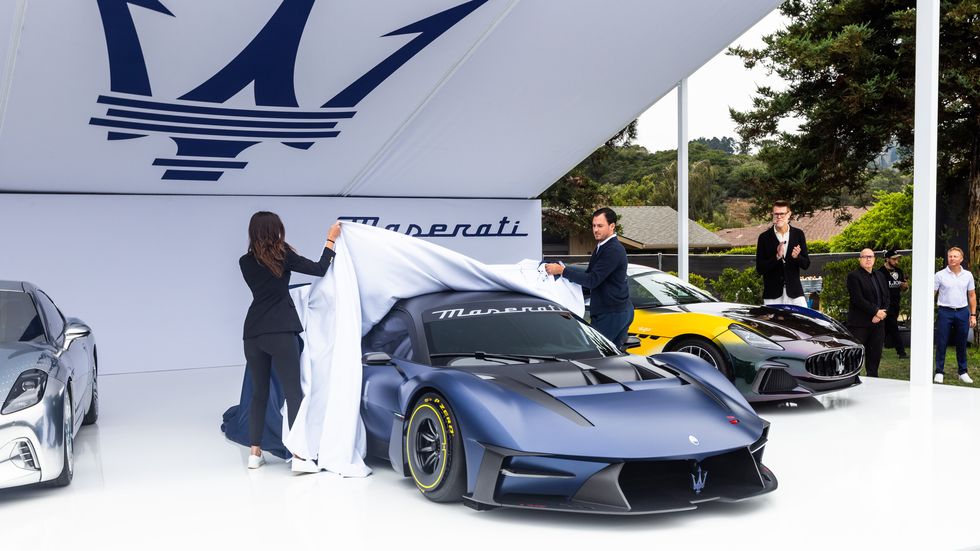 Maserati MCXtrema.
Courtesy photo Rolex
Ducking into the House of Maserati, following a quick snack of ricotta-stuffed fried zucchini blossoms served by an Italian chef who clearly knew his craft, we sat down with Bill Peffer, head of the company's North American arm. The former Nissan and Kia executive was pumped by the sold-out Maserati MCXtrema, which had its public coming-out party at The Quail. Thirty-one of the 62-unit commission (62 being the exact number of Ferrari Enzo–derived MC-12s built in 2004–05) have been sold to Americans, and they've all been invited here to have a look at a rolling buck of the car for which they've all already put down a substantial deposit against a $1-million-plus price for a car that will be finished sometime next year. Peffer offered the following observation: "Customers have wealth. They want something that's unique. They want something that's bespoke. They want something that no one else has, and they're willing to pay for it."
Leaving Maserati, we bump into a small delegation arriving from Lotus, who are out and about exploring brand houses as they prepare to move their own brand upmarket, an effort begun with the $2-million-plus all-electric Evija, first shown at The Quail in 2019. A brand house during Car Week might be the next step in Lotus's showgoing evolution, although, with some cheaper (though hardly cheap) volume models such as the Eletre SUV coming to market, Lotus will pursue a multi-pronged strategy.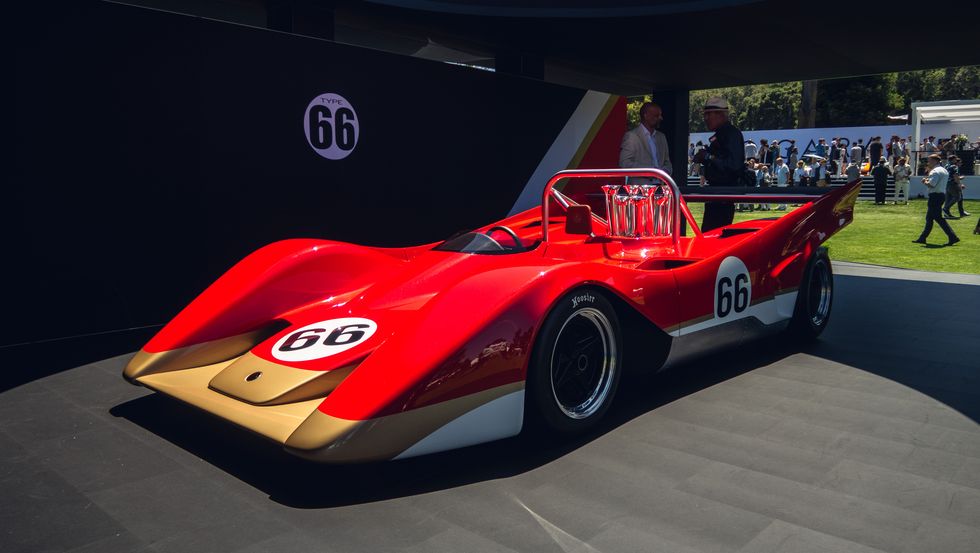 Lotus Type 66.
Simari Photography LLC|Car and Driver
Finding a Focused Audience
"We're working toward selling 150,000 cars by 2028. We sold 567 last year, so it's a big jump," Lotus Group chief commercial officer Mike Johnstone acknowledged with a smile a day earlier at The Quail. "For us, auto shows still play an important role, but maybe different shows play different roles. Events such as this give us a great way to get in front of a very specific, focused audience. You can see there's an absolute love here of car culture. And there's an interest in our history and our heritage. Take for example the launch here of the Type 66 [a batch of 10 Can-Am racers designed in period by Colin Chapman's team but never built, until now, at around $1.3 million apiece].
"I'm sure some inquiries will come off the back of it because it's the first time we've actually shown it to anybody. Equally, we will still attend some of the bigger auto shows as well. If you take the aspiration to get to 150,000 when we've got relatively low brand awareness in some markets, it's important that we get to as many people as possible. And auto shows play a role, particularly for people that are in the market for a large SUV like the Eletre."
Eric Neville, Cadillac's associate marketing director, agrees a mix-and-match approach is right for a brand that, while hoping to go much further upscale, is still rooted in the upper middle classes. "What we're seeing is that luxury customers and luxury auto enthusiasts are interested in a variety of events including concours, private events, and experiences based on brand partnerships as well as certain auto shows. It's all about finding the right mix so our audience sees Cadillac as aspirational but not unrelatable."
Bentley chairman and CEO Adrian Hallmark reckons his company's drive further up-market has been significantly aided by "a massive COVID effect." That is a devil-may-care abandon that followed on from persons of means feeling like, " 'I don't know what's going to be on the other side of this, I don't know how long I'm going to live, I don't know whether the pandemic will end, I don't know if there will be another one after it. It's not consequential if I spend another $30,000 or $50,000 to get what I really want. And I may as well have what I really want.' " We couldn't agree more, especially the part about having what we really want.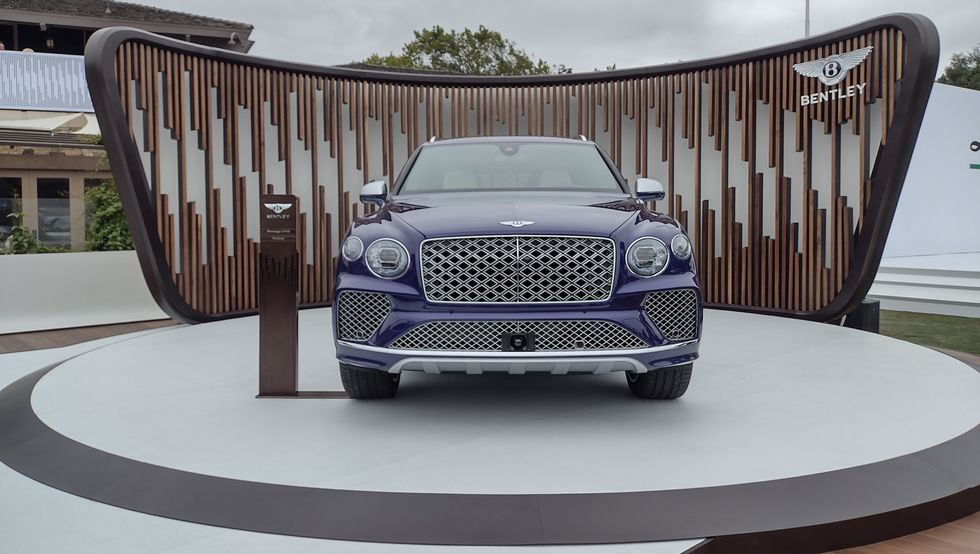 Bentley Bentayga EWB Mulliner.
Joe Lorio|Car and Driver
Beyond mainstream luxury offerings like the Bentayga SUV (a $339,150 extended-wheelbase Mulliner version of which debuted at The Quail), Bentley also figures buyers will want toys like the Blower Junior, a $115,000 85-percent-scale EV replica of the 1929 original (which itself just completed a 12-unit continuation run at $2.1 million per). The company has done a complete about-face on its mix of special orders versus buying from stock. Where sales from stock once constituted 90 percent of volume, now fewer than 10 percent of customers take delivery from stock, with 90 percent of sales built to order. So, heightened patience, apparently, is another COVID hangover.
When Money Is No Object
The question of how high is high also arises. Is there no limit to what rich folk are willing to spend? From the looks of it, not. Speaking at the debut of the custom-built Droptail roadster (a bespoke two-seater, only four of which will be built, with price tags rumored to approach $30 million), Rolls Royce CEO Torsten Müller-Ötvös stated that, for clients commissioning one of the brand's "coachbuild" cars, "Money is never in any way a limiting factor."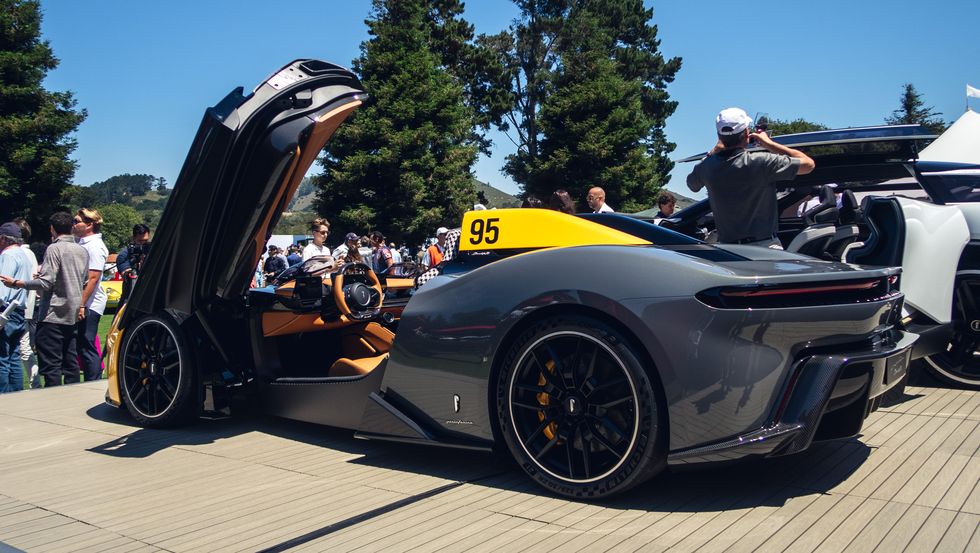 Pininfarina B95.
Simari Photography LLC|Car and Driver
It certainly isn't limiting the market's appetite for supercars—or their even more stratospherically powered and priced analogue, hypercars, plenty of which were on display at The Quail. There, Danish boutique automaker Zenvo debuted the 1450-/1850-hp Aurora. Jen Sverdrup, Zenvo chairman and chief commercial officer, points to the entry by mainstream super-sports-car makers into the hypercar space in the mid-2010s (with the Ferrari LaFerrari, the McLaren P1, and the Porsche 918 Sypder) as having a catalyzing effect. "It used to be extreme car guys that were into it," he says, "then it became more of a lifestyle scene." He also acknowledges a macro tailwind: "The recent increase in billionaires—that helps us."
With some EV hypermachines sporting 2000 horsepower, Rouven Mohr, chief technology officer for Lamborghini, doubts that today's insane horsepower wars are sustainable, but he doesn't foresee the market slowing down. "There will always be people that are looking for, let me say, dramatic, more involving cars," he says. "People that have this kind of wish are not disappearing. "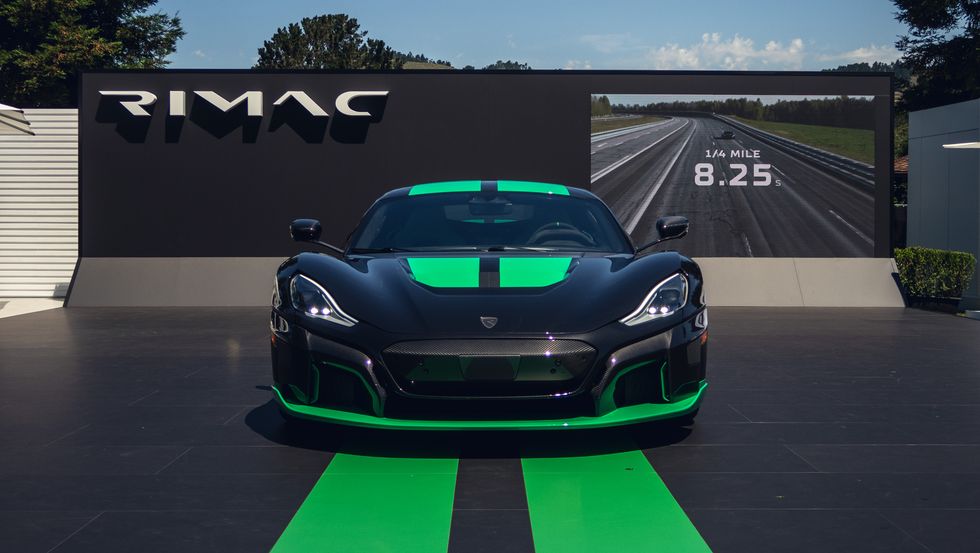 Rimac Nevera Time Attack.
Simari Photography LLC|Car and Driver
As for events like The Quail, which he attends each year, McKeel Hagerty, CEO of Hagerty, the world's largest insurer of classic cars, says he is confident they will continue as well. "These events are flourishing, and they're not just flourishing in the U.S. but flourishing around the world. It's becoming less transactional and more about the lifestyle. The best thing about these events is they allow an OEM or a lifestyle brand or even designers to interact directly with their end-user customers. That's why it works, and frankly, it's fun. And compared to regular auto shows, the food is better."
Certainly, there's more caviar.

Contributing Editor
Jamie Kitman is a lawyer, rock band manager (They Might Be Giants, Violent Femmes, Meat Puppets, OK Go, Pere Ubu, among his clients past and present), and veteran automotive journalist whose work has appeared in publications including _Automobile Magazine, Road & Track, Autoweek, Jalopnik, New York Times, Washington Post, Politico, The Nation, Harpers, and Vanity Fair as well as England's Car, Top Gear, Guardian, Private Eye, and The Road Rat. Winner of a National Magazine Award and the IRE Medal for Investigative Magazine Journalism for his reporting on the history of leaded gasoline, in his copious spare time he runs a picture-car company, Octane Film Cars, which has supplied cars to TV shows including The Marvelous Mrs. Maisel, The Americans, Halston, and The Deuce and movies including Respect and The Post. A judge on the concours circuit, he has his own collection with a "friend of the friendless" theme that includes less-than-concours examples of the Mk 1 Lotus-Ford Cortina, Hillman Imp, and Lancia Fulvia, as well as more Peugeots than he is willing to publicly disclose.