There Was Once A Glorious Compact Chevy ZR2 Truck
Those who saw the meteoric rise of off-road vehicles through the 2010s and onward probably associate the ZR2 badge with the Chevy Colorado. The Colorado ZR2 was Chevy's halo midsize truck when it was released in 2016, but the ZR2 badging goes all the way to the 1990s when Chevy made the S-10 ZR2. It's gnarly.
I Need A Project Car For A Tall Dude | WCSYB?
When Chevy released the second-generation S-10 in 1994, it also added the ZR2 package to its compact truck lineup, available with either a Vortec inline-four or a V6. The package took the little S-10 and gave it a three-inch lift, increased track width by four inches and added fender flares to accommodate the wider stance. The S-10 ZR2 also had a Bilstein suspension and an Eaton rear locker, and it rode on 31-inch all-terrain tires.
1994 Chevy S Series ZR2 Truck commercial
Of course, the original Chevy ZR2 lacked the Multimatic DSSV dampers of the later truck. When the Colorado borrowed the ZR2 badging from its predecessor in 2016, Chevy wanted the new model to stand out among midsizers with a suspension unlike that of any other truck. The spool valve dampers of Formula 1 fame set the ZR2 apart from its competitors, such as the Nissan Frontier, Toyota Tacoma and Ford Ranger.
Even though the revived ZR2 was never a direct competitor to the Ford F-150 Raptor, it spun in a similar orbit as the full size Ford; both were meant to be radically capable off-road machines. The big differences were in their size— what with the Raptor being a full-size four-door truck—and in their suspension systems.
The Raptor had internal bypass shocks with external reservoirs; the Colorado ZR2, on the other hand, was a midsize truck with spool valve shocks. That meant it was lighter and smaller than the F-150 Raptor, which gave it an advantage off-road. The updated Colorado ZR2 was even available as an extended cab model like the S-10 before it, but you don't see that many of those around. Shame, really.
Photo: Chevrolet
The S-10 still outdoes the Colorado in terms of configurations because the S-10 ZR2 was available either a single cab or an extended cab. Both builds had the same wider, taller stance but the single cab looked objectively cooler, no ifs ands or buts about it.
Of course, the Chevy S-10 gave way to the midsize Colorado, and the ZR2 followed the same progression as every other truck: getting bigger and gaining a set of doors. The newest Colorado ZR2 generation is even larger and more capable, too. But for a while there, from 1994 through 2003, we could get a true compact ZR2 from Chevy, an honest-to-goodness small truck built specifically for off-roading from a U.S. automaker.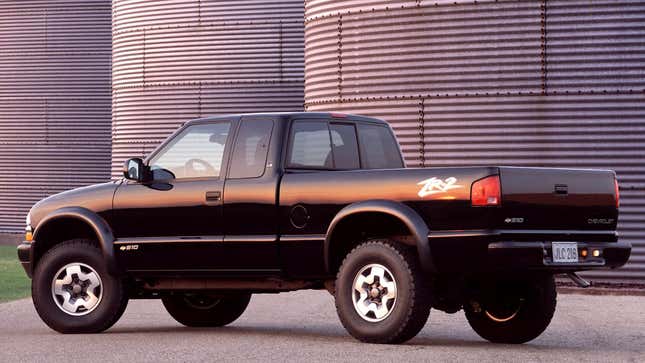 Photo: Chevrolet