This Burnt-Out Crumpled Ferrari Sold For $1.8 Million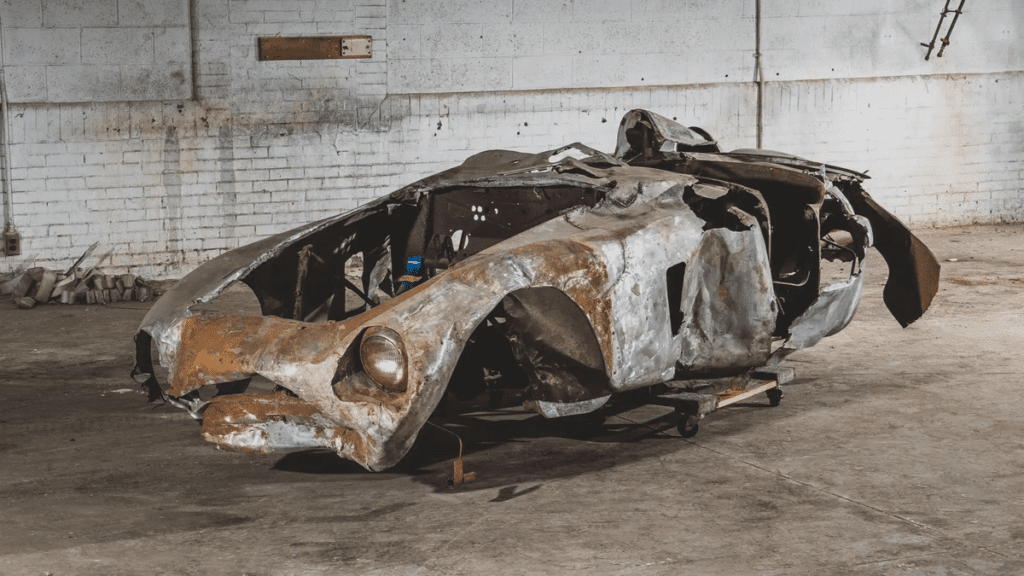 This is the current state of the second Mondial 500 built.Photo: RM Sotheby's
When most people pick up a crumbled heap of metal to hopefully transform it back to working condition, they also don't spend two million dollars just to get it in their garage. A Ferrari 500 Mondial was sold at RM Sotheby's Monterey auction for $1.875 looks like it was pulled directly from a scrapyard. But don't be mistaken. This Ferrari has a unique past and could be the new owner's ticket to one of historic racing's most prestigious events, the Mille Miglia.
Carspotting at Sotheby's: Ferrari Edition
Ferrari created the 500 Mondial to commemorate Alberto Ascari's back-to-back FIA Formula One World Drivers' Championships in 1952 and 1953. The Italian automaker fitted the Mondial with the same Aurelio Lampredi-designed two-liter inline-four engine that powered Ascari's Grand Prix-winning machinery. The chassis up for auction, number 0406 MD, was the second built in the first series run of 13 Mondials. The 13 cars featured a spider body designed by Pinin Farina.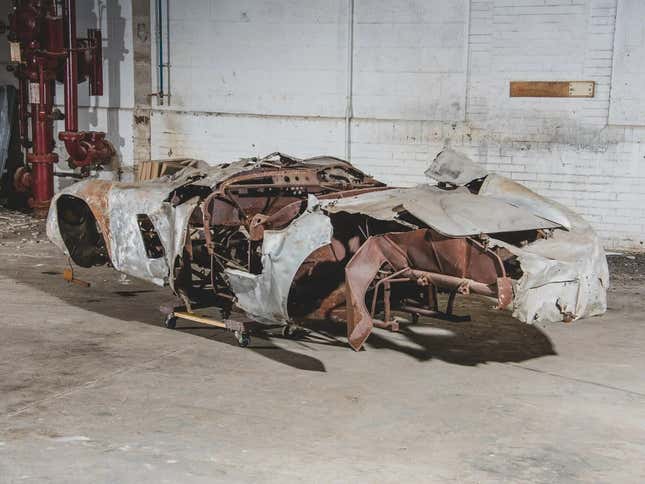 The rear of the 500 Mondial is nearly unrecognizable from its racing days.Photo: RM Sotheby's
Chassis number 0406MD was initially sold to Milanese sports car dealer Franco Cornacchia and raced by his privateer team Scuderia Guastalla. The team's lead driver was Franco Cortese, a former factory ace for Scuderia Ferrari who left the team in 1949. He won the 1947 Rome Grand Prix, Scuderia Ferrari's first victory with a car of its own design. In the Mondial, Cortese finished 4th in class and 14th overall in the 1954 Mille Miglia.
This 500 Mondial was eventually exported to the United States in 1958. It is unclear precisely when, but at some point between 1963 and 1965, the car was involved in a heavy crash and caught fire. The final recorded transfer of ownership happened in 1978 and was then preserved in its race-damaged condition for 45 years.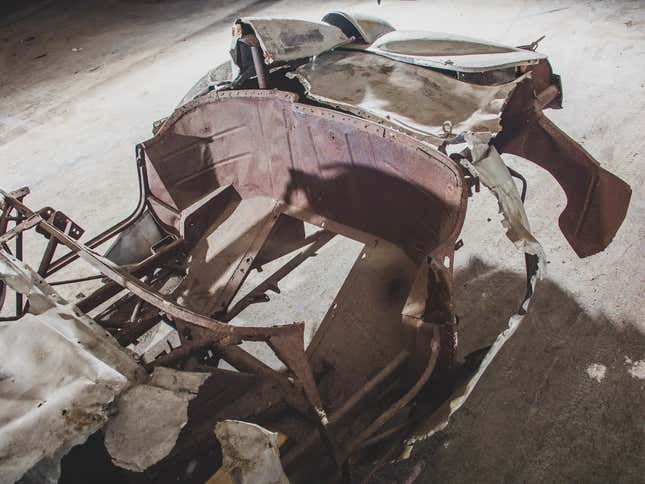 The 500 Mondial's driver compartment is just a voidPhoto: RM Sotheby's
The restoration would be extensive, but the reward might be worth it. The current iteration of the Mille Miglia has stringent entry requirements. The Italian historic event only allows vehicles confirmed to have participated during the race's competitive open-road heyday. Yes, the actual cars that were raced in Italy between 1927 and 1957. This research work has already been done to confirm that this Ferrari 500 Mondial is the same vehicle from 1954.