Toxic Chemicals From Derailed Train Could Poison Area for Years
A black plume rises over East Palestine, Ohio, as a result of a controlled detonation of a portion of the derailed Norfolk Southern trains, Feb. 6, 2023. West Virginia's water utility says it's taking precautionary steps following the derailment of a train hauling chemicals that later sent up a toxic plume in Ohio. The utility said in a statement on Sunday, Feb. 16, 2023 that it has enhanced its treatment processes even though there hasn't been a change in raw water at its Ohio River intake.Photo: AP Photo/Gene J. Puskar, (AP)
Nearby West Virginia took steps to protect its citizens Sunday, a week after a train derailment near East Palestine, Ohio sent hazardous, toxic materials billowing into the winter sky and into local waterways.
West Virginia American Water told customers it is monitoring all water intake from the Ohio River following the derailment of a Norfolk Southern train hauling 20 cars worth of hazardous materials on the evening of Feb. 3. Since then, residents have been wondering when, if ever, their small town will be safe again. After a venting of the dangerous chemical liquid vinyl chloride, resident reported pets and wildlife dying, WKBN reports.
Indeed an expert told CNN residents should be more concerned about chemicals like liquid vinyl chloride in the water over the coming months than the most recent blast:
"Initially, with most environmental spills, it is difficult to determine the exact amount of material that has been released into the air, water, and soil. The assessment phase that will occur after the emergency is over will help to determine that information," James Lee, media relations manager for the Ohio EPA, wrote in an email to CNN.
Lee said that after his agency has assessed the site, it will work on a remediation plan.
Vinyl chloride is unstable and boils and evaporates at room temperature, giving it a very short lifespan in the environment, said Dana Barr, a professor of environmental health at Emory University's Rollins School of Public Health.
"If you had a very small amount of vinyl chloride that was present in an area, it would evaporate within minutes to hours at the longest," she said.
"But the problem they're facing here is that it's not just a small amount, and so if they can't contain what gets into the water or what gets into the soil, they may have this continuous off-gassing of vinyl chloride that has gotten into these areas," Barr said.
"I probably would be more concerned about the chemicals in the air over the course of the next month."
The Ohio EPA said in a statement to CNN that the clean up and monitoring of the area could take years.
Since returning to their homes residents are now reporting headaches and dizziness despite official air and water testing showing the town is safe for residents. The smell is coming strongest from local creeks, residents told the Pittsburgh Post-Gazette. While the smell and the physical effects may be psychosomatic, the feelings of unease unleashed by the crashed train won't be so easy to clean up. From the Gazette:
Jami Cozza used to love hearing trains. It was the sound of home — a village known as East Palestine, on the Ohio-Pennsylvania border. She had returned after living in Cleveland for 20 years and found a home, near the Norfolk Southern Railway, to raise her young daughter.
But the sound of a train no longer brings comfort, instead reminding her of one of the worst days of her life and one that may change her hometown.
"I wanted my daughter to experience a small town, where I grew up, the things that I experienced," Ms. Cozza said last week. "Now, I don't trust that she can."
G/O Media may get a commission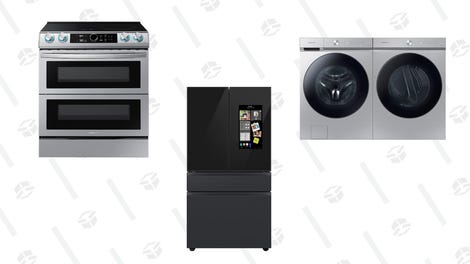 BUNDLE AND SAVE
Samsung Presidents Day Appliance Sale
Save on refrigerators, washers and dryers, and more
The Samsung Presidents Day Sale event features price cuts and promotions on refrigerators, washers and dryers, vacuums, and much more. Unsure which pieces are worth your time? We've got a great selection here to choose from so you can pick up what best speaks to you before the sale ends on March 1.
The National Transportation Safety Board is still investigating the cause of the accident, though Railroad Workers United said in a press release a few days after the derailment pointed to the initial cause of the wreck as "…a 19th century style mechanical failure of the axle on one of the cars – an overheated bearing – leading to derailment and then jackknifing tumbling cars." Norfolk Southern has actually lobbied against updating brakes on its trains for years.
While the cause is not completely verified, what is known is that further cost-cutting measures, like having single-person crews on trains as opposed to the three who were onboard in East Palestine that night, would have led to a much greater disaster:
40% of the weight of NS 32N was grouped at the rear third of the train, which has always been bad practice and made more dangerous with longer heavier trains. This fact almost certainly made the wreck dynamically worse. But increasingly the PSR driven Carriers, driven to cut costs and crew time by any means necessary, cut corners and leave crews and the public at risk.
The crew was able to uncouple the locomotives and move them to safety, preventing an even bigger tragedy. This would not have been possible under the various management schemes now being proposed to operate such trains with single person crews. Further, because Train 32N carried the standard crew of two or more workers, they were able to immediately take the necessary emergency measures to ensure a safe and effective response.
Such working conditions were at the center of railway workers complaint in 2022, which lead to Congress forcing a contract without any paid sick leave between workers and railroads. The NTSB is still investigating the incident, but it's obvious that if cost cutting measures continue, we could see another East Palestine at any time.