Tractors: Where are they manufactured?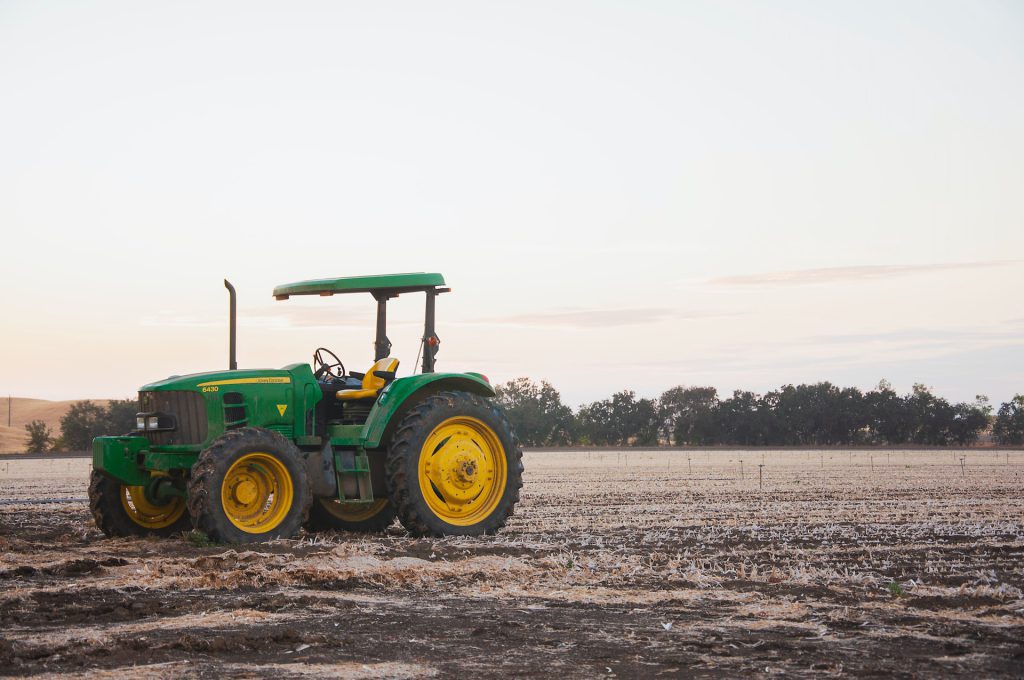 There are approximately 17.6 million hectares of agricultural land in the UK, which totals 72% of the total area of land. One of the best assets to help farmers manage the land is a tractor. These heavy-duty vehicles come in a variety of shapes and sizes with numerous attachments to help sow, plough and maintain agricultural areas.
Tractor manufacturing has experienced great change in the last few decades as farming practices have improved and the demand for modern technology has increased. However, many tractors are now made overseas, with only a couple of manufacturing companies left in the UK.
In this guide, we'll look at which countries are the main tractor suppliers for the UK, as well as the country's most popular brands.
Where are tractors manufactured?
In years gone by, the majority of tractors that were bought and sold in the UK were also manufactured in the country. However, in 2022, the only major tractor centre remaining is CNH Industrial's New Holland plant in Essex. The other source of UK-built tractors is JCB's Fastrac production line in Rocester, Staffordshire.
CNH Industrial is a British-American multinational corporation that has a large brand portfolio featuring names such as New Holland and Case IH. The global headquarters for the brand is in Essex, UK, whilst the seat of the company is located in Amsterdam, Netherlands, and the principal office is in London, UK.
JCB was founded nearly 80 years ago in Staffordshire, UK, and has since become the world's third-largest construction equipment manufacturer (by volume). The company opened up its first overseas operation in India in 1979, which has since become JCB's single largest market.
The United States is Britain's main supplier of high horsepower models. There are 1,191 tractor manufacturing businesses in the US as of 2022. California has the highest volume at 119 businesses, followed by Iowa (84 businesses) and Texas (81 businesses).
Countries such as Japan, France and Germany also produce tractors on a large scale. In unit terms, Turkey is one of the largest manufacturers of tractors in the world. India is also increasingly becoming a main source of tractors to western countries, thanks to the improving production technologies in the country.
The growth in tractor production sales in China has stalled in the last couple of years, although larger investments from western countries look set to strengthen the country's export rates. South Korea also looks set to become a major producer of sub-100hp and compact tractors.
Below is a table that lists which major tractor production companies are based in which countries around the world:
BrandParent CompanyCountryCase IHCNH Industrial (a majority-owned subsidiary of Fiat Group)USCatCaterpillar Inc.USClaasClaasGermanyJCBJCBUKJohn DeereDeere & CompanyUSKubotaKubota CorporationJapanNew HollandCNH Industrial (a majority-owned subsidiary of Fiat Group)TurkeySDF GroupSDF GroupItaly
What is the most popular tractor brand in the UK?
According to The Agricultural Engineers Association (AEA), the most popular tractor brand in the UK is John Deere. In 2020, 3,157 units of John Deere tractors were registered, which accounted for 26.5% of the total registered tractor sales. These latest figures may be slightly skewed, however, on account of the COVID-19 pandemic. For example, in 2019, there were 12,040 new tractor registrations, which dropped to 10,380 in 2020. This is largely due to the number of factory closures, supply chain issues and delivery problems around the world during that year, which dramatically reduced the manufacturing of agricultural machinery and vehicles.
The John Deere factory produces the most popular tractor model in the UK. The brand has topped the charts for over 20 years, although the number of registrations has decreased by 5.5% in two years.
New Holland tractors were the second most popular brand after John Deere, which accounted for 2,129 units (17.8%) of total sales and registrations. Case IH, which is also owned by CNH Industrial, saw 1,100 units registered, which equated to 9.2% of the total registered tractors in 2020. Due to these combined figures, CNH was the most popular manufacturing company overall in 2020, as 3,229 units (27.1%) were registered.
From 2019 to 2020, the sale of John Deere tractors decreased by 1.6%, which was already a decrease of 3.8% from 2018. This was in contrast to New Holland tractor registrations, which rose by 0.7% between 2019 and 2020, although the sale and registration of units had previously decreased by 1.3% from 2018.
The current figures for 2021 (although the complete results are yet to be released) show that 8,227 units have been registered between January and August, with March showing the best figures of 1,976 registered units.
AGCO Corporation, an American company, was the third most popular tractor company in 2020. 26.3% of registered tractors were an AGCO brand, including 13.2% of MF, 7.5% of Fendt and 5.5% of Valtra. This totalled 3,133 registered sales over the course of the year.
The table below shows the most popular tractor companies in the UK, based on unit sales.
CompanyUnits (2019)% of Total (2019)Units (2020)% of Total (2020)John Deere380028.1315726.5CNH
of which: New Holland
Case IH3518
2314
120426.0
17.1
8.93229
2129
110027.1
17.8
9.2AGCO
of which: MF
Fendt
Valtra3335
1665
921
74924.6
12.3
6.8
5.53133
1581
898
65426.3
13.2
7.5
5.5Kubota8876.57846.6Claas7785.74493.8JCB2782.11871.6Same Deutz-Fahr2431.82081.7AgriArgo
of which: McCormick
Landini151
103
481.1
0.8
0.4154
103
511.3
0.9
0.4Others5554.16345.3Total (UK)13545100.011935100.0
What are the different types of tractors?
There are various different types of tractors that can be used to complete a range of agricultural tasks. Below is a breakdown of some of the most common types.
Utility
Utility tractors are used for heavy-duty farming operations such as ploughing and pulling implements. These types of vehicles come with either gasoline or diesel engines that can range between 45hp to 140hp. Equipment such as harvesters, haycutters and thrashers can all be used with utility tractors.
Compact
Compact and sub-compact tractors are usually found on vineyards or fruit yards. Drivers are able to sit comfortably in the seat while still being able to reach the hanging branches of the trees overhead. This type of vehicle tends to have between 15 to 60hp engines and comes in a variety of sizes to suit different jobs. Most compact tractors come with a range of different implements and have the ability to fit a front bucket or loader for moving and carrying materials and produce.
Industrial
This type of tractor is designed to be used for industrial rather than agricultural work. They are able to carry and move heavy loads such as timber and bricks. Industrial tractors can often be fitted with cranes to help lift items. These tractors don't have a three-point hitch as farming tractors do, although they usually have drawbars. Industrial tractors come with different engine sizes to accommodate the different loads that they may work with.
Lawn and Garden
Lawn and garden tractors are some of the smallest agricultural vehicles available and are designed to be used on small holdings or large gardens. They usually come with a small engine size between 1hp to 20hp and are mainly used to cut grass and make flower beds.
Row crop
As the name suggests, this type of tractor is designed to help farmers plant crops in rows. They are one of the most common types of tractors and can be used for a variety of tasks, such as ploughing, levelling, weed control and harrowing. Row crop tractors are fairly easy to manage and have the capacity for a wide range of attachments to be added and removed.
FAQs
What attachments can tractors have?
There is a vast number of attachments that you can use with tractors, depending on the tasks that you need to carry out. Rotary cutters are popular for their ability to cut rough patches of grass, as their sharp blades can cut through the dense foliage that often grows around pastures and on the edge of roads.
Grapples can be used to move heavy items such as log piles, rocks and rubbish, while spreaders can help you quickly distribute seeds or spread ice-melting materials, sand and fertilizer. Box blades are also valuable accessories as they can be used to level land in preparation for new buildings or paving. They can also be used to spread soil and balance the tractor if you are using front loaders.
What should I consider when buying a tractor?
There are many things to consider when buying a tractor, but perhaps the main factor is the size of the engine. Tractors are often used for heavy lifting, which means that they need a powerful engine that can withstand the strain. Diesel engines tend to have more power than gasoline alternatives.
Transmission is another key factor to consider because it can impact the tractor's performance. Tractors with hydrostatic transmissions are controlled with foot pedals. As the driver pushes the pedal down, the speed that the tractor is travelling will increase. Other types of tractors have manual gear-driven transmissions, which require drivers to change the speed of the vehicle by using a control stick.
Vehicles with manual gear-driven transmissions are easier to maintain a constant speed, but they're not considered as easy to handle as tractors that have foot pedals.
If you want to use attachments with your tractor, you will need at least one hitch. Three-point hitches are useful if you want to use a hydraulic lift to lift and lower equipment. Drawbar hitches, as well as specialised hitches for equipment such as forklifts and skid steer loaders, are also popular.
Summary
The US is the UK's main supplier of high-performance tractors. John Deere tractors, manufactured in the US, are the UK's most popular brand. In 2020 alone, 3,157 units were registered, which accounted for 26.5% of total tractor registrations in that year.
Aside from the US, farm tractors are also produced on a grand scale in countries such as France, Germany and Japan. Only CNH Industrial's New Holland plant remains in the UK, although JCB also has a production line in the country. JCB vehicles accounted for just 1.6% of the registered units in 2020. New Holland, on the other hand, was the second most popular tractor brand in the UK and had 17.8% of registrations in the same year.
From speciality tractors to lawn tractors, there are plenty of agricultural vehicles available on the UK market to suit your farming needs. It's advisable to consider what you will be using your tractor for to help you decide on the model and how powerful you need the engine to be or which attachments you'd like it to be fitted with.