WICC BC Mother's Day Brunch, Vancouver, BC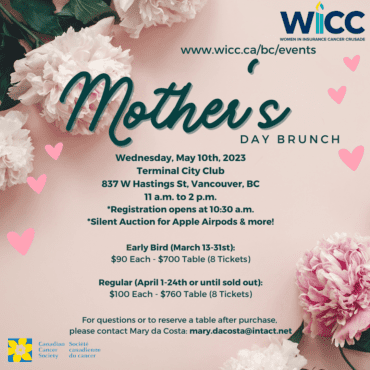 by WICC BC


May 10, 2023




May 10, 2023
Join us on Wednesday, May 10th, as we celebrate Mothers everywhere and hear inspirational talks from Canadian Cancer Society! Tickets are on sale until April 24th – get em' fast before they are gone!
Registration starts at 10:30 a.m.
Brunch runs from 11:00 a.m. to 2:00 p.m. We can't wait to see you there!
*All proceeds to benefit the Canadian Cancer Society on behalf of WICC*
For any questions or to reserve a table after purchase, please contact Mary da Costa: Mary.dacosta@intact.net.
Follow us on social media for all WICC BC updates, events, sponsorship and volunteer opportunities!
Contact us at bcinfo@wicc.ca for any questions or suggestions.
Visit event's website

https://wicc.ca/bc/events/wicc-bc-mothers-day-brunch/