You Can Get Into One of the Last Kia Stingers for Under $55,000
Image: Kia
The Kia Stinger — what I believe to be one of the best sport sedan offerings of the last decade — is preparing to ride off into the sunset because too many people love crossovers. Before it does, though, Kia is sending it off properly with a limited run Tribute Edition for its final 2023 model. After announcing the model at the end of 2022, Kia has finally released pricing.
The Kia Amanti Was Basically a Knock-Off Mercedes
In case you missed it: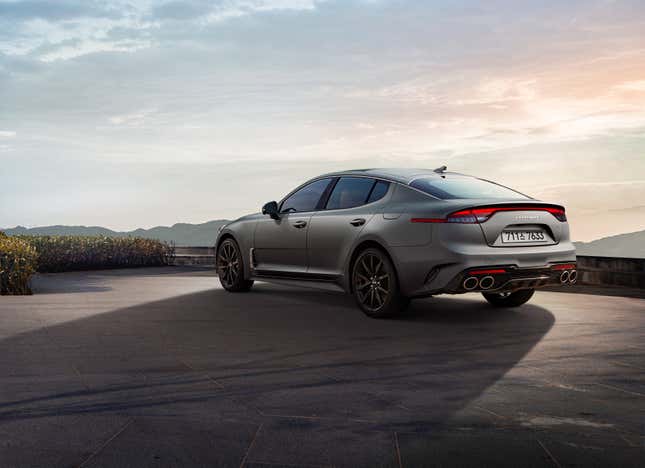 Image: Kia
Including a $1,175 destination charge, the 2024 Stinger Tribute Edition will start at $54,565, and will bump up to $56,765 for all-wheel drive. The Tribute Limited Edition will only be available on the loaded out GT2. In addition to all the standard features of the GT2 trim, the Tribute Edition comes with black accented exterior details like the exhaust, mirror caps and Brembo brakes. You'll also only be able to choose between two exterior colors: Ascot Green or Steel Matte Gray, shown above. Kia notes that choosing this paint requires "special care and handling." This probably means detail it and don't take it through an automatic car wash.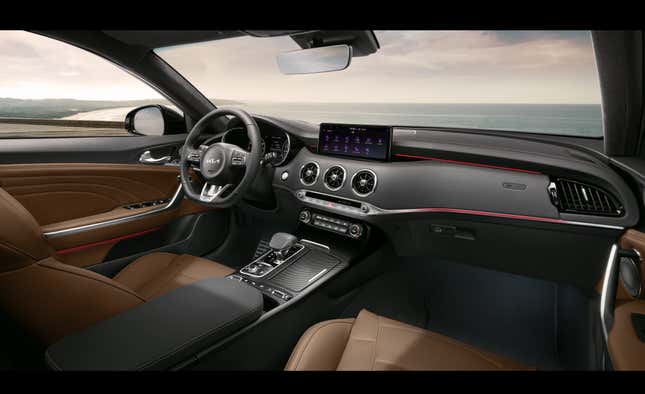 Image: Kia
Inside, there's Terracotta Nappa leather-covered seats that come emblazoned with a special logo, Alcantara headliner and fake carbon fiber trim. Don't forget to look down when you get into the Tribute Edition, either. Each one has special numbered door sill plates.
If you want to get your hands on one of these, you'll need to act fast. Kia is only making 1,000 cars for the whole planet, and 440 of these are coming to the U.S. Eric Watson, Kia's VP of sales, is expecting customers to jump on these special edition cars. "We want to give our loyal customers a jump on the opportunity to own this ultra exclusive Stinger Tribute Edition. By notifying them of the Stinger's arrival first, along with hand raisers who have expressed interest in the iconic sport sedan, we anticipate this customer base will flock to dealers to snag the last of the Stingers." The Stinger Tribute Edition is available now at Kia dealers nationwide