You Might Get Better Gas Mileage In The Jeep Wagoneer As The V8's Have Been Dropped For 2024
Image: Jeep
A few months back it was all a rumor. Now it's confirmed: New Jeep Wagoneer buyers will be getting a break in their fuel costs if they purchase one of the behemoths, as Jeep has axed the V8 from the Wagoneer lineup for 2024.
I Need A Project Car For A Tall Dude | WCSYB?
Gone are both the 5.7-liter and 6.4-liter Hemi V8s, the latter of which was reserved for the Grand Wagoneer models. The 5.7-liter engine made 392 horsepower while the 6.4 made 485 HP. Big engines in big vehicles don't equal good gas mileage, though. Buyers of the 5.7-equipped Wagoneers could expect to see 16 mpg city/22 mpg highway/18 combined. The 6.4-liter V8 was something else – it got the worst gas mileage I've ever encountered in a vehicle. While the EPA says you should expect to see 13 mpg city/18 mpg highway/15 mpg combined, you likely won't see that in the real world. I averaged just 11.8 mpg in my testing of a Grand Wagoneer in 2022.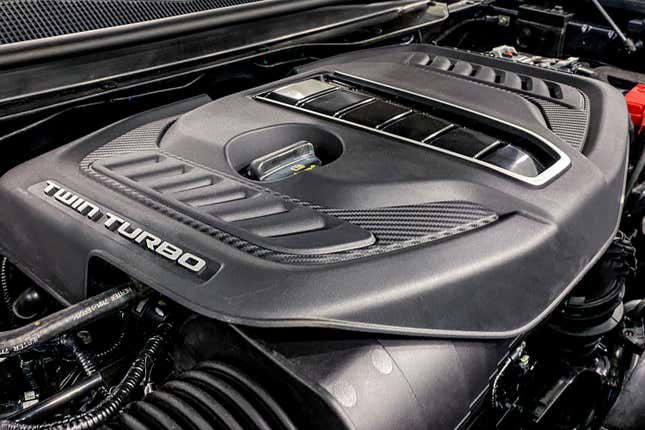 Image: Jeep
For 2024 the new engines should remedy that horrible gas mileage, at least somewhat. The standard engine for the Wagoneer is now Stellantis' new Hurricane twin-turbo inline-six, which has 420 HP and 468 lb-ft of torque. This engine first debuted on the long-wheelbase Wagoneer L, where it has been the only engine option. The Grand Wagoneer gets the high-output version of the same engine with 510 HP and 500 lb-ft of torque.
Jeep says the new six-cylinder engines are up to 15 percent more efficient than the outgoing V8s. EPA ratings for the new engines show the most efficient Wagoneer will be two-wheel-drive models, with the standard Hurricane getting 17 city/24 highway/20 mpg combined; subtract one mpg from each for four-wheel-drive Wagoneers. The Grand Wagoneer with the high-output Hurricane gets identical mileage ratings for the rear-drive trucks. I'm still going to wait until I get some real-world driving in before I believe those figure.