Did a court in France rule that a millionaire's death from the COVID-19 vaccine is considered a suicide?!
Take a look at the viral claim, and find out what the facts really are!
Claim :

French Court Ruled Millionaire's Vaccine Death As Suicide!

People are sharing videos and articles claiming that a French court recently ruled that a millionaire's death from the COVID-19 vaccine is considered a suicide!

Apparently, the French businessman insured his life for millions, but when he died from his COVID-19 vaccination, the insurance company refused to pay up, claiming that he died from taking an experimental treatment.

So his family sued, and the French court allegedly ruled in favour of the insurance company, stating that the deceased knew about the side effects of the experimental vaccine. Therefore, his death is, in fact, a suicide.

Here is the main example that everyone has been sharing, or quoting in videos. It's very long, so feel free to skip to the next section for the facts.

In France, the court equated vaccination with suicide, taking the side of an insurance company that refused to pay money to the family of an insured millionaire who died from vaccination.

The case caused a huge resonance in society. An elderly businessman who died from vaccination, which was officially confirmed, insured his life for several million. However, after his death, the relatives were left with nothing, writes Unser Mitteleuropa.

In France, the case of a wealthy elderly Parisian businessman who insured his life for many millions and died from COVID-vaccination caused a great resonance. The insurance company refused to pay money to the relatives of the deceased, and the court found the company to be right. At the same time, the insurance company argued its refusal precisely by the fact that death occurred as a result of the vaccination: taking experimental drugs and treatments (including vaccination against coronavirus) is excluded from the policy. The judge's verdict is as follows:

"The side effects of an experimental vaccine are being made public, and the deceased could not have professed ignorance when voluntarily taking the vaccine. There is no law or regulation in France requiring him to be vaccinated. Therefore, his death is, in fact, a suicide. The Court recognizes the qualification of an insurer who legally regards participation in the third phase experiment, the lack of evidence of which has not been proven, as the voluntary assumption of a fatal risk not covered by the contract, taking into account the declared side effects, including death is covered and legally recognized as suicide. The family filed an appeal. However, the insurer's defense is recognized as reasonable and contractually justified, since this well-known risk of death is legally considered suicide, the client was notified and agreed to voluntarily risk his life without being forced to do so.

The insurance company noted that suicide, like death from an experimental drug, is not an insured event. The lawyer for the family of Carlo Alberto Brusa published the case materials on social networks and expressed his outrage at such a decision. It appears that insurers will now stop paying out life insurance policies on a large scale, as the death risk from vaccination effectively blocks their contract, rendering it void.

After the publication of similar cases in France, something similar was heard from the United States. Paul Graham, Senior Vice President for Policy Development at the American Life Insurers Council, says:

"Life insurance companies may refuse to pay out for vaccinated people because Covid vaccines are "medical experiments. When deciding on the payment of damages, it is taken into account whether the insured has received a COVID vaccine. Life insurance contracts are very clear on how policies work and what reasons, if any, can lead to a denial of payment. The COVID-19 vaccine is not one of them. An assessment of an applicant's insurance capacity is not affected by an individual's immunization status."

The publication notes that, upon request, domestic insurance companies promise not to make benefits dependent on the appropriate vaccination status, both for those who have been vaccinated and for those who have not been vaccinated. But everyone knows that vaccination campaigners are calling for the unvaccinated to be penalized in terms of costs if they stay in the hospital. The information from France in the article refers to the referenced sources and to information provided by Nicole Delepin, former Head of Pediatric Oncology Medicine at Assistance Publique-Hôpitaux de Paris, on the Riposte Laïque website.

 
Truth :

French Court Did

NOT

Rule Millionaire's Vaccine Death As Suicide!

This is yet another example of anti-vaccination fake news that people are concocting to mislead people about the safety of the COVID-19 vaccines, and here are the reasons why…

Fact #1 : There Is No Such Case In France

As far as I can tell – this entire story is completely made-up. Completely fabricated.

No French millionaire actually died from his COVID-19 vaccination.
No insurance company refused to pay life insurance because of death from vaccination.
No French court ruled that a death from vaccine is considered a suicide.

None of these articles mentioned the name of the dead millionaire, the insurance company, or the judge who made that judgement.

If a French court did indeed rule that deaths from a COVID-19 vaccine is considered a suicide, it would have been HUGE NEWS, and covered world-wide!

Yet, no one else covered it except for a few small anti-vaccination websites? That's because it never happened.
Fact #2 : It Was Based On A Single German Article
I traced the provenance of this fake story to a right-wing, anti-vaccination German website called Unser Mitteleuropa, literally Our Central Europe.
It claimed that the story was published by the family's lawyer, Carlo Alberto Brusa, on his Facebook page. However, Unser Mitteleuropa did not provide any link to that story, or any actual court documents.
I scrolled through Brusa's Facebook page all the way back to 27 December 2020 – when COVID-19 vaccinations first kicked off in France – and could not find a single reference to any court case he might have been working on.
There was no post about any French court calling his client's vaccine death "a suicide". Only a ton of posts and videos for his anti-lockdown, anti-vaccination Reaction 19 movement.
Fact #3 : Life Insurance Letters Unrelated To Case
Instead of actual court documents proving that the French court indeed ruled that the (non-existent) man's death from (non-existent) vaccine death was "a suicide", the article shared two completely unrelated letters from German insurance companies.
In the first, Techniker Krankenkasse said that any potential side effects from the COVID-19 vaccine are not covered by their health insurance (this is not life insurance), as the vaccination is provided by the state authorities.
In the second letter, Die Haftpfichtkasse wrote that their accident insurance (again, not life insurance) does not cover any potential side effects from COVID-19 vaccination.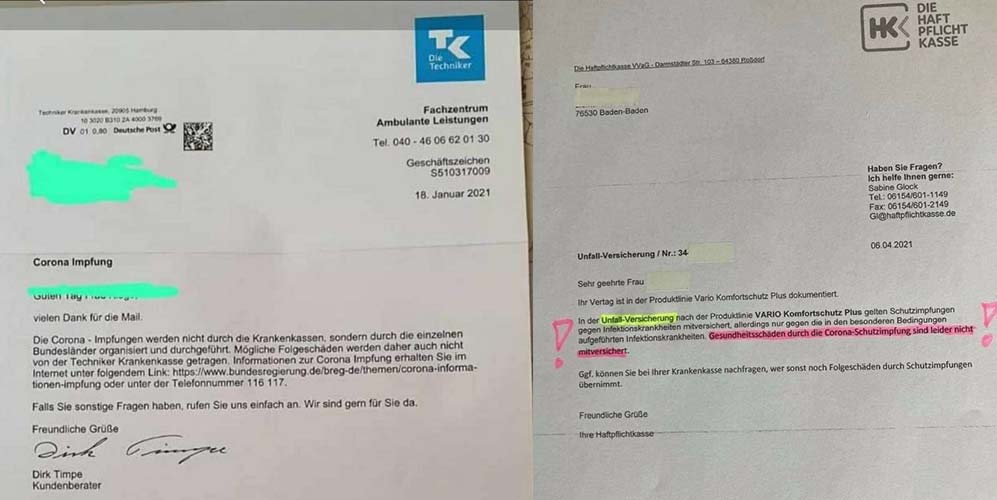 Fact #4 : COVID-19 Vaccines Are Not Experimental
These fake stories are based on the claim that COVID-19 vaccines are experimental.
The truth is – COVID-19 vaccines cease to be experimental, after receive either an emergency use authorisation or full approval from a health authority like the US FDA or EMA.
That only happens if they successfully complete their Phase 3 trials, and undergo a stringent review process. So it is not possible to use an experimental vaccine for mass vaccination.
Fact #5 : COVID-19 Vaccines Proven Safe
The COVID-19 vaccines were proven safe and effective in the large Phase 2/3 trials that involved hundreds of thousands of volunteers. Much larger than the usual clinical trials for new drugs or vaccines.
With so much clinical data, there is no way any insurance company or court can say that the vaccines are dangerous.
Fact #6 : COVID-19 Vaccination Does Not Affect Life Insurance
COVID-19 vaccination does not affect life insurance.
The Insurance Control and Resolution Authority of France (ACPR) said that, "the conditions of the death of the insured have no effect on the payment to the beneficiary of the sums paid on a life insurance contract."

There are only two possibilities for the denial of a life insurance claim :
if the insured commits suicide, or
if the beneficiary is convicted of voluntarily causing the death of the insured.
The ACPR also clarified this issue to French newspaper Libération, stating :
Exclusion clauses are provided for contractually… In practice, the risks targeted by the exclusions are not very diversified and, to our knowledge, no contract contains clauses which would make it possible to exclude as a cause of death, the aftermath and consequences of vaccination, or more generally of taking medical treatment, on the prescription of a doctor.
In other words, insurance companies in France cannot deny payment of a life insurance in the event someone dies from any vaccination, or medical treatment.
Fact #7 : Insurance Companies Are Not Denying Life Insurance Claims
Insurance companies and associations are also stating that COVID-19 vaccinations do NOT impact life insurance claims.
They are certainly NOT calling deaths from getting a COVID-19 vaccine "suicide".
Canadian Life and Health Insurance Association (CLHIA)
Contrary to misinformation being shared online, receiving a COVID-19 vaccine will have no effect on the ability to obtain coverage or benefits from life insurance or supplementary health insurance.
The CLHIA is aware of misinformation that is being spread through social media claiming that individuals who get the vaccine will not be able to get life insurance or may be denied their disability or life insurance benefits. These claims are incorrect and have no basis in fact whatsoever.
American Council of Life Insurers (ACLI)
Insurance companies pay death benefits on policies, when the insured dies, regardless of the cause of death, except in very narrow and limited circumstances.
Life insurance policy contracts are very clear on how policies work, and what cause, if any, might lead to the denial of a benefit. A vaccine for COVID-19 is not one of them.
Manulife
The COVID-19 vaccination in no way negatively impacts your current insurance policies or valid Group Benefits coverage, nor does it factor into new insurance applications you may apply for with us.
Allianz
Your Allianz life insurance policy does not contain a specific policy exclusion for COVID-19.
However, there is an exclusion which may apply if your claim relates to overseas travel. By this we mean, we will not pay any benefits to the extent a claim arises because you didn't follow advice issued by the government relating to an overseas location.
Now that you know the facts, please help to fight fake news – SHARE this article out!
And please protect yourself, and your family, by vaccinating them against COVID-19!
Please Support My Work!
Support my work through a bank transfer /  PayPal / credit card!
Name : Adrian Wong
Bank Transfer : CIMB 7064555917 (Swift Code : CIBBMYKL)
Credit Card / Paypal : https://paypal.me/techarp
Dr. Adrian Wong has been writing about tech and science since 1997, even publishing a book with Prentice Hall called Breaking Through The BIOS Barrier (ISBN 978-0131455368) while in medical school.
He continues to devote countless hours every day writing about tech, medicine and science, in his pursuit of facts in a post-truth world.
Recommended Reading
Support Tech ARP!
Please support us by visiting our sponsors, participating in the Tech ARP Forums, or donating to our fund. Thank you!