64% of Brits reveal their happy place is their car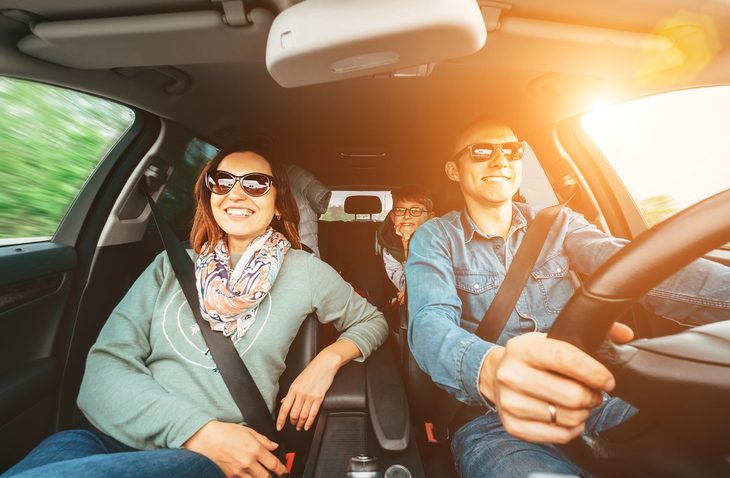 Authored by AXA
Over half (52%) of people feel the most independent in their car, whereas just under half (49%) say it's their happy place because they can travel with their family38% say the most exciting thing they have ever done in a car was creating memories with their best friends, with over a quarter (26%) revealing they have used a car trip to declare their love for someoneA quarter (25%) chose Scotland as the best region for a road trip, with the classic anthem 'Bohemian Rhapsody' by Queen voted the top road trip anthem (22%)
Moja, AXA UK's digital-only insurance brand, reveals that 64% of Brits see their car as their ultimate happy place. Everyone has experienced the feeling of escape a car can bring, whether they are the driver or the passenger. A poll of 2,000 adults revealed that a good car journey gives them independence (52%), freedom (42%) and time to self-reflect (34%).
Many treasured moments come out of a long drive, with 38% of Brits saying their favourite has been creating memories for life with friends, 26% confessing their love for that special someone in the passenger seat, and a fifth (20%) admitting that sleeping in their car was one of their more exciting memories.
Moja, which can be found through mojainsurance.co.uk, is working with former Love Islander and social media influencer Chris Taylor to find the nation's happy place. To Chris, the importance of escapism and having a stress-free, fun journey on the road is a must.
"In this busy day and age, it's so important to be able to understand where your happy place is, so you can allow yourself to have moments of zen, reflection and fun." – Chris Taylor, TV Personality and Social Media Influencer
The research has also revealed the top regions for road trips, so the nation is all set ahead of the summer bank holiday (August 28th). Scotland tops the charts (22%), with the Southwest (16%) and Wales (11%) following closely behind. 
When it comes to those more personal moments, a third (33%) of people find it easier to open up to a partner in the car, and a further 21% rely on longer journeys to work through relationship issues. The car is also a popular location to chat through challenging topics, with 17% saying it helps because they don't need to look their partner in the eye.
Two in five (40%) class their first drive after passing their test as their most iconic trip for them, while 23% say it was driving their new-born baby home from the maternity ward and 15% said it was a road trip with friends.
"This research shows that some of the most important moments centre around your car, such as bringing your child home for the first time or making great memories with friends. With more than 60% of people saying that the car is their ultimate happy place, it shows how important it is to make the overall driving experience as stress free as possible to keep those happy times going. This is what we're aiming to do with Moja, by making motor insurance simpler, fairer and always there for our customers." – Tara Foley, CEO at AXA UK Retail
When it comes to those longer road trips, people class snack buckets (18%) and service station meal stop-offs (18%) as their rituals, with almost one in 10 (9%) leaving three hours early to ensure they reach their final destination comfortably.
46% of people have taken the car out to help a friend in need, 34% to clear their head and 32% to check out a place in their area that they've always wanted to visit.
To find out more about the great value, online-only motor insurance cover offered by Moja, visit mojainsurance.co.uk
Top 10 car songs
Bohemian Rhapsody – Queen (22%)Go Your Own Way – Fleetwood Mac (16%)Born to Run – Bruce Springsteen (14%)Born to be Wild – Steppenwolf (13%)Highway to Hell – AC/DC (13%)Sweet Home Alabama – Lynyrd Skynyrd (13%)Mr Brightside – The Killers (11%)Summer Holiday – Cliff Richard (9%)Radar Love – Golden Earring (9%)On the Road Again – Willie Nelson (9%)