Defaqto awards 5-Star rating to 10 of RSA's e-traded products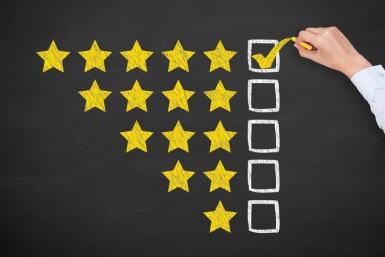 Authored by RSA
While buying habits have shifted over the last two years in favour of self-service environments, customers still look to brokers to add value by providing reliable advice and guidance. We strive to offer 'Best in Class' commercial insurance products that enable our brokers to recommend solutions they can trust to provide quality cover for customers, with the appropriate features, benefits and terms. But of course, we can't expect the market to simply take our word for it!
Not all reputation systems are created equal
In our personal lives, we've all grown accustomed to using ratings and reputation systems as a barometer of trust and to manage our expectations – from checking TripAdvisor before we book a restaurant or weekend getaway, to a sneaky peek at Glassdoor to see how a company treats its employees before accepting a job offer. And not only do we rate our Uber driver after a trip – they rate us reciprocally as passengers.
The trouble is, these consumer rating systems are entirely subjective and often misleading, because they're not based on data but rather feelings and emotions, and they tend to over-represent the most extreme views, both positive and negative.
The Defaqto difference: facts, not opinions
That's where Defaqto is different: as a truly independent service that is not affiliated to any provider, their star ratings are based on facts, rather than opinions. Their analysts are dedicated to continuously studying the financial market throughout the year – researching, collecting and analysing tens of thousands of financial products according to a stringent methodology before rating them on the features and benefits they offer. A 1-star rating indicates a basic product with fewer features, while a 5-star product is determined to be among the highest quality offerings in the market. Defaqto's analysts regularly consult with relevant industries to determine which features are most important to customers and update scores annually to ensure that any product changes are captured.
As an industry-standard, Defaqto's star ratings are an opportunity for us to meaningfully differentiate our products on the basis of what they offer, not just how much they cost. This benchmark gives brokers the confidence to recommend our products more effectively and helps customers to make more informed decisions, with the reassurance that each product has been thoroughly vetted by unbiased experts.
10 e-traded products achieve 5-star ratings
We have an ethos of continuous improvement and over the past year, we have been working very hard internally and consulting with brokers to make our e-traded products even more comprehensive and competitive. Defaqto updates its star ratings every February, and we're now very proud to announce that we have achieved 5-star ratings for 10 of our e-traded products: Hotels, Offices, Pubs, Retailers, Restaurants, Business Combined, Surgery, Mini Fleet, Properties and Morethan Landlord.
As well as demonstrating that we deliver some of the best products available, it's a reflection of our commitment to being a helpful insurance partner with a thorough understanding of the market and customers' needs. Our valued brokers can recommend these products in the knowledge that they will offer the necessary quality and breadth of wordings that smaller business customers need, with the speed, ease and convenience of being able to transact online.