Fires and container ships: Marine insurers tackle collossal challenge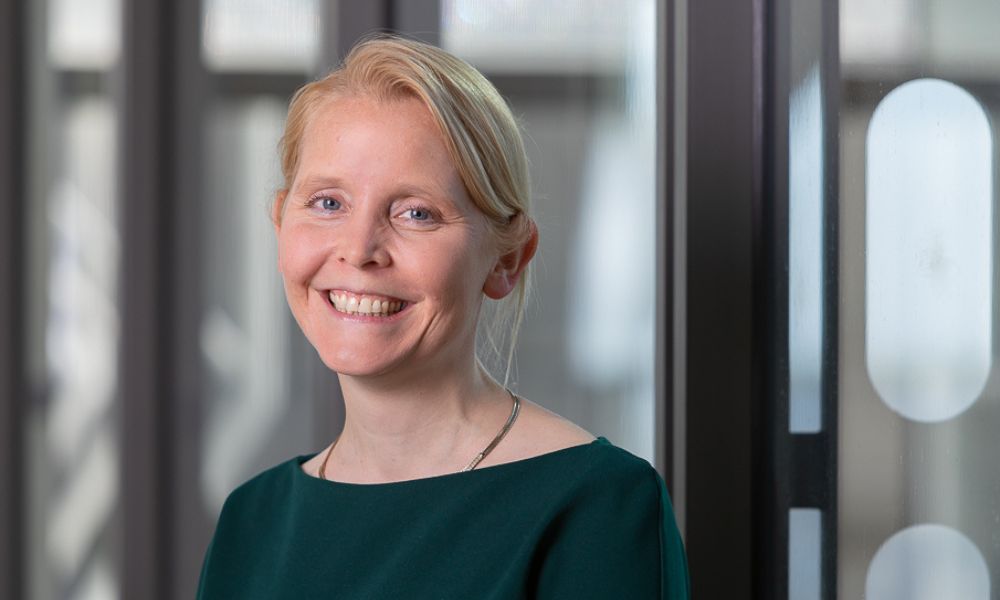 Fires and container ships: Marine insurers tackle collossal challenge | Insurance Business America
Marine
Fires and container ships: Marine insurers tackle collossal challenge
"It needs to be automated"
The colossal container ships that make global business possible have become a dangerous fire risk. After years of lobbying, the Hamburg headquartered International Union of Marine Insurance (IUMI) and its supporters have managed to get this fire safety issue onto the agenda of the International Maritime Organisation (IMO).
"The actual work will start next year in March," said Hendrike Kühl (pictured above), policy director of the IUMI, an organisation that represents marine property insurers with more than 40 national insurance associations worldwide as members.
Kühl said marine fire risks are a "huge issue" and "on everybody's mind."
Container ship fires: "a common occurrence"
Kühl said this issue has been around for many years.
An IUMI report submitted to the IMO in 2020 found that cargo fires on container ships "have become a common occurrence" causing "numerous casualties" and "severe damage."
The report found that between 2000 and 2015, more than 50 of these fires caused just over US$1 billion in damages (excluding hull damages).
"The values that are being transported on board these ultra large container vessels, but even on smaller container vessels, are huge values," said Kühl. "So if they burn that is a problem for property insurers and obviously the hull insurers as well."
Container ships have doubled in size
According to global insurer Allianz, container ships today are carrying an incredible 1500% more containers than they were in the late 1960s. In just the last decade, the biggest vessels have almost doubled in size to 400 metres long (see picture immediately below courtesy Allianz Global Corporate & Specialty, Safety & Shipping Review).
This up-sizing is driving up the fire risk.
"Obviously, the risk does increase with the number of boxes that you've got on board because one of the root causes is often misdeclaration or non-declaration of dangerous goods," said Kühl. "That is a real problem."
She said this is where the IUMI has to "parallel track" to deal with two related issues.
"We do need to address the problem of misdeclaration and non-declaration of dangerous goods because it is difficult if you don't know what's inside the boxes, they also might be stored in different places on board," said Kühl. "At the same time, the firefighting systems on board those vessels haven't really grown with the size of the vessels."
She said apart from the introduction of water monitors and water mist lances (so crew can penetrate a container if it catches fire) in 2016, there have been no significant upgrades to fire safety rules on container ships since the 1960s.
"That's clearly not enough when you look at the size of the vessels these days," said Kühl. "From our point of view it needs to be automated."
Ship crew are not firefighters
She said, ideally, the ship's crew should be removed from the firefighting.
"Often the fires happen when they are at sea far away so there is no assistance and there are no tugboats," said Kühl. "So they have to deal with it but ideally, they would be removed and it would be automated and there would be water curtains and more automated systems including larger scale, fixed water monitors."
Other solutions include better detection systems.
"The detection systems have to be improved significantly," she said. "At the moment, it's just not good enough, it takes too long for fires to be detected."
Kühl said thermal imaging cameras or gas detection mechanisms are two possible ways to go about this.
"The earlier you detect a fire, the higher the possibility is that you'll be able to extinguish it," she said.
Marine insurance needs more digital solutions
Despite the world's much publicised progress in digital technology and artificial intelligence, Kühl suggested that not much of that has reached container ship risk management processes.
"It's still not so easy to actually figure out what's inside all these boxes and what the accumulation risk is for individual insurers," she said. "That's actually another important aspect that our members have been focusing on in recent years, to bring more digitalized solutions into the marine insurance world as well."
Now that the container ship fire safety issue is on the IMO's agenda, the Ship Systems and Equipment Subcommittee (SSE10), can start looking at solutions.
"I actually think it's probably the only platform [the IMO] where you can achieve change but because there are so many stakeholders and so many actors [175 member states] involved it is a long process," said Kühl.
However, she doesn't expect all the IUMI safety recommendations to be accepted.
"What we are hoping is to move the needle towards more safety, towards more serious improvements than what we've seen in 2016 with these water mist lances," she said.
Kühl expects the first fire safety improvements to be implemented in 2028.
Are you a marine insurance stakeholder involved with container ships? How do you see the fire risks? Please tell us below
Related Stories
Keep up with the latest news and events
Join our mailing list, it's free!