NOAA forecast cone shows major hurricane Ian to approach Florida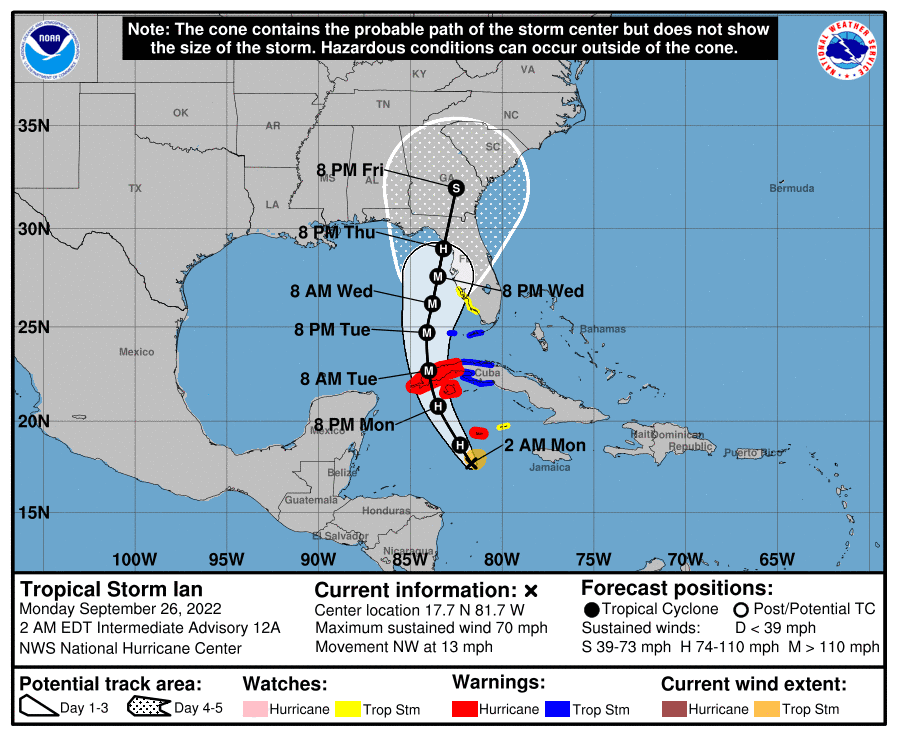 The forecast cone for tropical storm Ian, which is expected to soon become hurricane Ian, depicts a scenario no one in the insurance, reinsurance, catastrophe bond, or ILS market wants to see, a major category hurricane approaching Florida.

Once again, a forecast this far out is fraught with uncertainty and lacking in skill, but the update to NOAA's forecast cone just now means we see the first forecast cone depicting a major Florida hurricane landfall in some years.
Update:
Tropical storm Ian was named as 98L intensified and headed across the Caribbean. The forecast suggests tropical storm Ian will intensify to become hurricane Ian in the next day or so before then continuing to intensify to become a major Category 4 hurricane in the Gulf of Mexico.
The forecast models have gradually shifted tropical storm Ian's track further west, which has taken the cone west with it and now most models are calling for a landfall somewhere on the Florida Panhandle towards the end of the week.
There's some uncertainty over the location and strength of hurricane Ian when it makes landfall.
Forecasts suggest it will encounter some wind shear that could weaken the hurricane before landfall, but it's hard to say how much. Similar scenarios in the past have seen hurricanes fail to weaken and continue to maintain their intensity, so a major hurricane Ian landfall event cannot be completely ruled out yet.
It also can't be ruled out that Ian won't curve east quicker and still make landfall on the Florida Peninsula's west coast, or move slowly up the west coast of Florida driving a storm surge onshore. In fact there are a number of scenarios that could make for quite significant insurance and reinsurance market loss events with hurricane Ian.
We will know a little more once hurricane Ian has passed Cuba and we see how quickly it regains its structure and starts to intensify again. Should the wind shear conditions lessen and Ian get a clearer passage towards the Florida coastline it could intensify further, with a major hurricane landfall still a possibility if that occurred.
The models show a hurricane with sustained winds of 90 mph to 110 mph making landfall in the Panhandle right now, which could still be a significant, perhaps double-digit billion dollar insurance and reinsurance market loss event.
Other modelled scenarios we've seen point to industry losses in the low tens of billions of dollars, but of course at this stage and this far out, it's impossible for the modelling firms to predict anything likely to prove accurate.
Original article continues below:
The cone from Friday that showed a major hurricane landfall for Florida's west coast can be seen below (view a live tracking map here):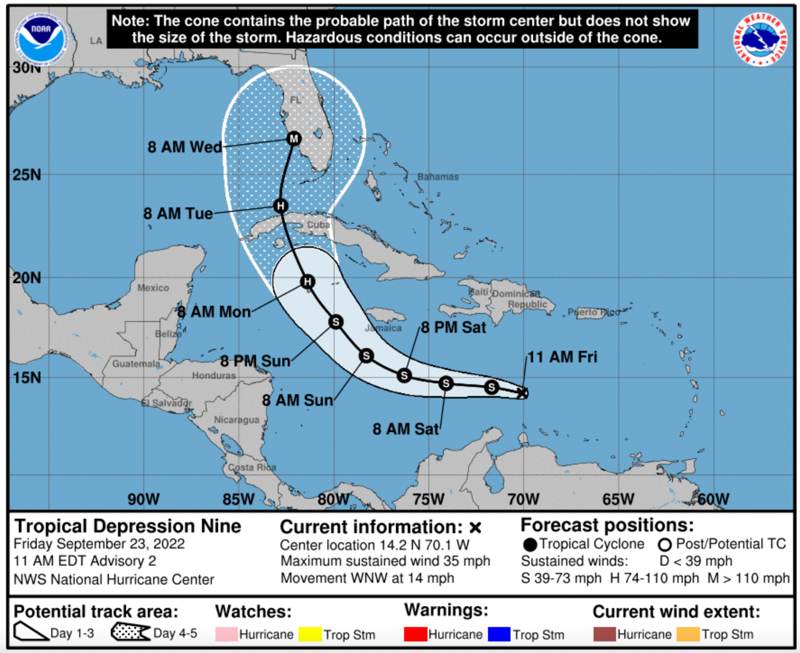 There is still some uncertainty over whether tropical depression 9 becomes storm and then hurricane Hermine, or Ian (it's now been confirmed as tropical storm Ian).
Below you can see the latest modelled intensity guidance for 98L (Ian), also from TropicalTidbits.com: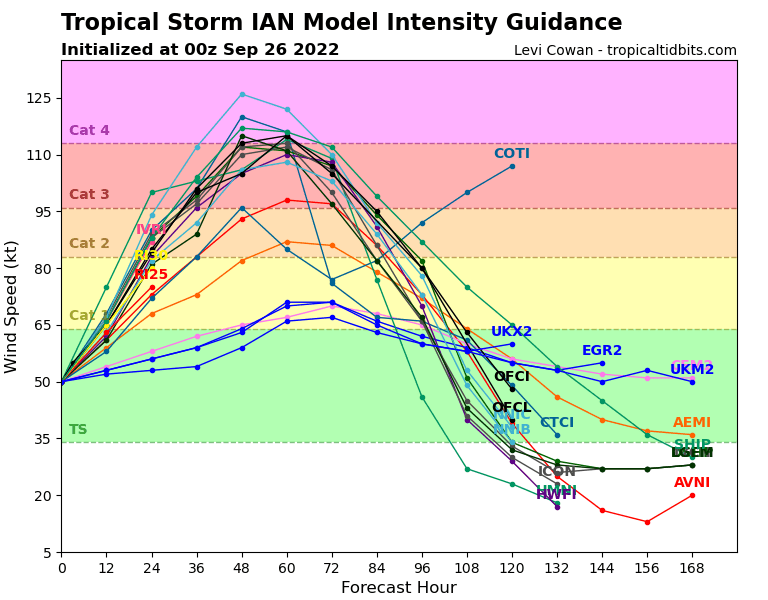 Florida is now considered to be the most likely destination for this storm once it has developed and intensified over the Caribbean.
There's still some spread in the models and so a relatively wide forecast cone at this time, but the general model consensus has now shifted towards the Florida solution.
How intense a hurricane this storm, Ian, may become, could have a lot to do with how impactful it is to Cuba's western region.
The mountainous west side of Cuba has the potential to hinder a storm's formation, but it should be noted we've also seen hurricanes that easily cross Cuba without losing too much power on the way.
The latter seems to the the solution that models are currently leaning towards, with a still strong, roughly Category 2 hurricane expected to emerge into the southern Gulf of Mexico and then intensify rapidly on approach to Florida, somewhere around the Naples, Fort Myers, to Sarasota area of coastline on the west of the Peninsula.
That's a region with plenty of insured exposure, so any major hurricane landfall there certainly has the potential to be a double-digit billion dollar loss event, with significant ramifications for the insurance, reinsurance and ILS community.
But we're still a long way off having any certainty over the forecast and this storm could take a different direction, be weakened by Cuba, fail to intensify as much as the models currently expect, or encounter more wind shear than anticipated, all of which could change the direction, the strength and ultimately the landfall scenario.
There is a lot that could change between now and next Wednesday.
That said, it's worth repeating that this is the first forecast cone showing a major Florida hurricane landfall event in some time, so definitely worth taking seriously.
While we know some live cat related rumours are floating around the market (they always do), it's never really a news that you could get quoted for some protection.
What is always more surprising is that anyone can afford to, or is motivated to, buy and right now it seems still too early.
With the weekend approaching though, the usual conundrum presents itself, that come Monday it could be too late for any live cat capacity buying as well. With the greater certainty on the outcome that we're likely to see after the weekend, either the need for protection dissipates, or the price rises to a level that makes it completely unfeasible to buy that kind of coverage.
As a result, it's shouldn't come as a surprise if there's live cat trading chatter in the market, but it will be surprising if anyone actually does any deals.
Right now NOAA suggests that the earliest that tropical storm force winds could arrive in Florida would be on Monday, although it may be later by the time Cuba has been navigated by this storm (Hermine, Ian, or whatever tropical depression 9 is eventually named).
Track the 2022 Atlantic tropical storm and hurricane season on our dedicated page and we'll update you as new information emerges.