RSA building resilience in partnership with Gloucestershire Wildlife Trust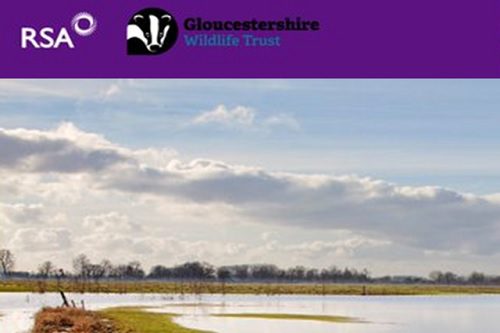 RSA Insurance is pleased to announce a new 2-year partnership with Gloucestershire Wildlife Trust (GWT) to provide Natural Flood Management (NFM) solutions to areas most affected by flooding in the UK.
Flooding is one of the greatest challenges facing homes and businesses across the UK. In England alone, more than 5 million properties – one in six – are at risk of flooding, according to the National Assessment of Flood Risk report conducted by The Environment Agency. 
Additionally, recent analysis by MORE THAN, which is a part of RSA, shows that the average number of claims it received for weather-related incidents rose by 58% over the last three years, with the average flood claim costing around £39,000. 
The British Ecological Society (BES) has highlighted the devastating effects frequent extreme weather events can have on freshwater ecosystems, and the need for proactive strategies to increase ecosystem resilience by improving the connectivity of habitats. 
The new partnership will see RSA will work together with GWT on an extensive NFM programme to help reduce flood risk across Cheltenham and Gloucester, which the insurer identified as two areas that have some of the most acute flood risk using 20 years of data examining river, coastal and surface water flooding.
More than 15,000 homes in Gloucester and 8,500 homes in Cheltenham are considered potentially vulnerable to flooding each year. 
The first joint-venture of its kind, the new partnership will see RSA make an initial £400,000 investment to use nature-based interventions to help limit the impact of flooding on local habitats and improve the resilience of local communities.
RSA and GWT have engaged with the Environment Agency, Gloucestershire County Council, Gloucester City Council and Cheltenham Borough Council to identify areas for intervention where the risk is likely to be most significant for people, the environment (including cultural heritage) and the economy.
This partnership is born from RSA's commitment to helping communities build resilience and adapt to climate change by being better prepared for severe weather. RSA chose to partner with GWT due to its experience using nature-based solutions to mitigate the risks of climate change, while delivering multiple benefits for nature and local communities.
The programme is made up of the following three interventions designed to reduce flooding and enable the environment and local communities to be more resilient to its impacts:
Showcasing Natural Flood Management (NFM) interventions in and upstream of Gloucester and Cheltenham.The development of nature and water highways (connected areas of greenspace) through some of the most nature-depleted and high deprivation areas in England.The installation of community Sustainable Urban Drainage schemes to attenuate surface-water flooding and support urban wildlife.
The programme will showcase ways to address flooding triggers in Gloucester and Cheltenham at source. It will involve the establishment of detention basins and attenuation ponds (which capture and hold rain water – to reduce peak flows and limit the risk of flooding), wetlands, driveway de-paves, rain gardens, green verges and wild bus stops, and provide important wildlife habitat at the upper reaches of key 'nature highways' as well as further downstream in areas at high risk of flooding. 
An extensive community engagement and education campaign will also see the partnership visit local schools and communities, providing advice on natural solutions to flood risk and habitat creation to thousands of local residents and businesses. The partnership will co-develop a 'Waste of Space' toolkit with communities, which will identify new areas that could be managed for biodiversity and flood resilience. RSA and GWT will disseminate 'nature highway' leaflets and undertake 10 training workshops for residents and children in 10 local schools.
By committing to a 2-year project plan, RSA and GWT allow time to build community relationships to affect real change. This timeframe will allow us to assess the impact of interventions on communities, and their ability and confidence to take action for the environment, whist also benefitting data collection to provide proof points for the effectiveness of NFMs and hopefully encourage widespread adoption in other affected areas.  
Laura Spiers, Head of UK&I Social Impact and ESG, welcomed the partnership, commenting, "Extreme weather is making the problem of flooding in the UK worse, causing both financial and emotional stress for homes and businesses up and down the country. But this doesn't need to be the case, by working together with different organisations we can use the power of nature to increase flood resilience.  Helping to build more resilient communities and support people to adapt to the effects of climate change is a key part of RSA's Social Impact strategy, which is why I'm delighted to announce our new partnership with GWT. Our comprehensive two-year programme of natural flood management solutions will make a real difference to local communities in Cheltenham and Gloucester, and I'm excited to see how it might help to influence the spread of other nature-based solutions across the country." 
Roger Mortlock, CEO, Gloucestershire Wildlife Trust said, "Nature has a huge role to play in helping us tackle the impacts of climate change, including flooding. We are no strangers to the impact of flooding in Gloucestershire – that's why we are delighted to be working with the RSA to demonstrate the role that nature can play. This is a project where both nature and people benefit, building more resilient places where communities can enjoy a closer relationship with nature."
Karen Andrews. Catchment Co-ordinator for Severn Vale Catchment Partnership, Environment Agency, added, "This is an exciting and innovative project which will help to showcase Nature-based Solutions to flooding and to biodiversity loss in our urban areas, and empower communities to build resilience in the face of our changing climate.  We are really pleased to be collaborating with Gloucestershire Wildlife Trust to help to identify where these interventions might provide the greatest benefits for the people of Cheltenham and Gloucester".
Richard Graham Gloucester MP, said, "I'm delighted to hear of this partnership as a positive step towards the improvement of flood management particularly for my constituents in Gloucester."
Authored by RSA