How to use PT testimonials to boost your business
When done properly, personal trainer testimonials are one of the most
effective ways to grow your client base.
The trouble that many PTs have is not knowing where to start. Getting
clients to provide a valuable testimonial can be difficult if you don't know
how to prompt them.
Here you'll find a full guide to getting high-quality personal trainer testimonials, alongside tips on maximising their effect.
Why do you need personal trainer testimonials?
According to Power Reviews,
shoppers who visit a page with 1-10 reviews are 52.2% more likely to convert
than those who visit pages without any reviews.
This speaks volumes of the importance of displaying personal trainer
testimonials across your website and social media channels.
While reviews are useful, testimonials take things a step further.
They demonstrate your clients' transformations and how your services
have positively impacted their lives, especially when accompanied by photos.
They're the ultimate form of social proof, as you present potential clients
with the result they're hoping for and will achieve if they purchase your
services.
If you don't have any, don't worry—we cover how to get personal trainer testimonials later in this article.
What makes a great testimonial?
1. Transparency 
Your testimonials should be an honest reflection of your services.
7 in 10 customers buy
from those they trust. If your testimonials are forged or build up an expectation
that your services can't live up to, you risk breaking client trust. That isn't
a road you want to go down.
Steer clear of buying fake reviews or testimonials. Instead, focus on
building a collection of valuable, high-quality testimonials that paint your
business as trustworthy and superior to competitors.
Remember—your services should match up to your promises. Make sure you
always show diligence towards clients and make it known that they're your
priority.
Related: 12 roles and responsibilities of a personal trainer
2. Endorsement 
You should only ask those who have experienced your services first-hand
to write a testimonial.
If you're new to the industry, offering discounted or free sessions to
members of the gym you're working at is a sure-fire way to earn your first set
of personal trainer testimonials. But remember to keep our first point in mind.
To ensure your testimonials are genuine, you should avoid asking clients
for this favour too early on.
They won't be valuable enough if you haven't had a chance to build much rapport with your clients or get them the results they're looking for. They can only endorse services that have significantly impacted their fitness.
3. Value 
Each testimonial should demonstrate the value your services offer,
especially when it comes to standing apart from competitors.
Powerful testimonials use specific examples that show why others should
choose you over another trainer. This makes them more personal and authentic
and paints you as a committed and professional individual.
There is no better way to build trust than giving potential clients an insight into the personalised, non-judgemental environment you're creating for them, especially if you're targeting those new to fitness.
4. Evidence 
The more visual your personal trainer testimonials are, the better.
Before and after photos will scream, 'this is the answer you're looking for!'
before potential clients even have a chance to read them.
Photographs aren't hard to come by, either. Most clients who have
undergone a fitness transformation will be willing to share this with others.
What better way to feel good about themselves than becoming an example of the physique that others are looking to achieve?
5. Brevity 
Keeping things short and sweet is the best way to get noticed by
potential clients.
While it's great to include specifics, these shouldn't develop into
intricate tales of how you got your clients into the shape of their lives.
Remember P-E-E paragraphs at
school? Don't be afraid to shape your testimonials into a
point-evidence-explanation structure. It exists for a reason and will ensure
your testimonials serve their purpose.
If you ensure your client is happy with any edits you make to their
recommendation of your services, you can fine-tune them to be more
effective.  
Related: The best niche fitness markets for personal trainers
Examples of personal trainer testimonials 
Now you know how to make yours successful, we've found some sample
personal trainer testimonials to inspire you further.
Here's a great example from Nick Screeton of LEP Fitness: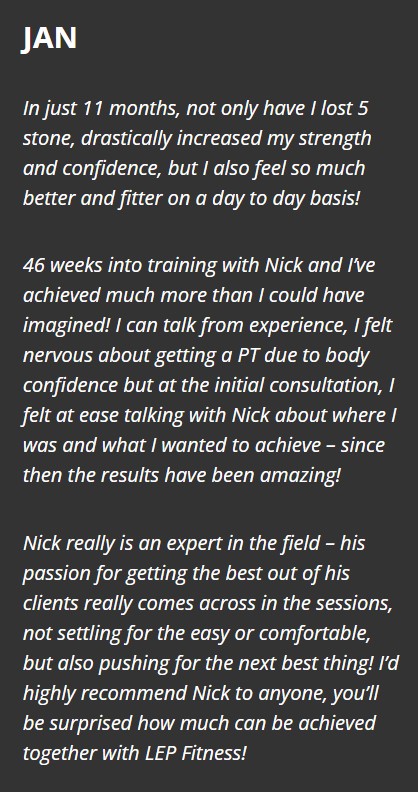 As you can see, this testimonial embodies the above guidance.
The photographs portray a huge fitness transformation before the reader
even gets to the text, instantly demonstrating the value of Nick's services.
The testimonial itself is short, yet it conveys the story of Nick not
only helping the client get into great shape but also putting him at ease and
helping to boost his confidence during the process.
It comes across as transparent and authentic, especially through the
specific examples of Nick's passionate and supportive approach to working with
clients.
Here's another example from the Embody client testimonial page: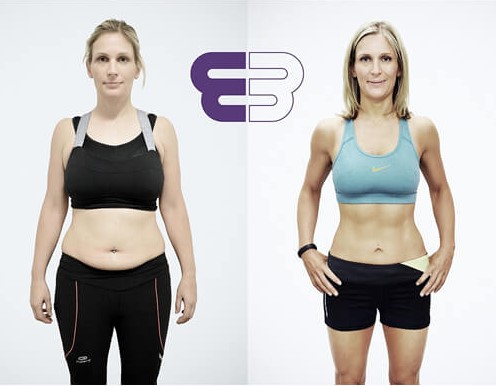 This testimonial tells a compelling story in just a few sentences.
It uses specific examples such as how easy they found it was to lose
weight thanks to the team's help and that they benefitted from their knowledge
on strength and conditioning for fat loss. It paints the team as true experts
in their field.
Another example includes that the nutritional plan 'never leaves you
hungry', which works to expel any pre-existing fears potential clients may have
about starting their fitness journey. This is hugely effective.
To conclude, they mention that they're potentially going to continue
their journey with the Embody team despite reaching their goals, which is the
icing on the cake.
We also wanted to include a video example of a personal trainer
testimonial since these are a growing trend.
After all, 96% of people turn to video to learn more about a product or service, so let's take a look.
This testimonial is impressive, as it demonstrates what many potential
clients are looking for. An inclusive, supportive environment that has an air
of exclusivity—no more busy commercial gyms!
If you're contemplating setting up a studio or gym, this is a great
example of how to market it through testimonials.
The same learning points apply even if you're operating out of a
commercial gym. Giving potential clients visibility into the fact your business
is open to everyone and is a breath of fresh air compared to their previous
experiences in the fitness industry is all you need.
The great news is that there aren't many personal trainers using this method of social proof to their advantage. So, if you ensure your video testimonials are high-quality and valuable, you'll stand out.
Where to ask for testimonials 
You can ask clients for testimonials in any setting you usually connect
with them. We'll get into how to ask in our next section, but where to ask
includes:
in person—arguably the most effective way, as you're asking clients directly text/email—this is another direct approach as it encourages them to write it and send it back as a responseon your website—create a page for displaying testimonials, and include a CTA (call to action) for clients to submit their ownsocial media channels—post an existing testimonial, and then use a CTA to encourage clients to show off their own journey across your pages.
Prompting great testimonials: questions to ask your clients 
When learning how to get personal trainer testimonials, it's best to
start by asking the right questions.
You'd be surprised at how difficult it is to get a story out of some
clients, as this is essentially what you're asking for—a few paragraphs that
convey how you've changed their fitness for the better.
Here are a few starting points to incite the best responses:
what problem were you looking to solve?what made my business the best choice for you?how did I solve your problem?what part of my solution went above your expectations?what element of my approach stood out to you?can you summarise your experience working with me?would you recommend my services to others?if so, who would benefit from them the most?
How to display your personal trainer testimonials 
1. On your website 
If you have a website, it should be one of the first places you use to
display your testimonials.
Nick Screeton of LEP Fitness displays his testimonials in a simple yet effective way, on their own page within his website: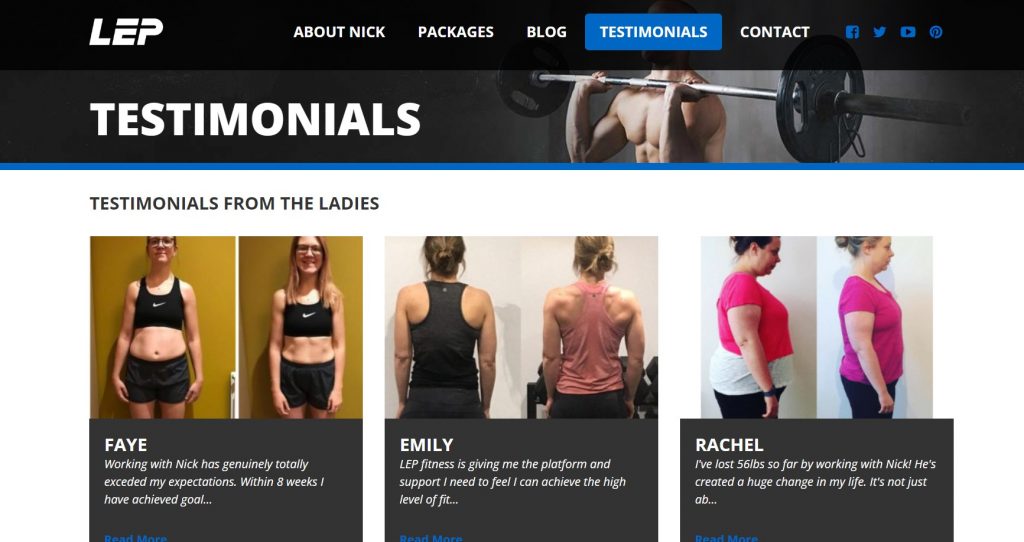 You can choose to display them on your website homepage, so they're the
first thing potential clients see, or in a similar fashion to the example
above.
If they're easily accessible to anyone who lands on your page, you can't
go wrong.
Related: SEO tips for personal trainers
2. On your social media pages 
While engaging with existing clients on social media is valuable, the
main benefit of populating your accounts with social proof of how great your
services are is to wow potential clients.
If the first thing they see when they check out your Instagram is
multiple fitness transformations and clients singing your praises, this could
increase your sign-up rate tenfold.
Look at the first three posts on this Instagram page belonging to @burmanfitness:

The first post gives visibility into the PT and who they're looking to
help. It includes a strong CTA encouraging potential clients to sign up and is
cleverly displayed next to two testimonials showing the results they can expect
if they do so.
The following two posts are visual examples of how effectively this PT
delivers these results. They work well as social proof from existing
clients.  
Let's take a closer look at one of the testimonial posts: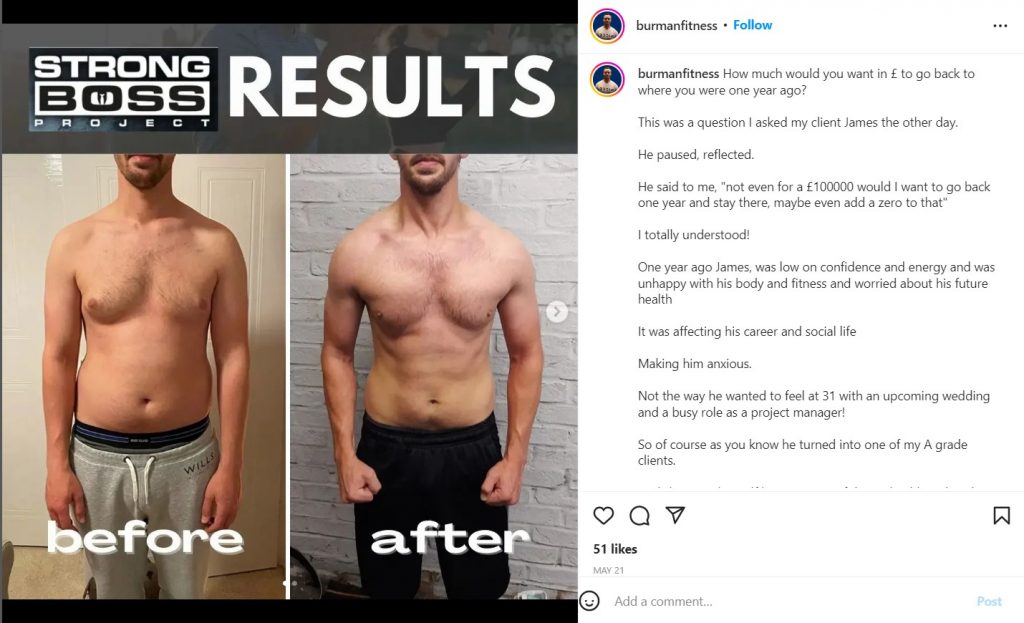 The caption is compelling and shows how the client went from A to B in
his fitness journey with this PT's help. It's another great example of a
personal trainer testimonial.
Plus, the third-person approach is a great idea if you want to write up
a testimonial based on your client's responses to your questions and get them
to sign it off before you post it.
This is never a bad idea if it's something you're skilled at and could
save you a lot of time trying to chase up clients who haven't gotten around to
writing up their own.
If this approach doesn't work for your feed, here's another example of
how to display testimonials from @andycollierpt: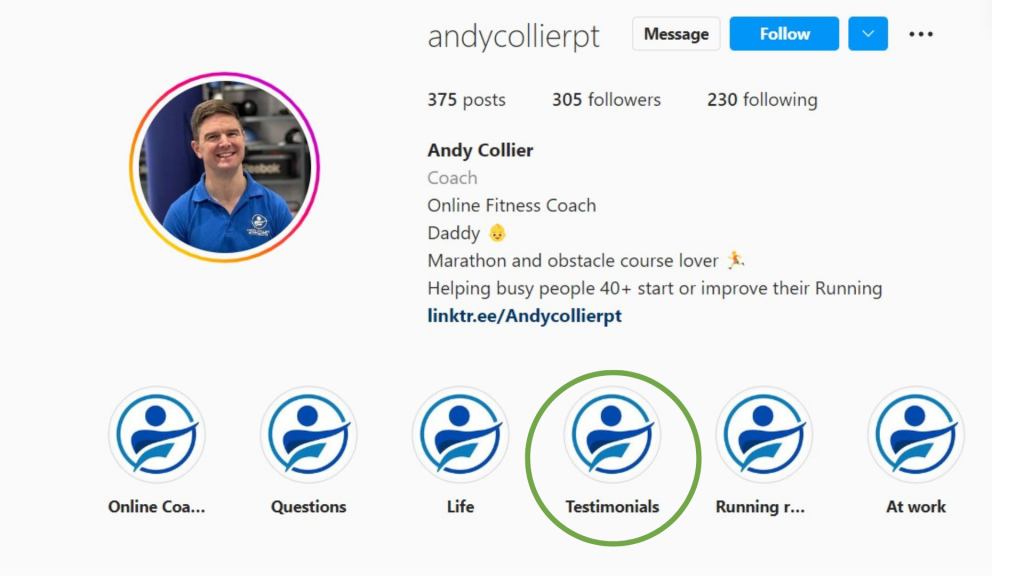 His testimonials are displayed behind the 'story highlight' feature on
Instagram, enabling potential clients to view them at the tap of a button when
they land on his page.
We've focused mainly on Instagram here, as it's the best platform for PTs looking to market their services. Still, this ideology is easily transferable to Facebook, LinkedIn and even TikTok if you've created video testimonials.
If you're starting out, you may want to take out specialist personal trainer insurance to protect your business.
At Insure4Sport, we arrange insurance that covers your equipment if it
is lost, damaged, or stolen or offers protection if a client makes a claim
against you.
Learn more about how we can help here, or click the button below to get an instant online quote.