The 7 best lifting straps on the market
Every weightlifter will find themselves attempting
to lift more than their wrists and grip will allow at some point. Frustrating
but inevitable, this is a real problem when trying to reach your lifting goals.
However, fear not—that's where lifting straps come in.
Fear of losing your grip is distracting and can
stop you from reaching your full lifting potential while your mind's elsewhere.
But the best lifting straps give you the confidence to perform exercises even with
the heaviest of weights.
Lifting straps secure themselves to the bar when you perform a repetition, making them a whole lot easier to maintain. They also help protect your wrists during exercises that target the muscles in your lower back and arms, in particular.
However, it's a competitive market, so have a read of our best lifting straps guide before you delve any further.
The 7 best lifting straps
RRP: £27.99
The IronMind Strong Enough Lifting Straps were first developed in 2000, after Ken Brown's bog-standard lifting straps snapped during the World's Strongest Man competition in 1999.
The team at IronMind decided such a mishap was unacceptable and so set about creating a lifting strap that wouldn't snap. Ken Brown then went on to break the world record in the Silver Dollar Deadlift using the newly-designed straps.
Now, the Strong Enough Straps are widely considered the best general-purpose lifting straps on the market, and are the straps of choice for many of the World's Strongest Man title contenders.
RRP: £8.99
The Harbinger Cotton Padded Lifting Straps are
among the most reliable, functional, and affordable lifting straps around.
Avid weightlifters will particularly appreciate the padded
wrists that prevent the straps from digging into the skin. Similarly, the
length of the strap (20.5" long and 1.5" wide) provides a strong wrap on the
bar so you can continue lifting with confidence.
These straps come in black with red logo detailing on the wrists, with merrowed end tabs to prevent fraying.
These straps feature extra-thick neoprene padding around the
wrists to prevent discomfort and chafing while you lift.
Beast Gear Weight Lifting Straps are 22.5" long and 1.5" wide,
and the added length improves grip on the bar. However, the added gel grip on the
straps takes these from good to great.
The gel helps to lock in the strap when in use, preventing slippages and giving you the purchase you need to reach your full lifting potential.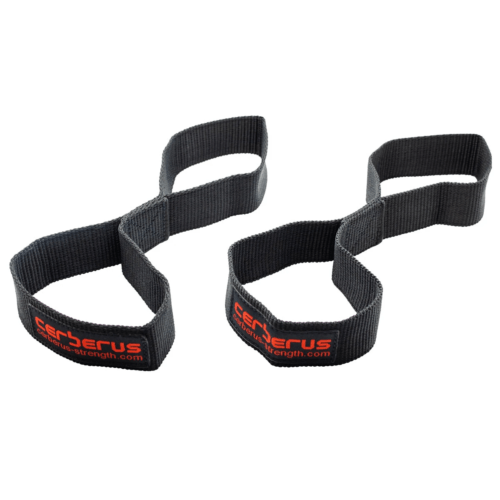 RRP: £22.99
As their name suggests, the Cerberus Elite Figure 8 Lifting Straps
are shaped in a figure of eight, with the centres reinforced by stitching. These
straps are favoured by deadlifters at the World Deadlift Championships and are
rated to 600kg—more than the current deadlifting world record.
Made of super heavy-duty cotton, these straps are designed for durability and serious heavy lifting. They're also available in four sizes (S, M, L, XL) to ensure a perfect fit whatever your needs and preferences—which isn't often common among other lifting straps.
Bear Grip is a UK-based company with more than 25 years of
fitness industry experience and prides itself on producing great value products
with great customer care.
It's no surprise, then, that Bear Grip Premium Lifting Straps are all about affordability without sacrificing quality. They're made of heavy-duty cotton with industrial grade stitching for longer-lasting durability and feature a neoprene padded wrist guard for comfort. There's also rubber logo detailing across the strap's length to increase grip on the bar.
These 21" straps come in various colours and patterns, including blue, pink, khaki, camouflage, and all-black—so you're bound to find a style to suit your taste.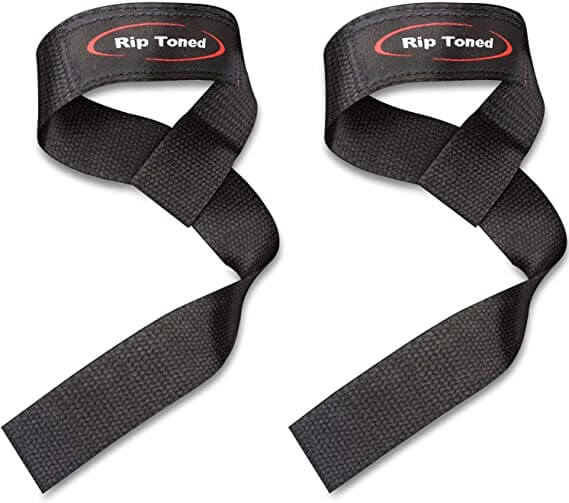 RRP: £6.49
The Rip Toned Padded Weight Lifting Straps are specially designed for lifters with smaller wrists (typically under 7.5") and are endorsed by 2014 World Champion Powerlifter, Kevin Weiss.
They're made with industrial-grade materials, making them
suitable for long-term use with various routines and lifting equipment, including
barbells, bumper plates, and kettlebells.
The straps are fully adjustable and machine washable, too, with extra padding around the wrist for optimal protection. For such a low price point, you'll wonder how (or why) you ever lifted without them.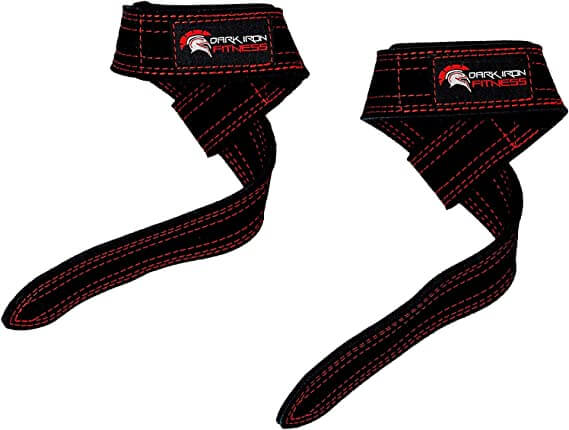 RRP: £25.99
Last on our list but by no means least, Dark Iron claims that
its Fitness Lifting Straps will let you
lift up to 400lbs or more with no chafing or discomfort at all—bold claim,
right?
The confidence doesn't stop there either though, as these
lifting straps come with a lifetime warranty against damage, AND a Money Back
Guarantee. Dark Iron is fully committed to creating the very best lifting
straps that are both reliable and fit-for-purpose.
These straps are 18" long and 1.5" thick—enough to wrap around a standard barbell three times.
Like many sports, weightlifting has various risks involved, but the
lifting straps we've just whizzed through are designed to mitigate some of that
risk. However, there's still more you might want to do to protect yourself at
the gym—even with the best lifting straps on your side.
With Insure4Sport, specialist insurance is available for weightlifters and personal trainers that regularly use weights with their clients. Policies cover you for injury to yourself and others, and you can also choose to protect your equipment against loss, theft, and damage.
Click below to learn more about weightlifting insurance with Insure4Sport.

Related
The 5 best weighted vests on the market in 2022
How to write a personal trainer bio
The 7 best powerlifting shoes on the market