Fuelling Around podcast: Dominic Littlewood on the bizarre start to his television career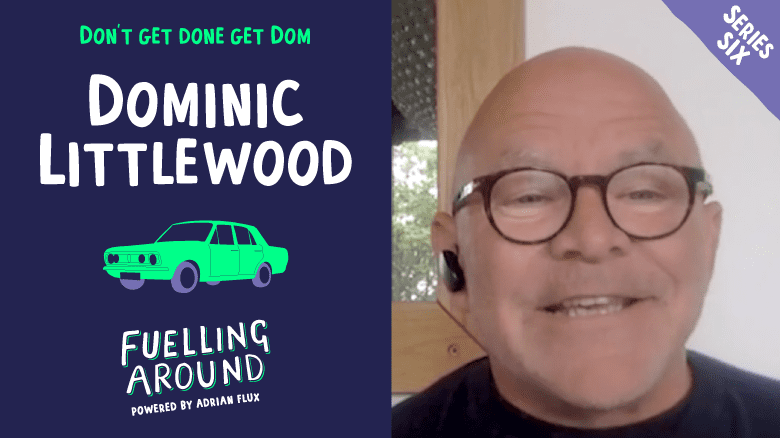 Television presenter and consumer champion Dominic Littlewood tells all about his TV career to Jason Plato and Dave Vitty in the latest episode of award-winning podcast Fuelling Around. 
Littlewood has been involved in television for nearly 20 years and is best known for presenting shows on BBC and Channel 5 such as Cowboy Builders, Don't Get Done, Get Dom and Fake Britain.  
The 58-year-old details how he got his start in television, how he became a consumer rights expert and his time on Strictly Come Dancing.
Consumer champion Dominic Littlewood on his big TV break
During the episode Littlewood revealed the rather bizarre start he got on television through a dating show. 
"I never ever wanted to be on telly all my life" he exclaimed.
"I never looked for it, never applied for it, never went for a job interview. What happened was my girlfriend at the time saw this advert for a TV programme and it was called The Other Half with Dale Winton. 
"I didn't want to go on it, and she said 'let's do it' and she was a cracking looking girl. She was, let's put it politely, she was a model. She used to take her clothes off, if you get the picture. She was stunning. 
"The idea of this programme was four girls go into a show all claiming to be my girlfriend and only one of them is, so she tells the truth and the other three were all pretending and I thought it was a bit of fun, they'll never put us together. 
"So we went on this show and they came and filmed clues in my house, and we literally did it for a bit of a giggle. Went on, didn't go through to the next round because they put the two of us together. So the other couple went through and that was the end of it.
"But as a result of that, I then found that people saw me on telly, and there was a really cracking BBC prime-time series that was being created. It was called Wrong car, Right car. They came along and said to me 'would you be interested in this programme?'
"And I said absolutely not, not in a million years. I was in the motor trade, I had my own garage at the time. I thought they would use me, but it was a cracking programme. They talked me into it. 
"I did it and it was a massive success. It went to series two, and before I knew it, I was launched into this showbiz life."   
Plenty more episodes of Fuelling Around to enjoy
Series six is nearly at the finish line, but if you haven't listened to Fuelling Around before, you'll be glad to know there's a wealth of previous episodes from five series for you to listen to.
A host of celebrity guests have littered the award-winning podcast that has so far produced a string of excellent episodes to listen to. 
You can also tune into Fuelling Around on Spotify, Apple, YouTube or various other platforms if you want to see what all the fuss is about.