Your first moped: a guide to CBT
Image credit: Tom Reynolds (Flickr).
Discover everything you need to know about Compulsory Basic Training (CBT), the first step all riders must take before heading out on the road on their moped.
You've made the decision to buy your first moped. After all, it's the perfect way for you to get around: it's cheap to run and fun to ride. But before you head out for your first journey – perhaps even before you make a purchase – you need to complete CBT. 
What is it and what do you need to know about it? That's what this article explains.
What is compulsory basic training (CBT)?
Compulsory basic training (CBT) is a course that moped riders and motorcyclists must complete before they can legally ride on public roads. It's often referred to as a test, but this is incorrect: it's not a test, because you cannot fail the CBT.
The purpose of it is to teach beginners the basic skills for riding safely and competently. Most people take one day to complete their training. However, if your instructor feels you are not meeting the minimum standard required for safe riding, you will be asked to complete extra training.
The CBT can cost between £89-£150, depending on where you live and which training provider you choose. Find out more about the costs involved with getting a motorcycle licence in our blog.
For all courses, there must be a maximum of four riders per instructor for elements completed at the training centre and two riders per instructor for the on-road riding requirements.
Does everyone need a CBT?
Not necessarily., You will need to complete it before you can legally ride on public roads with an L plate. After you have completed your CBT you will be able to ride a moped or motorcycles with an engine up to 125cc if you are 16 or over. However you must use an L plate, or a D plate in Wales.   
That said, there are some exceptions for people who passed their car driving test before February 2001. If this is the case for you, you can ride a moped with an engine up to 50cc without completing CBT or displaying L plates.
You must pass your full moped or motorcycle test within two years, or you have to either take CBT again or stop riding.
What does CBT involve?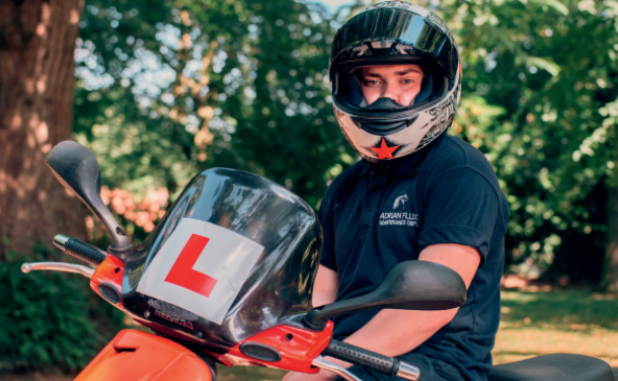 CBT comprises five elements. Your instructor must feel confident you have understood each element and demonstrated the relevant practical skills before you can move on to the next stage.
Element A – Introduction to CBT
The first part of the course offers an overview of CBT and its modules. You'll be expected to understand the aims of the course and what it will include. Your instructor will also ensure that you meet the eyesight rules for riding a moped and have a basic understanding of suitable clothes and equipment for riding.
Element B – Practical on-site training
This module is all about understanding how your moped works and how to keep it in roadworthy condition. You'll learn to point out, name and explain the purpose of various controls, such as indicators, clutch, throttle, brakes etc. 
By the end of the training, you'll also be expected to know the broad differences in these controls between vehicle types (for example, the start mechanism for a motorcycle versus a scooter). You will be taught how to do basic checks for your vehicle (oil, coolant etc), the legal requirements for your tyres and the consequences of not maintaining your moped.
After tuition, you'll also be required to demonstrate:
taking your moped off its stand
turning the engine on
wheeling forwards, left and right
braking with control and coming to a stop
turning the engine off
putting the moped back on its stand.
Element C – practical on-site riding
This element of CBT is all about core riding skills. You will be coached how to do manoeuvres such as moving away, riding a figure of eight, carrying out a U-turn and making an emergency stop. You'll need to demonstrate each manoeuvre and/or explain how to brake properly in each situation, and when to change gear.
To move on to the next part of CBT, you must also understand what is required for safe observations: adjusting your mirrors to the best view and making complete observations during manoeuvres.
Element D – preparation for practical on-road training
This is the last module before you will head out on the road. You'll review everything you've learnt until this point and must be able to tell the instructor:
when you shouldn't ride (eg. when you're upset or angry, or under the influence of drugs or alcohol)
why moped riders are vulnerable on the roads (eg. lack of structural protection, harder for other drivers to see)
how to anticipate hazards/road conditions and adjust your riding accordingly (eg. increasing distance with the vehicle in front when it is raining).
Element E – practical on-road driving
Once you've completed the previous elements and shown the instructor that you understand the principles of safe riding it's time to take to the road. This final part of the training must be a minimum of two hours (four hours in Northern Ireland).
Your instructor will choose a route that introduces you to situations you'll encounter on a typical ride, including roundabouts, traffic lights, pedestrian crossings, hills and bends. You'll also be asked to perform a U-turn and make an emergency stop.
What do I get once I've completed CBT?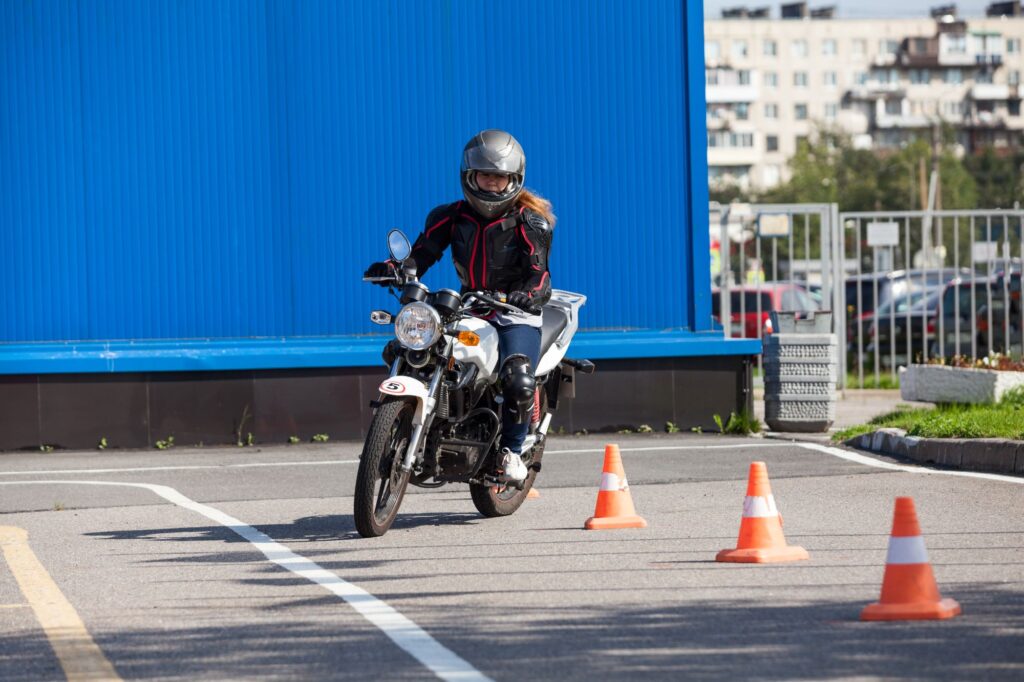 Once you've completed the five elements of CBT and your instructor is confident in your knowledge and abilities, you'll be given a certificate of completion (officially known as a DL196). This certificate means you can now ride your moped on public roads, although you must display L plates at all times, or a D plate in Wales. 
The certificate lasts two years, during which time you must pass your theory test and practical test. If you don't pass within this period, you will need to stop riding until you have completed another CBT course.
Where can I take a CBT course?
There are approved training centres across the UK. The easiest way to find your nearest one is to use this online tool. It's worth comparing a few different options in your area to find the best price and reviews.
What do I need to take to CBT?
On the day, you must bring your driving licence and suitable clothing, including:
sturdy footwear (that protects your ankles)
leather/heavy denim trousers and jacket (you must wear several layers under the jacket)
motorcycle gloves
motorcycle helmet (ask your training centre if they can provide one if you don't yet have your own).
Your training centre will provide you with a moped. You may be allowed to use your own moped, but remember you can't ride it until after you have completed the CBT, even with L plates. 
If you are retaking the CBT before your previous certificate expires then you can ride to the course, as long as you are displaying L plates and have insurance cover.
Moped and motorcycle insurance for beginners
No matter which bike or moped you decide to ride after completing your CBT, you will need to insure your two-wheeler. At Bikesure, we have access to a wide variety of specialist insurance schemes to help you find the right motorbike insurance policy to suit you.