Chevy Bolt EUV charging cable recalled over shock risk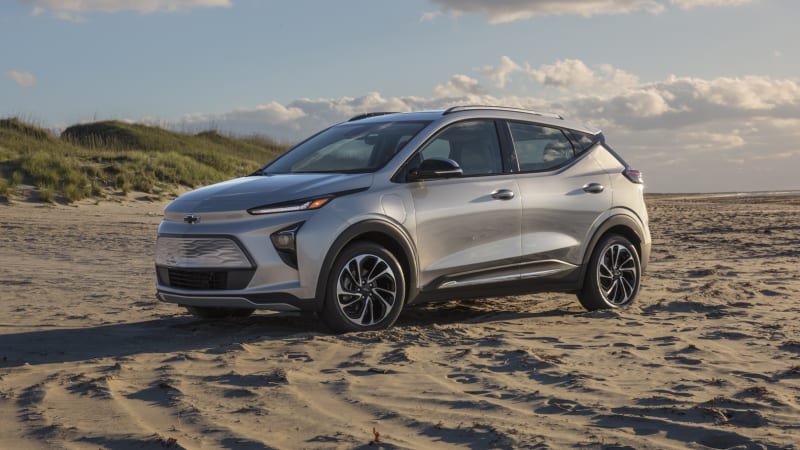 The Chevrolet Bolt and Bolt EUV electric cars were the subjects of one of the most notable recall actions in recent times. Every vehicle GM built between 2020 and 2022 was recalled for an issue that could cause the battery to catch fire. We're now learning of another Bolt EUV recall, this time relating to its charging cable's potential to shock the user.
Carscoops found the recall, which involves some 2022 and 2023 Bolt EUVs. The component, part number 24044913, was manufactured by Webasto Charging Systems and was part of the EUV's charging accessory package. The standard Chevy Bolt isn't involved in this recall.
The problem relates to a disconnect between the cable hardware and the software that controls it. GM said the software might fail to stop charging when the user unplugs the car, which could cause a loss of ground, shocking the person holding the cable. While it sounds frightening, GM noted that if a shock did occur, it would be very brief, around 1/40th of a second.
GM is recalling 10,825 vehicles in this action, the vast majority of which are in the United States. No one has been injured, and no property has been damaged due to the problem. The fix is relatively straightforward: Dealers will inspect and replace the cable if necessary. It is worth noting that this recall covers the car's factory-included charging cable and does not affect public charging stations or their cables.
Though it's gotten plenty of attention for its battery-fire-related recalls, Chevy's not the only automaker that has struggled with EV component recalls. Hyundai recalled more than 80,000 Kona EVs in 2021 for an issue that could cause the batteries to combust, and Ford had to pause production of the F-150 Lightning electric pickup to remedy a battery problem that caused a fire in one of its holding lots.
Related Video:
Download