1964 Fuji Go-Devil Is Our Bring a Trailer Pick of the Day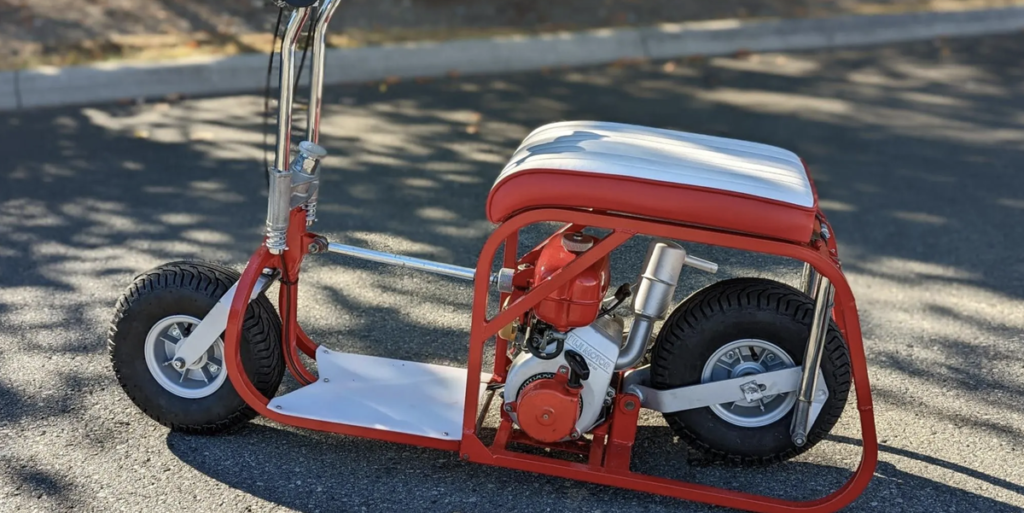 • Here's a clever 1960s solution to last-mile mobility, a fizzy little 53cc motorbike that folds up into its own carrying case for portability.
• Often mistakenly thought to be part of Subaru's history, this scooter has roots in early Nissan heritage and Hitachi aircraft.
• This Bring a Trailer auction ends January 15.
There's a childlike wonder to folding mobility, be it Honda's Motocompo scooter, the WWII British paratrooper Welbike, or even Mazda's ill-fated suitcase car. Up for auction this week on Bring a Trailer—which, like Car and Driver, is part of Hearst Autos—is a combination barstool and minibike, straight out of the 1960s with some pint-sized two-stroke fun that packs up into its own carrying case.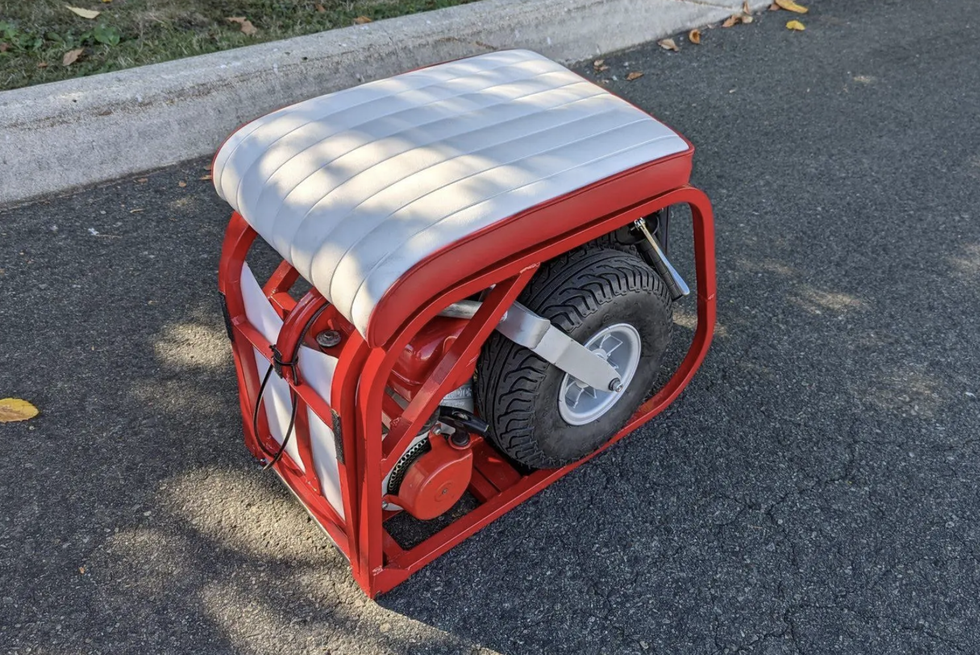 Bring a Trailer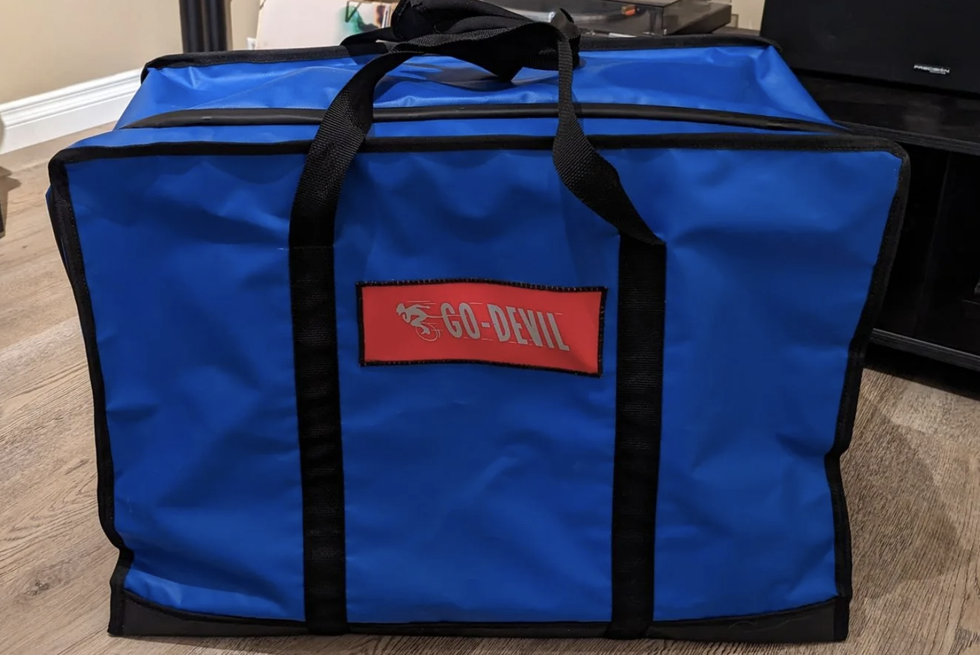 Bring a Trailer
It's a Go-Devil (not to be confused with the early four-cylinder Jeep engine of the same name). With a bright-red exposed frame, a 53cc two-stroke single-piston engine, and 5-inch wheels, it's pocket-sized hilarity that folds up into a little cube. Store it in your trunk, then unfold it, pull-start the engine, and go zipping around the paddock or parking lot with the kind of grin you haven't felt since borrowing a friend's minibike on your tenth birthday.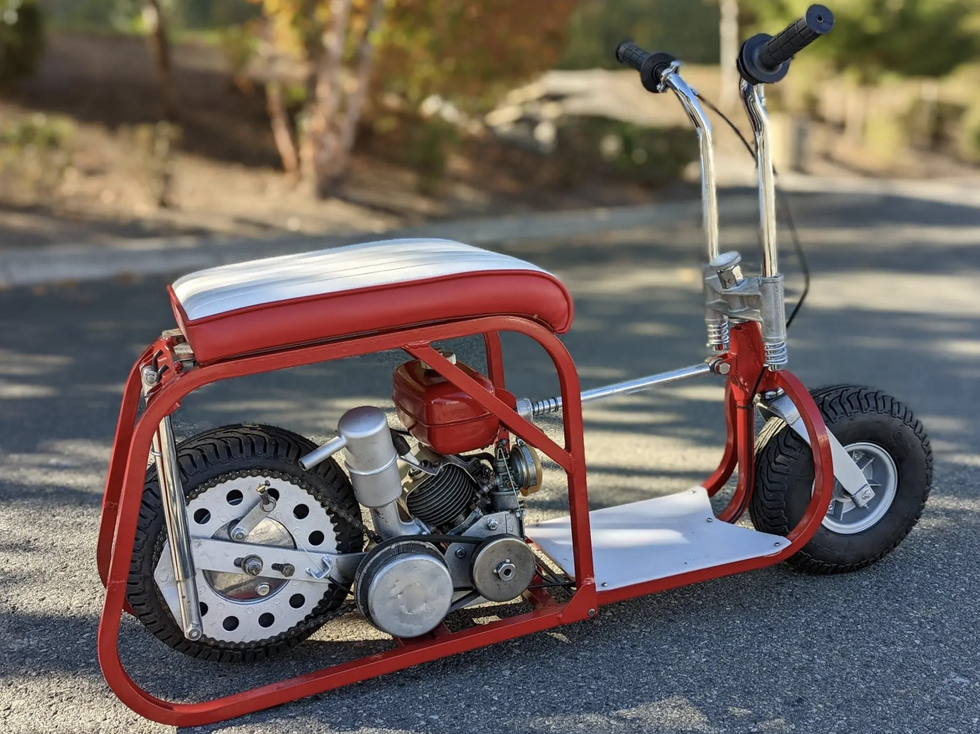 Bring a Trailer
The Fuji Go-Devil is a not-infrequent listing on Bring A Trailer. This example is the seventh such scooter to cross the BaT block in the past year, but it is a pretty exceptional one, featuring fresh powdercoating, new seat foam, new tires, and new wheel bearings. It's ready to roll.
Go-Devils were exported to North America from Japan from 1964 to 1967. Because the company that manufactured them was called Fuji Motors, there is a tendency to conflate its origins with Fuji Heavy Industries, the parent company of Subaru. Indeed, at the same time the folding Go-Devil was being made, FHI was producing the Fuji Rabbit, one of the first Japanese scooters to be able to approach 60 mph. The Fuji Rabbit resembles a duck crossed with a Vespa and is unrelated to the Go-Devil.
Instead, to dig up the Go-Devil's parentage, we have to delve back into the primordial soup of Japan's bubble-car era. As in postwar Germany, many former aircraft manufacturers turned to the production of tiny proto-cars, designed to sip fuel in an era of rationed gasoline.
One such manufacturer was the Hitachi aircraft company, which built engines for wartime trainers and bombers. Forced to shift its efforts to peacetime mobility, Hitachi Aviation changed its name to Tokyo Gas and Electric Manufacturing Company, and it started building 60cc engines for various applications including motorcycles. At the same time, a former subsidiary of Nissan called Fuji Motors had lucrative contracts for refurbishing and repairing the vehicles of the U.S. occupying forces. The two companies merged. Engines were provided to outside motorcycle companies and also used in the in-house brands FMC and Gasuden.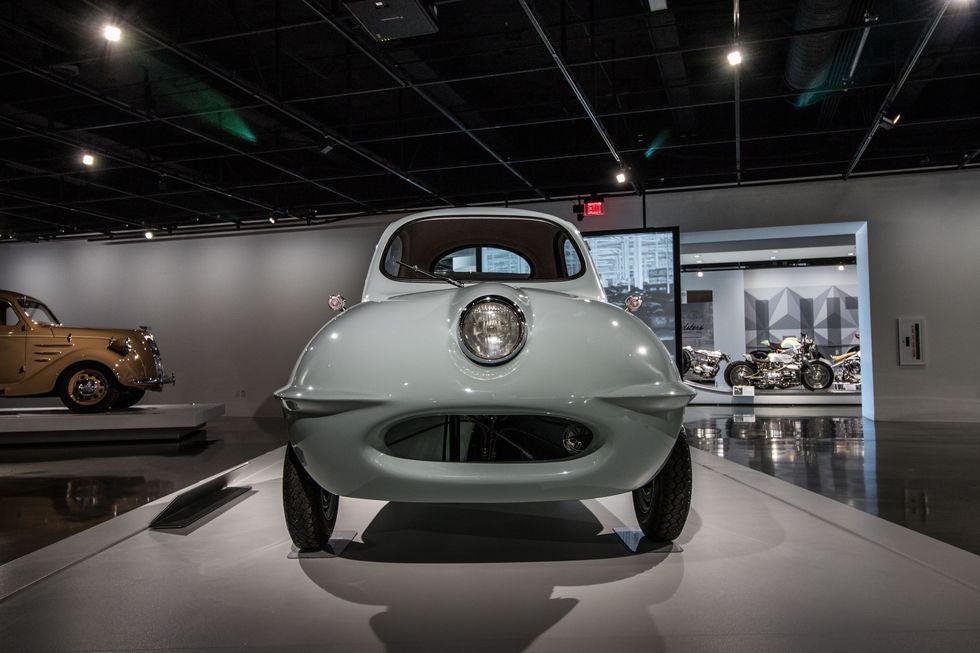 Fuji Cabin
Brendan McAleer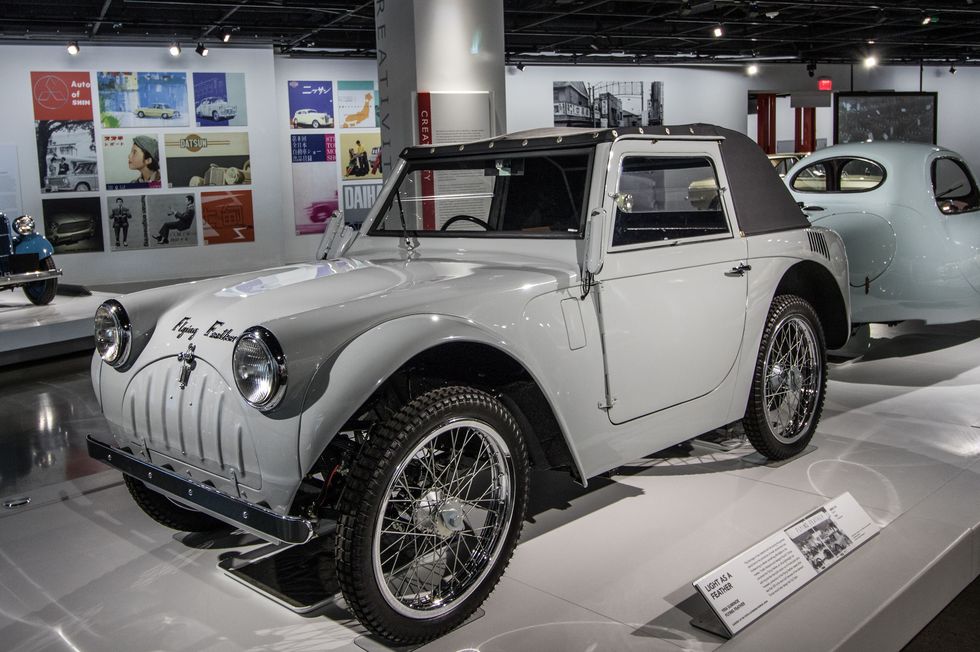 Flying Feather
Brendan McAleer
One of the best-known automotive products of Fuji Motors is the wonky little Fuji Cabin, which looks like someone fitted wheels to one of Gru's Minions. Penned by the oft-overlooked Ryuichi Tomiya, an early Nissan designer sometimes called the "Leonardo da Vinci of Japan," the Fuji Cabin was tiny, cleverly constructed, but not ultimately a success. Consider it a cousin to the BMW Isetta or Messerschmitt Kabinenroller, but one that never got off the ground.
Tomiya had designed Nissans before WWII and was a contemporary and friend of Yutaka Katayama, the "Mr. K." of Datsun 240Z fame. Before the Cabin, the two had collaborated on a very light prototype car called The Flying Feather, considered an early indication of Katayama's forward thinking.
To come back to the Go-Devil, its scooter heritage is thus tied to a thoroughly inventive period in Japanese automotive history, long before the government moved to consolidate a constellation of car companies into a handful of mega-conglomerates. In the mid-1960s, FMC and Gasuden were a household (in Japan, anyway) supplier of small two-stroke engines for chainsaws, scooters, and all manner of applications. FMC/Gasuden was eventually snapped up by the heavy equipment manufacturer Komastu, and the motorcycle engine department was spun out and much later acquired by Husqvarna.
So, the Go-Devil has nothing to do with Subaru but is fascinating in its own right. As a product, it is fun to ride, folds away, and is a wonderful conversation piece. It's also a link to a time in Japanese automotive history when innovators were just throwing things at the wall and seeing what stuck.