2024 Chevrolet Corvette E-Ray prices top out at $122,245 before options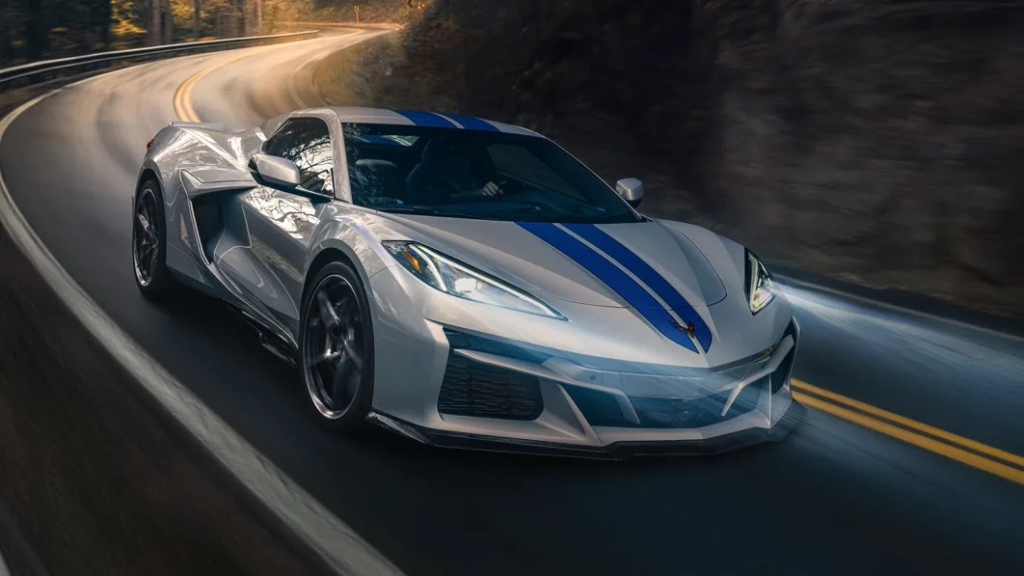 GM Authority dug up the price list for the 2024 Chevrolet Corvette E-Ray. As with the performance specs and base price we reported earlier, the trim walk stays in sight of the enthusiast special Z06, but the MSRP gap grows the further one climbs the six-figure ladder. The spec recap is: A 6.2-liter V8 powering the rear wheels with 495 horsepower and 470 pound-feet of torque, and an e-motor turning the front wheels with 160 hp and 125 lb-ft. Combined output hits 655 hp, a tiny stable shy of the 670-hp Z06, combined torque around 595 lb-ft, at least 100 lb-ft more than the Z06. Instant torque, an E-Ray-specific tune for the eight-speed dual-clutch automatic transmission, and four scrabbling tires mean the E-Ray beats the Z06 to 60 miles per hour by 0.1 second, doing the deed in 2.5 seconds.  The E-Ray's quarter-mile takes 10.5 seconds at 130 mph, another 0.1-second improvement over the Z06.
We're not sure which tires GM used for the tests, but the differences could be larger even though the E-Ray weighs 274 pounds more than the Z06. Both cars get the same sizes of rubber, the Z06 coming on Michelin Pilot Sport 4S tires, the E-Ray coming on Michelin Pilot Sports, with the 4S versions optional. 
MSRP's for the E-Ray including the $1,395 destination charge applied to all 2023 Corvettes is:
1LZ Coupe: $104,295
1LZ Convertible: $111,295
2LZ Coupe: $109,795
2LZ Convertible: $116,795
3LZ Coupe: $115,245
3LZ Convertible: $122,245
The same bracket for the 2023 Z06 starts at $106,695 for the 1LZ Coupe and maxes out at $127,545 for the 3LZ Convertible before options. As the marketers would say, the more you spend on an E-Ray, the more you save compared to the Z06. 
Yet, consider what might be a better example of Corvette progress: When we tested the then-new C6 Corvette ZR1 in 2009, that car's base price after destination was $102,450, which paid for a supercharged 6.2-liter V8 making 638 hp and 604 pound-feet of torque that could hit 60 mph in 3.4 seconds and do the quarter in 11.3. The U.S. Bureau of Labor Statistics Inflation Calculator tells us that $102,450 in May of 2009 is $142,309 today. The bad news is that the inflation figure is the most upsetting stat in this post. The good news is that for the equivalent of $38,000 less, a Corvette buyer can get an all-wheel drive coupe that is quite a bit better in every way than the 2009 ZR1, and when considering the interior, massively better than any previous Corvette. It's good times for those who can afford it.   
Related video: