A Bitcoin Scammer Is Hosting a Fake 'Mercedes-Benz & Tesla Collaboration' Livestream on YouTube Right Now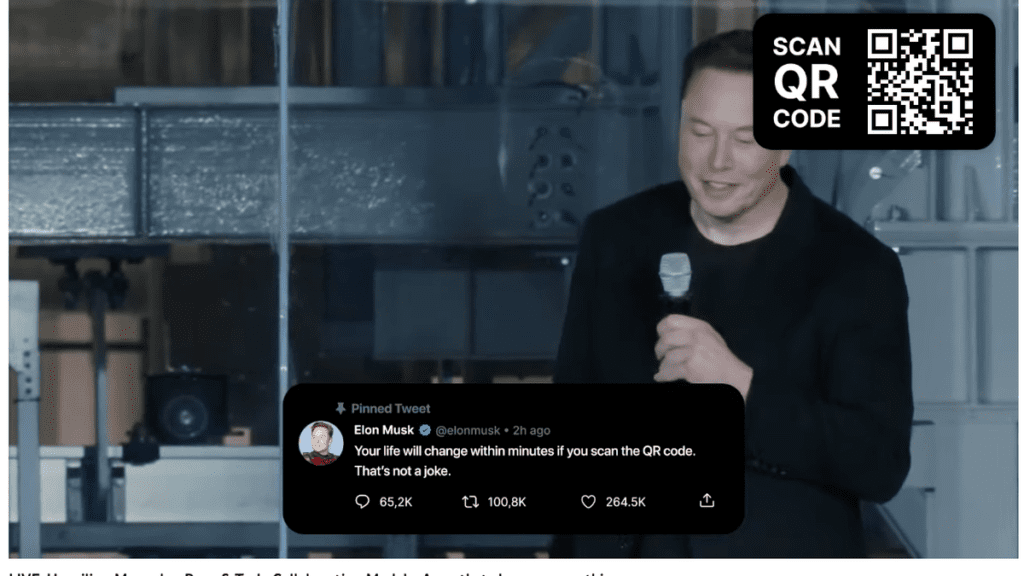 There are gutsy scams, and then there's this: At this very moment, a Bitcoin scammer is hosting a fake press conference livestream on YouTube purported to be a surprise collaboration between Mercedes-Benz and Tesla. It's completely fake, but it's actually kind of convincing.
The livestream is titled "LIVE: Unveiling Mercedes-Benz & Tesla Collaboration Model – A car that changes everything." It uses old footage from Tesla's 2022 shareholder meeting, overlaid with a QR code that takes you to a Bitcoin scam site, and a fake tweet constructed to look like it came from Elon's official account saying "Your life will change within minutes if you scan the QR code. That's not a joke." (The tweet does not appear anywhere on Elon's Twitter feed.)
LIVE: Unveiling Mercedes-Benz & ТеsIа Collaboration Model – A car that changes everything
Screenshot: YouTube.com/@mercedesbenz180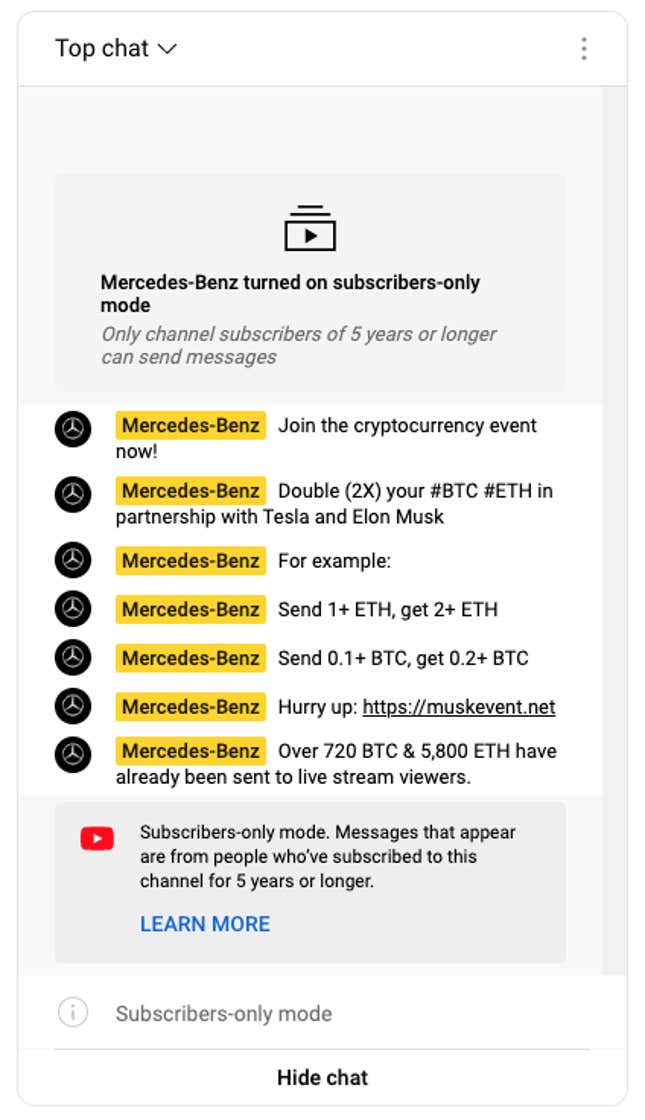 Screenshot: YouTube.com/@mercedesbenz180
Jalopnik writer Lawrence Hodge found this video while scrolling YouTube. We immediately reached out to a Mercedes-Benz representative, who confirmed that the video is a fake. If you look closely, the YouTube channel hosting the fake livestream is called "@mercedesbenz180," but with 160,000 indicated subscribers and an official-looking logo and display name, it's easy to see how someone might get bamboozled by it.
G/O Media may get a commission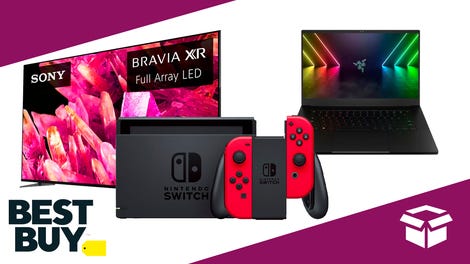 Three Day Sale!
Best Buy – 3-Day Sale
Big sale! Three days only!
Best Buy's exclusive three-day deal touches every category sidewide. If there ever was a time to buy some tech, it's now.
Honestly, it took the Jalopnik staff a moment to figure out that this was a fraud. The livestream looks real enough, with three paragraphs of boilerplate from Mercedes-Benz in the video description and a subscriber-only chat bar. To someone who doesn't know the car industry very well, it might not seem to crazy for Mercedes-Benz and Tesla to be partnering on a new vehicle.
But it's all just a scam. The QR code takes you to a shady-looking site with the URL "muskevent.net," which pops up buttons to buy Bitcoin or Etherium cryptocurrencies. I did not probe any further than that, because I value my digital safety.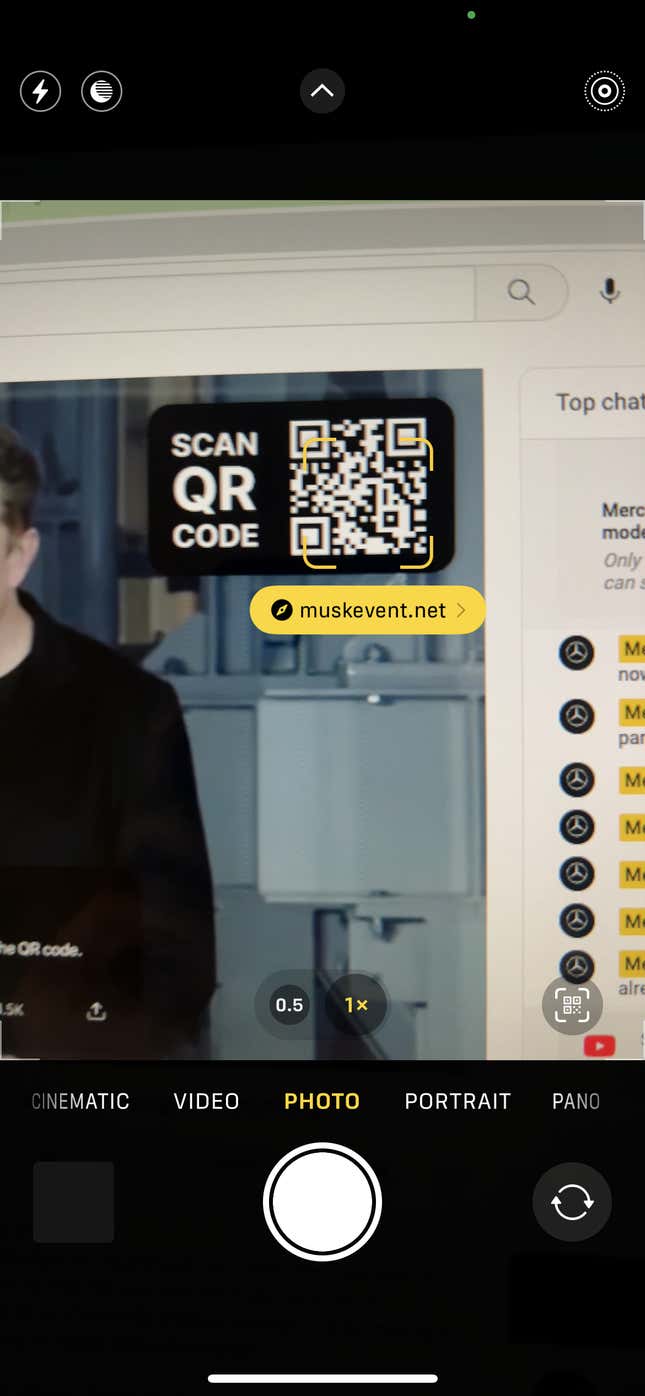 Screenshot: Bob Sorokanich / Jalopnik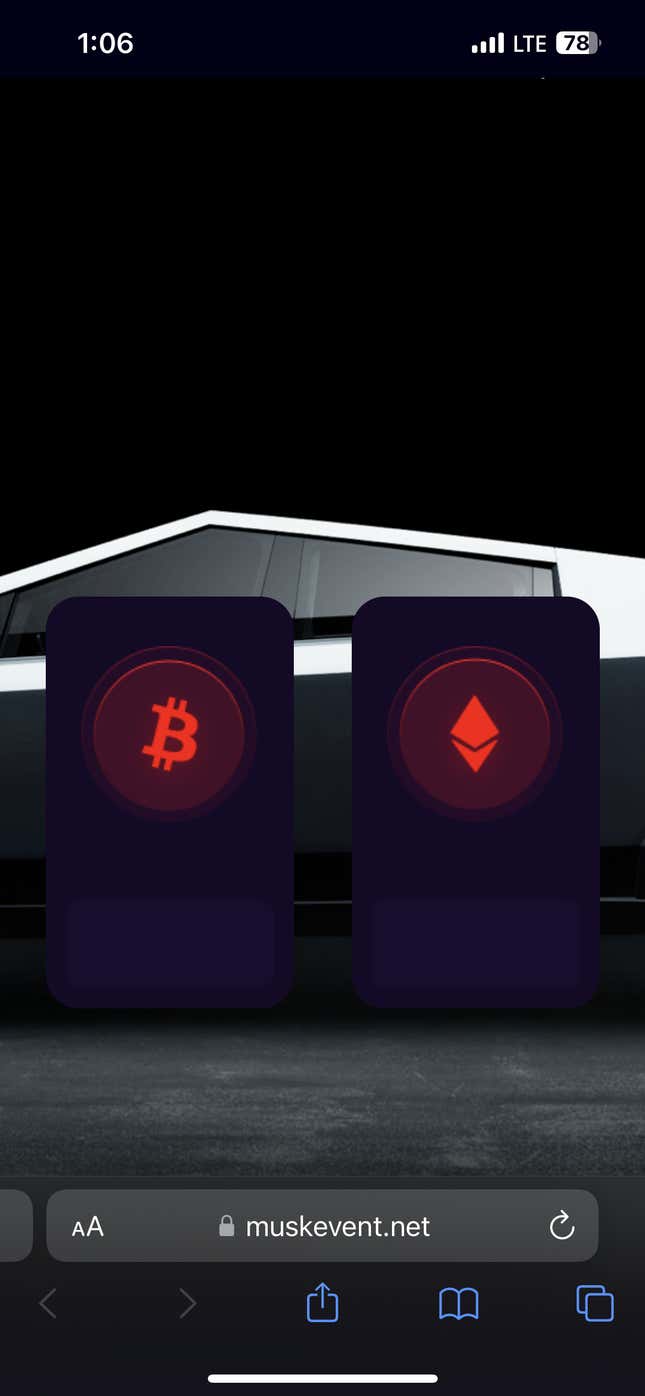 Screenshot: Bob Sorokanich / Jalopnik
Perhaps the most realistic aspect of this scam livestream press conference is the awkwardness of it all. In the 10 minutes that I've been watching, I've seen fawning Musk superfans ask about building a base on Mars and sincerely thank Elon for the money they've made trading Tesla stock. Elon is not a gifted public speaker, and while the 2022 footage has nothing to do with Mercedes-Benz, a casual viewer might think they've just tuned into the wrong part of the livestream and missed the big news.
Jalopnik has reached out to Mercedes-Benz for official comment on the matter. We also tagged Elon Musk on Twitter to see what he has to say about it — because, as you probably know by now, Tesla does not have a communications department, and thus, there's nobody at the company we can contact to ask about this.