AAA Says Relief From Higher Gas Prices May Be Near
Photo: Brandon Bell (Getty Images)
Welcome back to Gas Price Watch! It's been a long few months since we last talked about this, but what day is better than 4/20 to bring gas back into the conversation? Prices have been climbing in the wrong [read: rising or more expensive] direction for a while now – pretty much since the end of 2022. According to AAA's trusty gas price tracker, the average price for a gallon of regular fuel is currently sitting at $3.68, which is actually up five cents from just a week ago. Luckily for us though, it looks like that trend may be changing.
America's Appetite For Large Trucks Is Hurting its Fuel Economy
In case you missed it:
"The recent surge in oil costs took a break this week, with the price of oil tumbling back into the upper $70s per barrel," Andrew Gross, a spokesperson for AAA said in a statement. "If this oil price trend continues, drivers may see falling gas prices."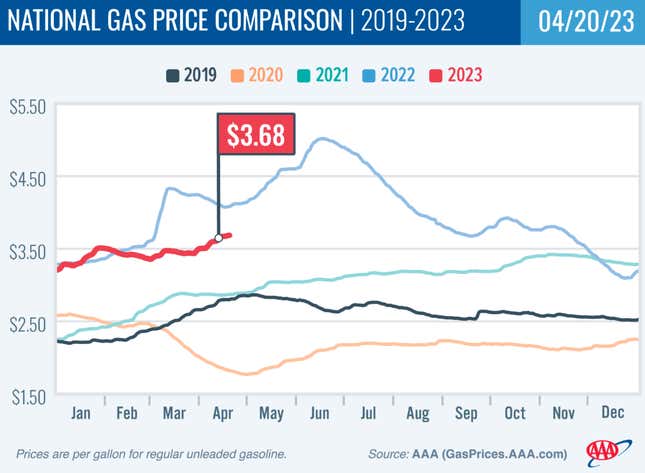 Graphic: AAA
According to the Energy Information Administration, demand for gas is also starting to see a bit of a decrease. The EIA says that demand dropped from 8.94 million barrels of oil per day last week to 8.52 million barrels per day this week. That's at the effect of increasing the U.S.'s domestic gasoline stock by a very slight 1.3 million barrels to 223.5 million barrels.
BOGO 50% OFF
Baked Bags Coned Edibles
Mellow out with these grown-up treats
Baked Bags stuff 25mg of Delta-8 THC into each cone, and 100mg per "extra strength" cone. So if you're looking to mellow out, relax, and have a good time, these treats should do the trick nicely.
The news keeps getting better for gas prices, too. AAA says U.S. refineries are currently returning to services after extensive winter/spring maintenance programs. That means output rose last week by 330,000 barrels per day to 16.44 million barrels per day. That's higher than it was this time last year. Huzzah!
So with that, why don't we do everyone's favorite thing and check out the gas price winners and losers around the country.
Here is the highest average gas prices in the country in order of highest price for a gallon of regular:
California – $4.91 Regular | $5.12 Mid | $5.29 Premium | $5.31 DieselHawaii – $4.78 Regular | $5.00 Mid | $5.25 Premium | $5.91 DieselArizona – $4.69 (nice) Regular | $5.00 Mid | $5.28 Premium | $4.61 DieselWashington – $4.56 Regular | $4.77 Mid | $4.96 Premium | $5.00 DieselNevada – $4.28 Regular | $4.54 Mid | $4.79 Premium | $4.48 Diesel
Here is the lowest average price of gasoline in the country in order of lowest price per gallon of regular:
Mississippi – $3.17 Regular | $3.52 Mid | $3.87 Premium | $3.87 DieselArkansas – $3.25 Regular | $3.62 Mid | $3.99 Premium | $3.89 DieselLouisiana – $3.28 Regular | $3.65 Mid | $4.01 Premium | $3.88 DieselAlabama – $3.29 Regular | $3.67 Mid | $4.04 Premium | $3.98 DieselTexas – $3.34 Regular | $3.72 Mid | $4.05 Premium | $3.70 Diesel
God, I missed doing these. Smell ya later!