Aston Martin Vantage Luggage Test: Important consumer advice
I know, right, you've totally been waiting impatiently to find out how much luggage from my garage will fit inside an Aston Martin Vantage. How else will you know if it'll be a wise purchase as a road trip vehicle. Thankfully, the day has finally arrived, so saddle up, here comes the long-awaited Aston Martin Vantage luggage test. 
According to an internet search, because I couldn't find specs on Aston's press website, the Vantage has 10 cubic feet of cargo space. Judging by the cargo area itself, that makes sense. That volume would be a bit bigger than the trunk of the Porsche 718 Cayman and, judging by pictures, the Corvette's trunk as well. On the other hand, both of those cars have front trunks. We'll see if the Vantage can hold more in its lone cargo area. 
And in case you're wondering, I'm making these comparisons simply because those are other sports cars I've luggage tested. I've also done the Lexus LC 500 and the Toyota Supra, which actually has a similar trunk design as the Vantage.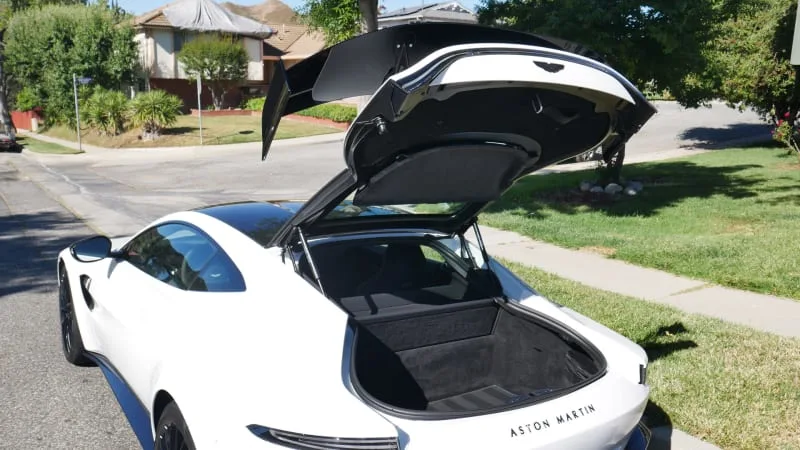 Here is the cargo area in question. Looks pretty big, right? The Vantage may be more of a sports car than the traditional, grand-touring Aston Martin, but practicality was obviously still a priority.
Also, note that it's a hatchback, which makes it more versatile than a sports car with a traditional trunk, such as grand-touring Aston Martin DB12 has.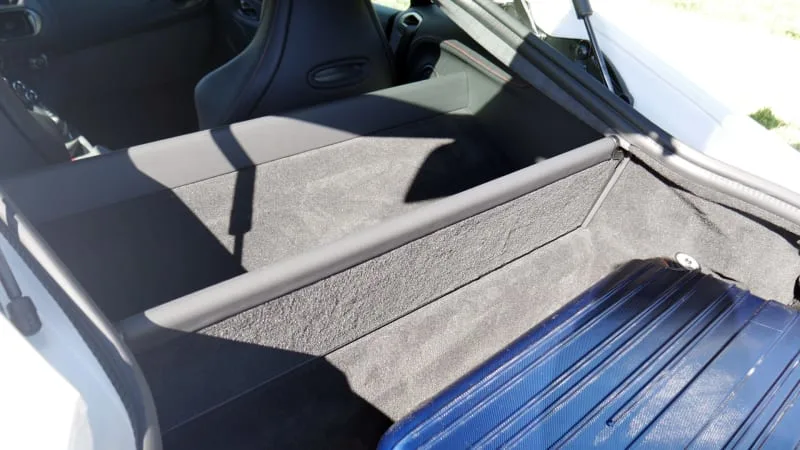 A key element is this partition that folds down to open up more space. You raise it so that it combines with the cargo cover to create a fully secure, trunk-like cargo area.
Here is that cargo cover. It snaps onto the hatchback and is fully upholstered because Aston Martin.
Let's get to the bags.
As in every luggage test I do, I use two midsize roller suitcases that would need to be checked in at the airport (26 inches long, 16 wide, 11 deep), two roll-aboard suitcases that just barely fit in the overhead (24L x 15W x 10D), and one smaller roll-aboard that fits easily (23L x 15W x 10D). I also include my wife's fancy overnight bag just to spruce things up a bit (21L x 12W x 12D).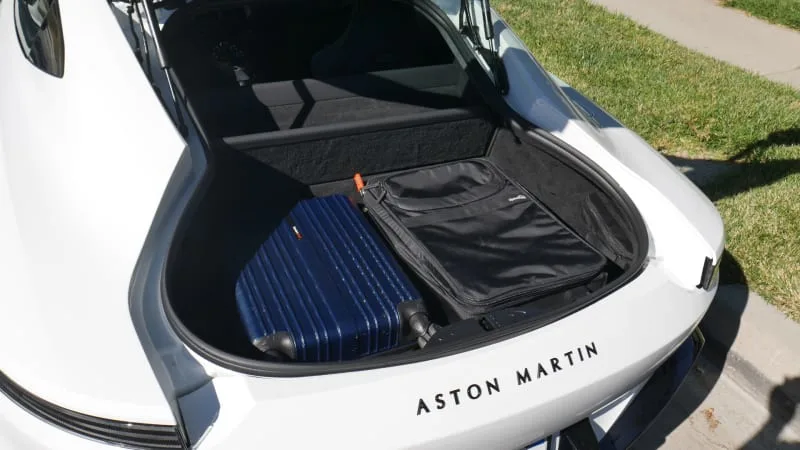 Two of the roll-aboards can fit below the cargo cover and beyond the partition, therefore out of view from prying eyes. For a two-seat car, this is basically the bare minimum, right? 
These same bags could fit in the Cayman's frunk as well as the Corvette's trunk. 
But, obviously, you can remove the cover and drop the partition, so let's see what you can add.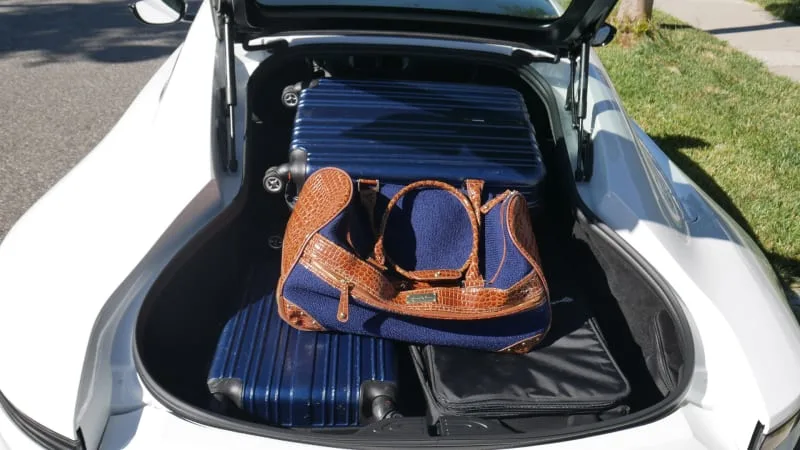 OK, so here is the max. That would be one of the big, must-check bags up top along with a fairly squished fancy bag. This is a bit better than the Lexus LC 500 (though that has a back seat, so there is bonus space). This is better than what the Corvette can manage in its frunk and trunk, and exactly the same as the Cayman. It is also exactly the same as the Toyota Supra, which has virtually the same cargo area design and volume. 
Now, I am loading to the ceiling here, which is usually a Luggage Test no-no. However, rearward visibility isn't great to begin with, and besides, this is about an Aston Martin Vantage, not a Honda CR-V. Who really cares? Also, there is a second partition that prevents bags from sliding into the cabin under braking. That takes care of the other safety-related reason I don't stack to the roof.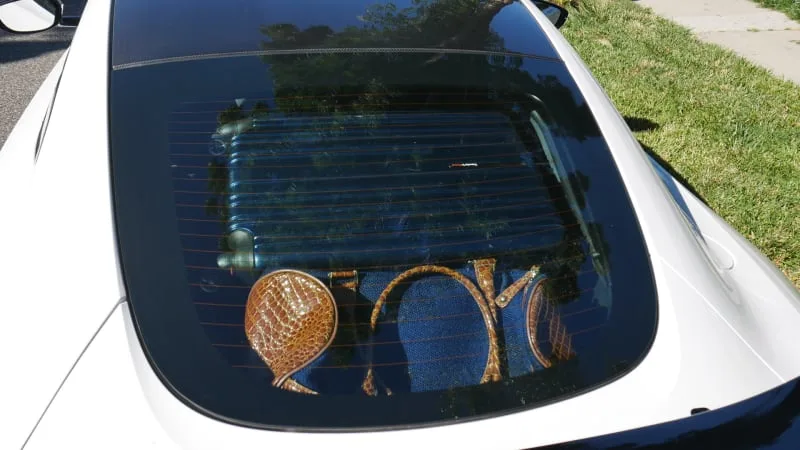 Now, if you don't use the cargo cover, this is what it looks like. Your bags can be seen by all and they will be roasted by the sun.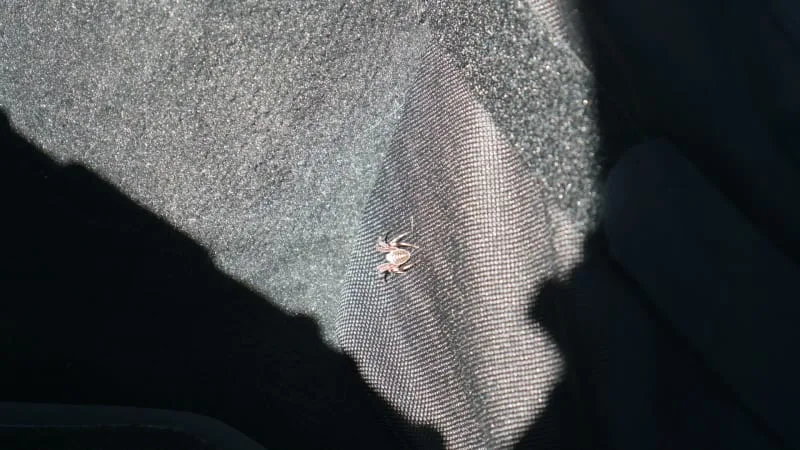 This particular Vantage came standard with the Large Boot Spider package. I would not recommend it. Apologies to the next journalist who got this Vantage. I totally forgot to return this package to the car after removing it. Sorry.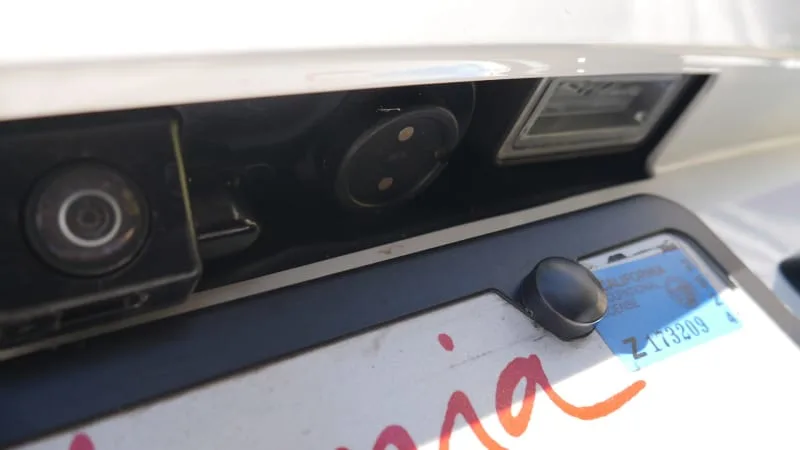 A more appealing trunk-related feature is this little thing located next to the rearview camera: the input for the battery tender. I'm sure this will come to a shock to many of you, but Aston Martins tend to get parked for extended periods of time as they are weekend fun cars rather than for occasional use. If you don't want the battery to die, a trickle charger is a necessity. But, rather than attaching a trickle charger to the battery leads like some sort of peasant (or owner of a 1998 BMW Z3), you simply and very neatly plug a special charger into this little input. Brilliant. The Bentley Continental GT has the same feature.
So there you go. The trunk of the Aston Martin Vantage. Don't tell me we don't provide important consumer advice around here.