At $32,000, Is This 007-Edition 2003 Ford Thunderbird Licensed To Chill?
James Bond and cool cars go together like bar brawls and black eyes. Today's Nice Price or No Dice T-Bird honors one of Bond's lesser film outings and wasn't even driven by the super spy in the flick. It's still relatively rare and seems to be priced accordingly.
My (Mom's) First Car: W. Kamau Bell and the Giant Thunderbird
Insurers will often total a vehicle when the estimation of accident or theft repairs exceeds a certain percentage of the vehicle's market value—using OEM parts. Salvage or rebuilt title vehicles are typically those that have been bought from the insurer and then repaired with less expensive—perhaps even used—parts.
Yesterday's 2012 Acura TSX wagon carried a salvage title. The seller glossed over any of the reasons why, presenting the car as otherwise clean and capable. That wasn't enough to counter the obvious elephant in the room, and the car's $10,000 asking price which wasn't low enough for the 70 percent of you who savaged the salvage TSX in a decisive No Dice loss.
Thunderbird… Ford, Thunderbird… 
Hmm, that just doesn't have the same impact as James Bond's iconic and annoyingly repetitive introduction. The 2002 Bond outing, Die Another Day, acknowledged the series' 40th anniversary and featured a number of nods to the Bond films that came before. It was also the sole film to feature John Cleese in the role of Q.
In the film, Bond drove an Aston Martin Vanquish while one of the villains saddled up in a tricked-out Jaguar XKR, both competing in a battle royale on a frozen lake. At the time, both Aston Martin and Jaguar were owned by the Ford Motor Company and that company obtained its own product placement in the form of a coral-colored Thunderbird, driven by Halle Barry's Jinx character.
Die Another Day isn't the best Bond film ever, and the 2002-2005 Ford Thunderbird isn't the best of that model line either. It's safe to say, however, that neither is without merit.
This 2003 Ford Thunderbird 007-Edition is number 408 out of 700 produced to celebrate the car's cameo in the film. Of those, all were painted in Sunset Coral with a black soft top paired with a white porthole hard top and upholstery. Unique 21-spoke chrome alloys added some welcome brightness, and each car carries a 007 badge on the dash and a series plaque in the glovebox.
The drivetrain was left stock, consisting of a Jaguar-sourced 3.9-liter V8 good for 280 horsepower and 286 lb-ft of torque, and Ford's 5R55N five-speed automatic which sends the ponies back to the independently sprung rear end.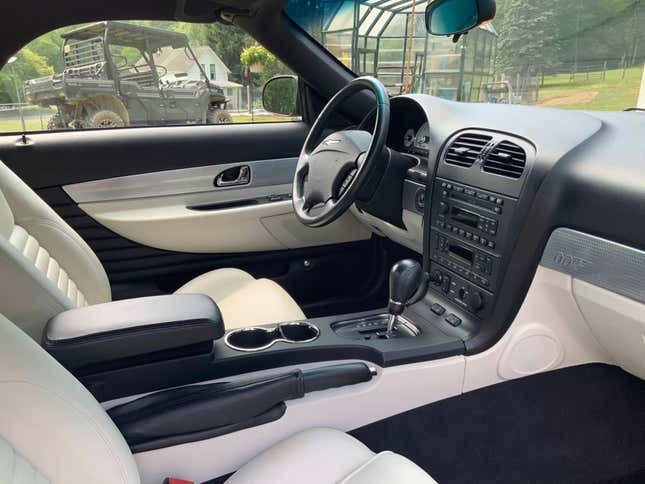 According to the seller, this car is "like new all the way around." The ad boasts a remarkably low 3,646-mile odo reading as well as the car's clean title. Not only does the sale come with both tops, but buyers will get a rack and dust bag to park the hard top for when it's not on the car. The original window sticker and sales slip also come with the car, as does something called a parade boot which I assume allows people to sit on the decklid and wave at parade-goers.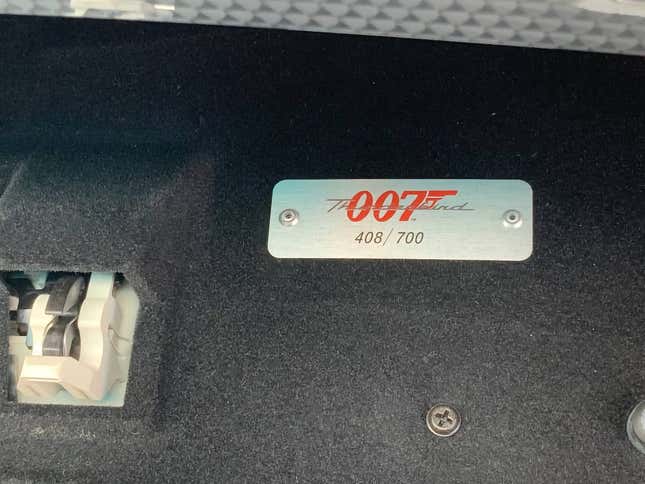 What might something as odd as this secondary character movie tie-in car rightfully go for? As we all know, the 2002-2005 Ford Thunderbird was not particularly popular in its day, a fact that not even a drive-on in a Bond film seemed able to address. These days, the car has a small fan base but has only seen prices go south over the last 10 or so years.
At $32,000, this one is priced about three times what a standard, non-movie edition might bring. Of course, the Bond connection isn't this car's only ace in the hole. It's also amazingly low mileage and seems to be in as-new condition. Could that all be worth a significant premium? Or, for that much, is this T-Bird for your eyes, only?
You decide!
Twin Tiers, Pennsylvania, Craigslist, or go here if the ad disappears.
H/T to Whatsupdohc for the hookup!
Help me out with NPOND. Hit me up at remslie@kinja.com and send me a fixed-price tip. Remember to include your Kinja handle.