At $5,500, What's The 411 On This 1973 Volkswagen 412?
Today's Nice Price or No Dice VW is notable both for its rarity (when was the last time you saw a 412?) and for the notoriety of sharing its motor with the Porsche 914. Let's see if this survivor sedan is notably priced as well.
Volkswagen Unveils the Jetta GLI Performance Concept
Speaking of notes, quite a few of you noted that yesterday's 2003 Saturn LW300 was a car that one typically buys for need, rather than desire. That practicality extended to the Saturn's price tag, which at $3,995 earned the wagon a stellar 93 percent Nice Price win.
It's safe to say that, at one time, back in the day, today's 1973 Volkswagen 412 was also intended as a practical car. Its "Big Beetle" layout allows for a reasonably capacious interior as well as a large-ish trunk in the car's awkwardly extended nose. Unfortunately for Volkswagen, the 412 — which was a lightly warmed-over edition of the preceding 411 — was the wrong car at the wrong time, as the competition was already making VW's air-cooled, rear-engined cars look anachronistic. VW would answer the call to modernize its midsize with first the NSU-designed K70 and then the in-house effort Passat/Dasher.
That makes this 412 something of an oddity. Adding to that unique character is the drivetrain which consists of a 1.8-liter Bosch D-Jetronic fuel-injected flat-four and a fairly rare for the time three-speed automatic.
Some fun party facts are that the 79-horsepower engine was shared with the Porsche 914 and that the 412's styling revamp over the 411 was handled by none other than Brooks Stevens, notable designer of everything from Harley Davidsons to the Jeep Wagoneer and even the Miller Beer logo.
Volkswagen made the 412 available in three bodystyles — a two-door fastback, two-door Squareback, and, as evidenced by this car, a four-door fastback. Aside from various Type 2 busses, the 411/412 sedan was the first four-door car VW offered in America.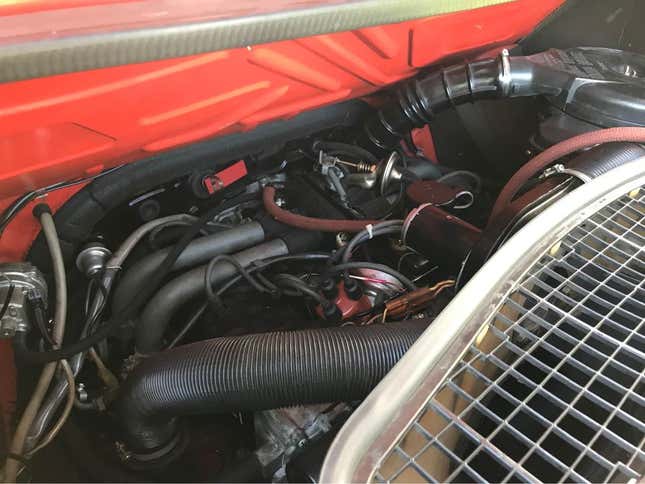 Lacking a hatch and having a fairly tall engine compartment despite the "flat" nature of the four in the back means this car offers less utility than the Squareback edition. It somewhat makes up for that by having those four doors, which makes rear seat access a lot easier along with the added benefit of having four windows that can roll down.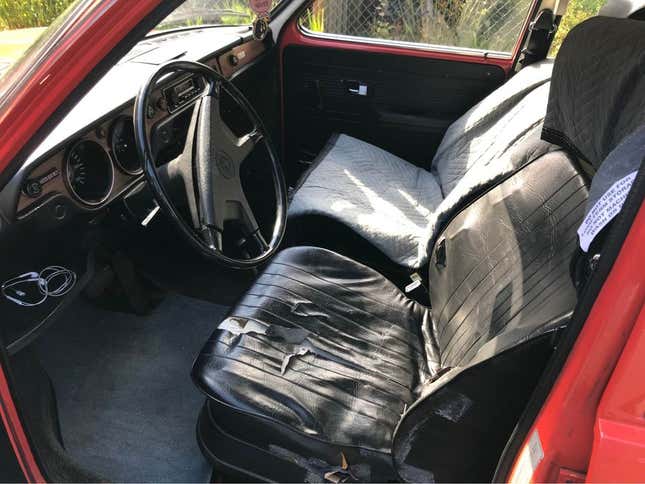 According to the ad, the car comes with just 99,501 miles on the clock. The seller describes it as being "not perfect, but overall, it is very nice for its age." The perfection-marring issues begin with some ratty upholstery on the front seats, masked somewhat by a pair of Harbor Freight moving blankets. Geez, is there anything those bargain blankets can't do?
Another issue is what looks to be bubble-wrapped sun visors which also prove eye-insulting. Other than those offenders, however, the interior looks clean and serviceable.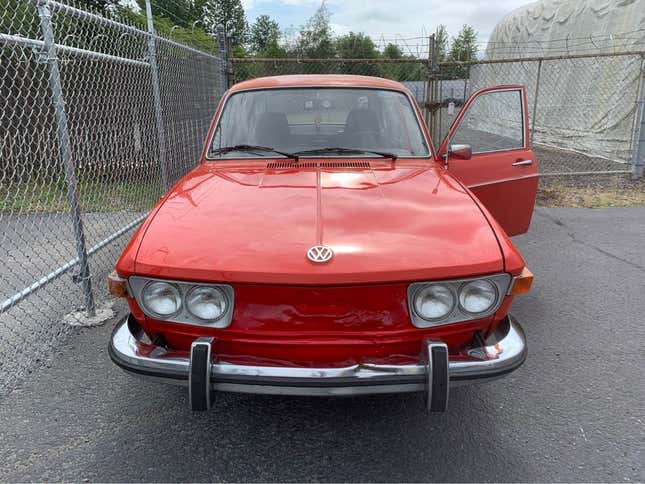 More egregious, however, is the bodywork on the nose. According to the ad, the car was involved in a shunt that hasn't been properly repaired, just pounded out. It doesn't look to be dreadful, though the hood is misaligned and that could lead to water egress if not addressed. A new bumper will also likely be needed as straightening out the dent in the existing one would probably pop the plating off.
On the plus side, the car has new rotors and pads up in front and fresh shoes and drums out in back. The engine has a few new seals and more notably, new fuel injectors. Another fun party fact on these engines is that there are actually five fuel injectors, with the additional one hanging out at the intake confluence to help with cold starts. A few other new parts fill out the list of laudable updates.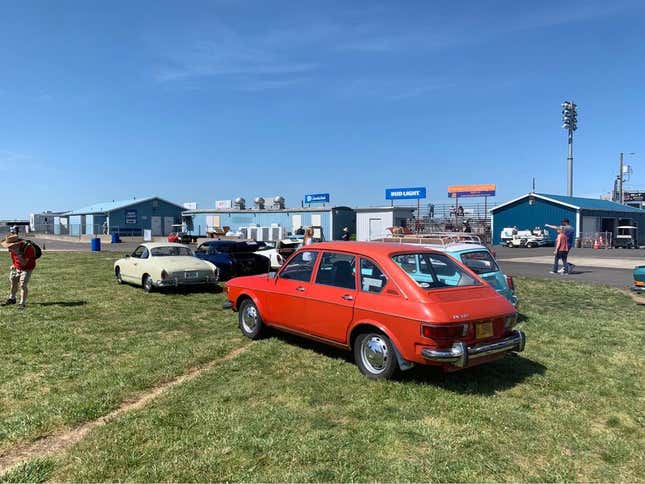 That's apparently not all the car needs, however, as the seller claims it has minor details that need to be sorted out. It has a clean title and apparently runs well enough to troll the neighborhood car meets as evidenced by the various location shots in the ad.
As a unique bit of VW history, this 412 seems a solid contender, despite its obvious shortcomings. Is it a car for everybody? Well, no. Despite the "People's Car" brand, this is likely only going to resonate with the most eager and invested VW collectors and people who appreciate weird cars. Another requirement of a new owner will be a bank account with at least $5,500 floating about since that's the seller's opening demand.
What's your take on this odd-bodkin of a VW and that $5,500 asking? Does that seem like a fair deal to experience what some people call "VW's Edsel?" Or, does the required sorting-out demand a somewhat lower price?
You decide!
Facebook Marketplace out of Portland, Oregon, or go here if the ad disappears.
Help me out with NPOND. Hit me up at remslie@kinja.com and send me a fixed-price tip. Remember to include your Kinja handle.