At $6,900, Is This 2003 Ford Crown Vic LX A Stylish Deal?
For those who lament the dearth of padded vinyl roofs on contemporary cars and trucks, today's Nice Price or No Dice Crown Vic will prove a panacea. Let's see what this lightly customized big sedan should realistically be worth.
Have you seen the new Barbie movie? I haven't but I hear it's a hoot and a half. In an era of polarizing politics and pernicious pandemics, it's nice to be able to have some actual fun every now and again. The 2018 Vanderhall Venice we looked at yesterday was also intended to be a lot of fun. Lacking a roof or even wipers, that three-wheeler needed to be fun since it presented as little more than a toy with limited practicality. At $22,995, that toy was far too expensive for the vast majority of you, though. That price resulted in the Vanderhall receiving a vexing 83 percent No Dice loss.
Today's 2003 Ford Crown Vic isn't a toy, but that hasn't stopped it from being played with after a fashion. The big sedan has some factory flourishes and a bit of after-the-fact updating as well. It carries all of this with ease since it's a pretty big canvas to begin with.
The factory stuff ranges from the standard, starting with a 4.6 Modular V8 under the hood and four-speed automatic transmission, to a less-than-standard moonroof. With the dual exhaust, the SOHC V8 puts out 239 horsepower and 287 lb-ft of torque, giving the big four-door a reasonable amount of oomph. The car also features Ford's wonderful SecuriCode keyless entry keypad on the driver's door which is truly the best thing since people started slicing bread.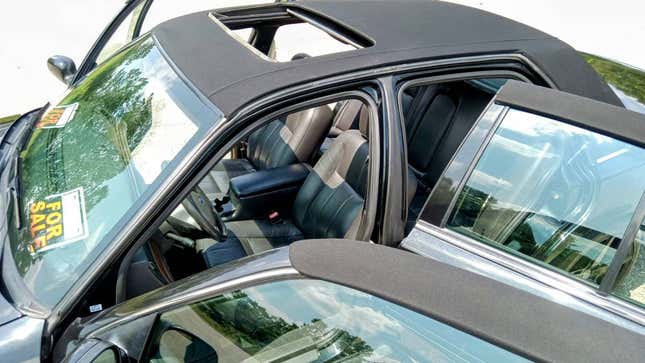 Backing up the factory bits are a number of aftermarket updates that should allow this Crown Vic to stand out in a crowd. Most noticeable of those is the fresh coat of metal flake black paint it wears. That is topped with an equally new padded vinyl roof that gives the car a convertible vibe. Other changes include a set of 20-inch black-painted alloy wheels and a sound system that includes a video player and a honkin'-big bass box taking up space in the Crown Vic's trunk.
Overall, the car looks to be in excellent shape. The paint pops the way it should and the vinyl top gives the car some added quirkiness. The wheels aren't quite Donk-big so they shouldn't affect the handling excessively and are mounted with fresh tires.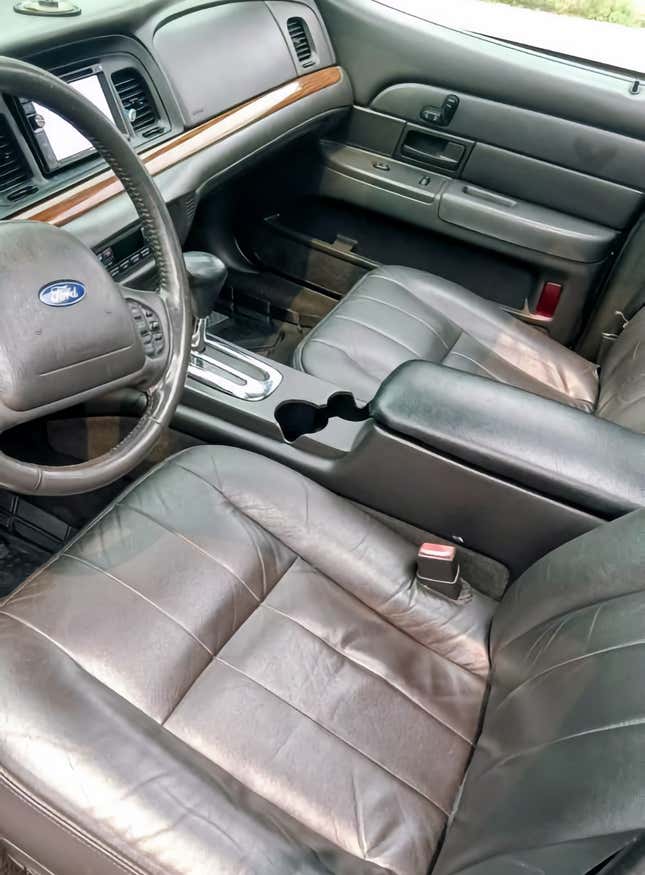 In the cabin, it all appears to be funky-fresh and without any issues. That's impressive considering the car's 132,767-mile odometer reading. Not all of the car has made it that far. The seller notes the addition of a new "Cadillac converter" which sounds much fancier than the expected catalytic converter. One has to wonder if the replacement was the result of the original unit's failure or its theft.
Other plusses noted in the ad include a rust-free chassis and an instrument cluster free of any ominous warning lights. The title is clean and the car has a two-owner history.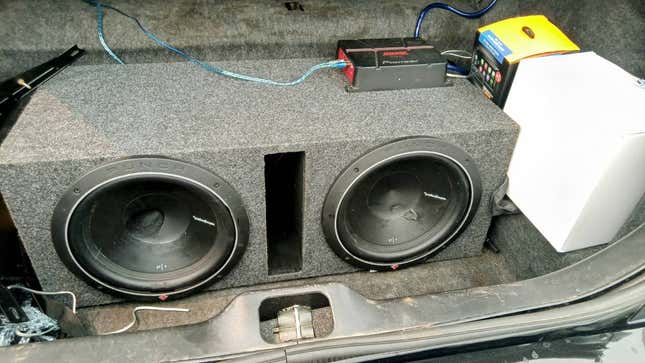 Now, I think it's safe to say that we all feel a bit of affection toward the Crown Vic, Ford's last body-on-frame car. The question is, do this car's modifications enhance or detract from that ardor? More importantly, is the car worth its $6,900 asking price as it presently sits?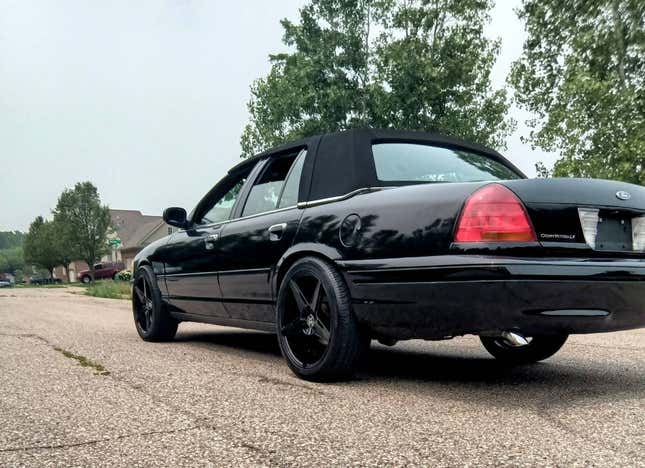 What do you think, is this Crown Vic worth that kind of cash? Or, has the paint, padding, and stereo-plumping work done to it all been for naught?
You decide!
Detroit, Michigan, Craigslist, or go here if the ad disappears.
H/T to FauxShizzle for the hookup!
Help me out with NPOND. Hit me up at remslie@kinja.com and send me a fixed-price tip. Remember to include your Kinja handle.