Bank of Canada hikes key interest rate by quarter point, says it plans to hold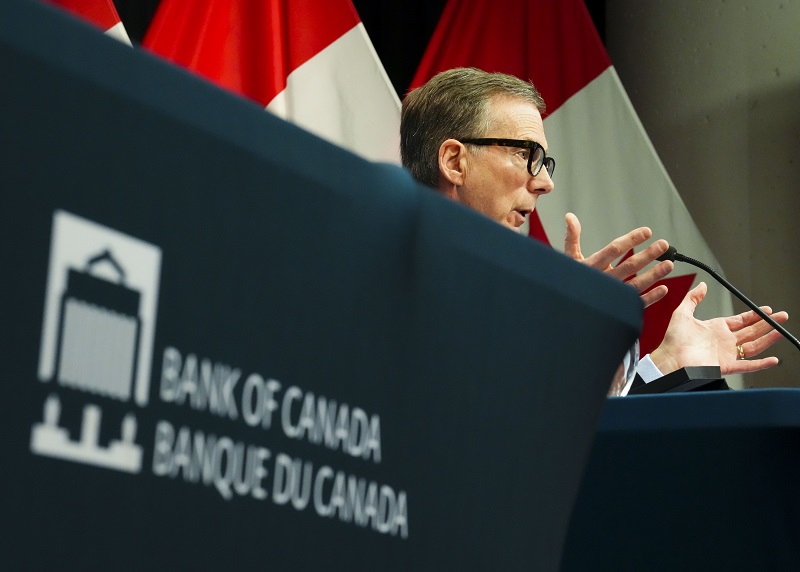 OTTAWA – The Bank of Canada raised its key interest rate by a quarter of a percentage point Wednesday and said it expects this to be the last rate hike of the cycle.
The rate increase marks the eighth consecutive hike since March as the central bank fights off decades-high inflation.
Its key interest rate now stands at 4.5 per cent, the highest it's been since 2007.
In a news release, the Bank of Canada said the Canadian economy is still overheated, prompting its governing council to raise interest rates once again.
However, if economic developments stay in line with its current projections, the central bank said it expects to hold its key interest rate at its current level.
"We've raised rates rapidly, and now it's time to pause and assess whether monetary policy is sufficiently restrictive to bring inflation back to the two per cent target," Bank of Canada governor Tiff Macklem said at a news conference Wednesday.
"Recent data suggests the restrictive stance of monetary policy is dampening household spending, particularly on housing and big-ticket items. But economic growth and employment in the second half of 2022 were stronger than we expected. And so, excess demand in the economy has persisted, putting continued upward pressure on prices."
The rate hike Wednesday comes after months of slowing in inflation. After peaking at 8.1 per cent in the summer, Canada's annual inflation rate has steadily declined and reached 6.3 per cent in December.
The Bank of Canada also published its latest monetary policy report Wednesday, providing updated projections for the economy and inflation.
According to the report, the central bank expects inflation to slow faster than it had previously anticipated. It's forecasting the annual inflation rate will fall to three per cent by mid-2023 and to its two per cent target in 2024.
The slowdown in inflation has been attributed to declines in energy prices as well as easing in global supply chain disruptions.
At the same time, the labour market is still tight and inflation expectations among businesses and consumers are still elevated, the central bank said.
Statistics Canada's latest labour force survey revealed unemployment in Canada is near historical lows, with the unemployment rate at five per cent in December.
While the Bank of Canada has previously raised concerns about strong wage growth potentially feeding into inflation, it now says risks around a wage-price spiral have declined as wage growth has plateaued.
As high interest rates continue to affect the economy more broadly, the central bank expects the labour market to soften in the coming months.
Although the Bank of Canada appears to be optimistic that it can hold interest rates at current levels, it's also keeping the door open to further action if necessary.
"Governing council is prepared to increase the policy rate if needed to return inflation to the two per cent target," the central bank said.
Higher interest rates have already begun to weigh on the economy, chiefly in the housing market.
However, higher borrowing costs are expected to slow activity more noticeably in the months to come because of businesses and consumers pulling back on spending.
As this process unfolds, the Bank of Canada projects growth in the economy will stall through the first half of the year before picking back up toward the end of the year.
After growing by 3.6 per cent in 2022, the Bank of Canada is projecting the economy will grow by a modest one per cent in 2023.
Globally, the central bank said growth has been stronger than expected as consumers have continued to spend.
Although the central bank is focused on excess demand in the domestic economy, it notes that global factors could continue to affect inflation.
China's lifting of COVID-19 restrictions, for example, could lead to stronger global growth and higher commodity prices.
Uncertainty in geopolitics amid the ongoing war in Ukraine is also another risk factor, the central bank noted.
Domestically, it says price growth for services could be stickier than expected.
"Services price inflation in Canada could be stickier than projected if elevated inflation expectations or increased labour costs prove more persistent than expected," the central bank said.
While risks around inflation remaining higher than anticipated are of greater concern to the Bank of Canada, it notes that a severe global slowdown could pull the economy in the other direction more rapidly.
However, it estimates the risk of a severe global downturn to have declined in recent months.
Feature image: Tiff Macklem, Governor of the Bank of Canada, holds a press conference at the Bank of Canada in Ottawa on Wednesday, Jan. 25, 2023. THE CANADIAN PRESS/Sean Kilpatrick