Battle Of The Big Boys: Alpina XB7 vs. Land Rover Range Rover
Imagine for a second you are a well-to-do captain of industry type and need to shuttle your Trad Wife and kids around in style. You just got that big promotion, so you decided it's time to upgrade your Yukon Denali to something a little more special, a lot faster and above all else, European. What do you buy?
Nick Offerman On The Freedom Of Getting An Airstream RV
I tested both the 2023 Land Rover Range Rover LWB and BMW Alpina XB7 to find out. They both had almost the same sticker price and a lot of other similarities. It got me thinking about which one I'd take if I were in the position to get a huge, fast and luxurious six-or-seven-seater SUV. After all, these are both cars we've driven before. Why waste your time with full reviews rehashing things? Let's throw them into the ring of fire against each other.
Full Disclosure: Both BMW and Land Rover were kind enough to loan me these brutes filled with gas to do all my testing.
Engines and Mechanics
Photo: Andy Kalmowitz / Jalopnik
It's amazing what tuning can do to a vehicle. Both the Range Rover and XB7 have an identical engine and transmission: a 4.4-liter twin-turbocharged BMW V8 hooked up to ZF8 eight-speed transmission. However, the tuning of these two engines is vastly different.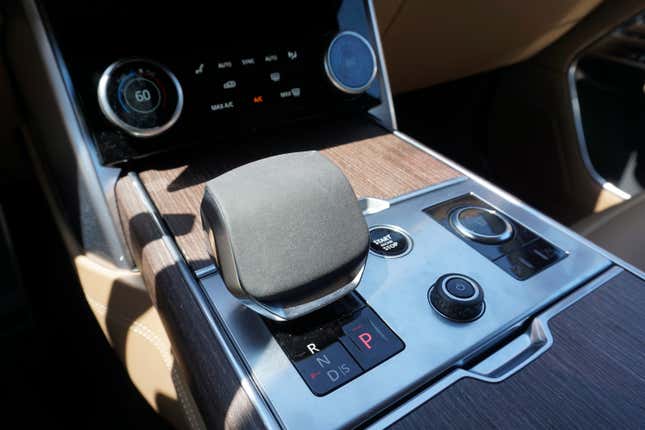 Photo: Andy Kalmowitz / Jalopnik
In the Range Rover, the power plant pushes out 523 horsepower and 553 lb-ft of torque. Those are both incredibly healthy numbers, even for a truck as heavy as the long-wheelbase Range Rover (coming in at about 5,700 pounds).
However, both those numbers are handily beaten by the XB7 thanks to tuning done by those German wizards at Alpina. It makes 631 horsepower and 590 lb-ft of torque–enough to push the nearly 6,000-pound SUV from 0-60 in just 3.9 seconds.
Driving the 2023 BMW Alpina XB7 in NYC | Quick Drive
The tuning and temperament of these engines are very different depending on the application. In the Range Rover, it's all about the smooth ride, and it's moderately successful. In the XB7 – a way more performance-oriented vehicle – the power delivery is a hell of a lot punchier, and there's a lot more top-end power.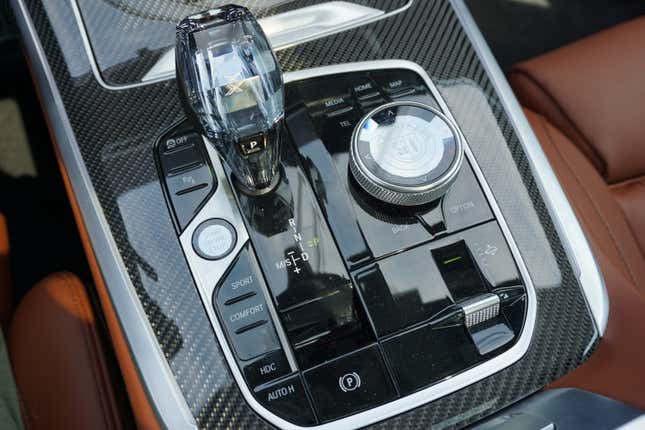 Photo: Andy Kalmowitz / Jalopnik
The ZF 8-speed transmission is also tuned to be a lot sharper, snapping off shifts the moment you press one of the steering wheel buttons (ugh).In the Range Rover, shifts are far slower and smoother – as they're supposed to be.
The Range Rover's real party trick over the XB7 mechanically is its four-wheel-drive system and off-road capable suspension. It's meant for some very serious off-roading – stuff the XB7 couldn't and shouldn't ever do.
In the right mode, a Range Rover can conquer just about anything you're likely to put in front of it. The same cannot be said for the Alpina.
Driving The XB7 And Range Rover

Photo: Andy Kalmowitz / Jalopnik
The Alpina XB7 beats the piss out of the Range Rover LWB in terms of driving dynamics, but to be fair it's sort of supposed to. These two cars may cost almost the same $153,225 and $150,245 for the Range Rover and XB7, respectively, but they offer very different experiences as the XB7 is all about squeezing as much performance out of a three-ton vehicle as possible, whereas comfort is the game in the Range Rover.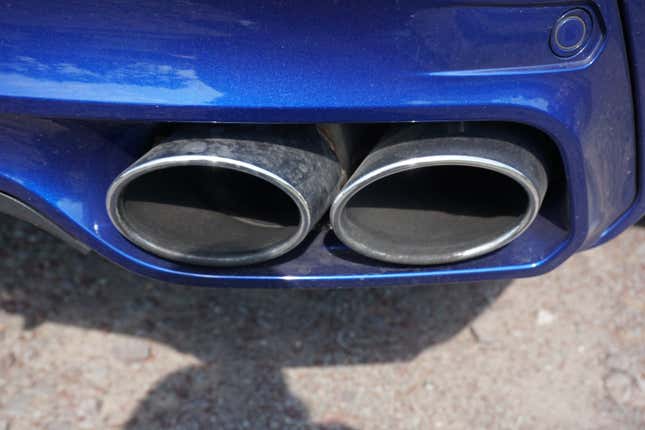 Photo: Andy Kalmowitz / Jalopnik
If you're blasting down a highway or driving around town, the Range Rover is the superior vehicle. It's immensely comfortable in just about every way, and its air suspension is wonderful at wafting you along on a cloud of rich-smelling leather and so-so technology. The second-best-I-have-ever-used massaging seats just add to the experience. That being said, it all sort of falls apart the second you go around a corner. It's wallowy and rolls substantially, even in its sportiest setting. We can forgive the Range Rover though, for it is still relaxing behind the wheel. After all, this is a big-ass SUV built to waft down the road, not carve corners.
The BMW Alpina XB7 Simply Rips | Jalopnik Reviews
The XB7 on the other hand – good lord. I do not know how the engineers did it, but holy hell. The thing takes corners nearly as well as any sports sedan I've driven. They've engineered out just about any discernible body roll when you take a corner quickly. The engine and transmission are also tuned to be incredibly responsive.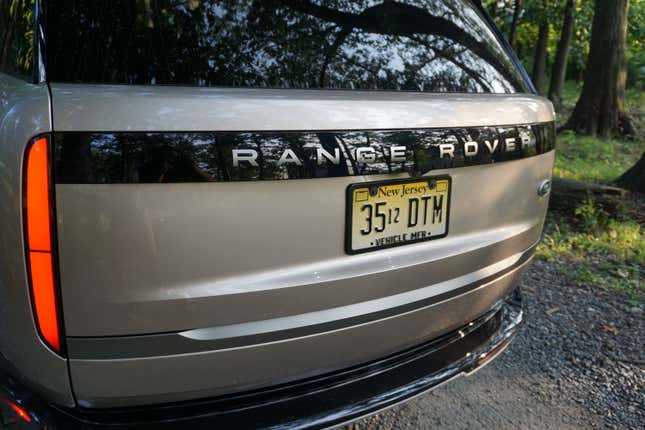 Photo: Andy Kalmowitz / Jalopnik
The moment you step on the gas, the RPMs jump and the gears drop. It's a wonderful thing, and far snappier than what's going on in the Range Rover. Again, that's to be expected as the XB7 is set up for substantially sportier driving. Anyway, the way the XB7 hauls is beyond belief. To this day, I still miss driving it. It feels like it's defying the laws of physics.
Outside The Big Boys

Photo: Andy Kalmowitz / Jalopnik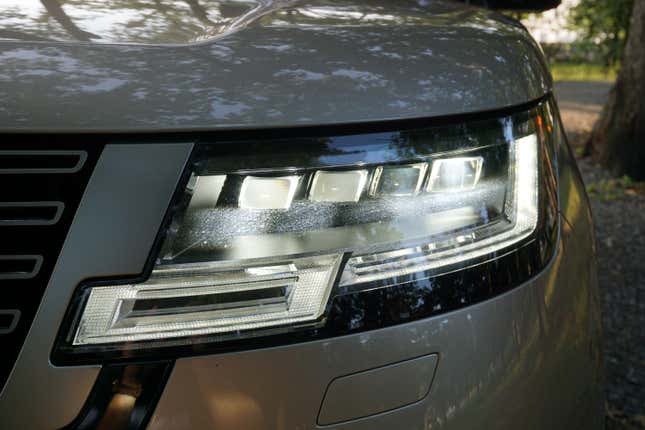 Photo: Andy Kalmowitz / Jalopnik
I'll keep this short and sweet. The Range Rover LWB looks – conservatively – 800,000 times better than the Alpina XB7, and that's coming from someone who doesn't hate the Alpina's front end.
To me, the new Range Rover is one of the best-looking vehicles on sale today. It just exudes elegance. It's subtle and showy in all the right ways. Land Rover's goal of designing a car to look like it was made out of a single piece of rock is accomplished; it's a modern car, but unmistakably a Range Rover.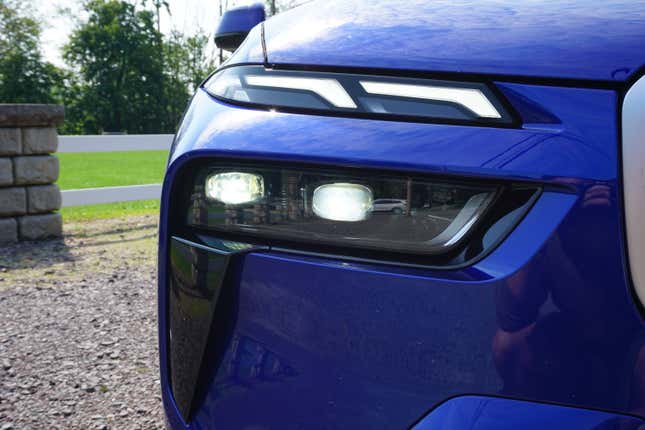 Photo: Andy Kalmowitz / Jalopnik
The XB7 on the other hand, well, it's not bad, but it's nowhere near as good. I understand BMW's design language is a bit iffy these days for most folks, and while it's not going to win any beauty contests, it's interesting-looking, at least. The added body kit and 23-inch Alpina wheels are pretty sick. Again, it's not a bad-looking car, but it's not the Range Rover.
Luxuriousness, Interior and Tech

Photo: Andy Kalmowitz / Jalopnik
In terms of a luxury package, the Range Rover stands alone. Its interior is a calming space full of rich leathers, woods and metals. It honestly feels like a throwback to what it meant to have a luxury car 30 or 40 years ago (if you ignore the big screen in the middle). There's very little in the way of buttons and tech getting in your face, and it's designed to look as minimalist as possible.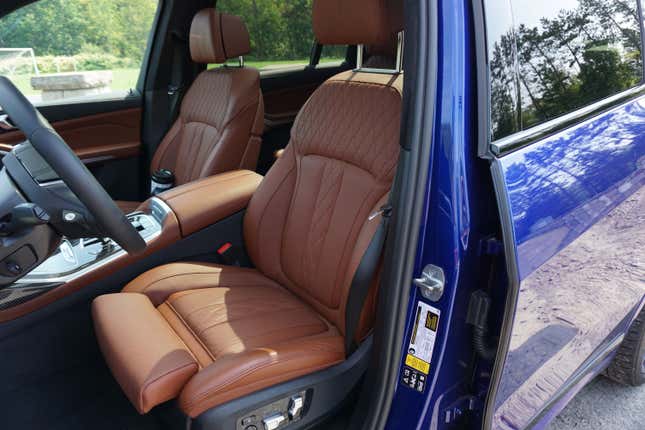 Photo: Andy Kalmowitz / Jalopnik
That's good news and bad news. If the tech all worked as designed, it would be wonderful, but unfortunately, that is not the case. The tech in the Range Rover was spotty at best. In my 300-ish miles of driving, I had numerous problems with the center and gauge screen crashing or refusing to boot up. It would usually resolve itself, but it was annoying when it wasn't working.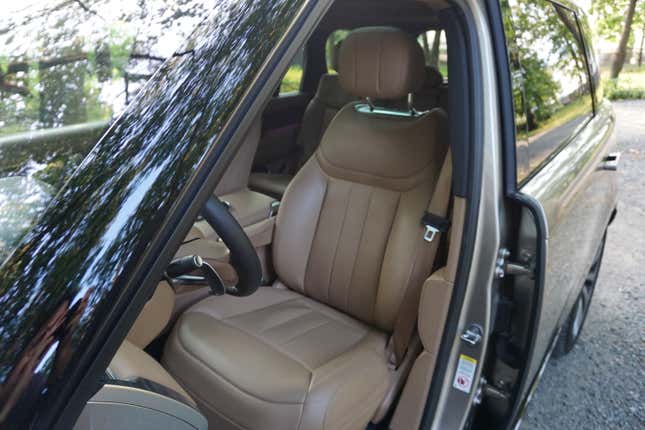 Photo: Andy Kalmowitz / Jalopnik
There was also a decent amount of lag whenever you asked it to do anything. It sort of felt like a smartphone from 2012. That's not good. I could probably look past it in the long run, but for $150,000, you do want your goddamn screen to boot up in under a minute, right?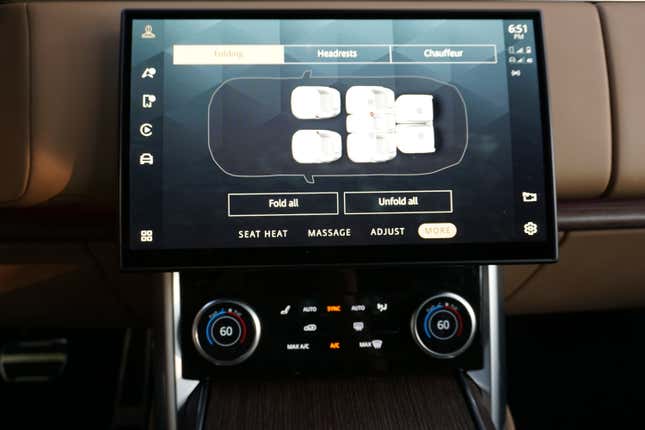 Photo: Andy Kalmowitz / Jalopnik
In contrast, the XB7 has tech that always works, and its interior takes a much different approach to technology with a lot more buttons and menus, though there are not as many as the pre-2023-facelifted XB7. Because of that, the Range Rover's simpler tech interface is much easier to use. For example, the Range Rover has dedicated HVAC switches. That's a good thing. The Alpina on the other hand, well, you've got to be ready to touch a few buttons on the center screen just to turn down the air or change heated seat settings. It's annoying as hell.
The Range Rover Tailgate Event Suite is Peak Luxury Lounging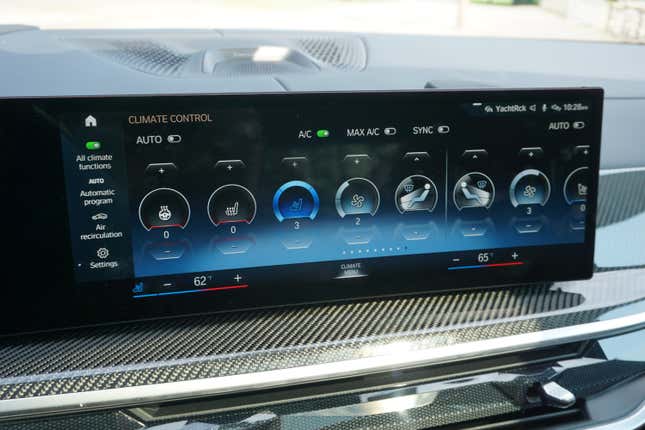 Photo: Andy Kalmowitz / Jalopnik
You know what's not annoying? How comfortable every seat in both cars is. No matter where you're sitting, you'll have plenty of head and leg room – even in the third row. Up front, though, the BMW may be in a class of its own. The seats themselves may be slightly softer and more deeply cushioned in the Range Rover, but the XB7 has the actual best massaging seats I've ever used. They even massage your butt. How great is that?
In a world where all things are equal and we assume the tech works as designed, the Range Rover is probably the nicer place to be than the BMW. The XB7's interior doesn't feel that different from an X3 or something of that ilk. Sure the materials are nicer, but all BMW interiors are sort of the same. It works for the company, I get that.
What You Should Buy

Photo: Andy Kalmowitz / Jalopnik
Well, buddy, it's up to you. You're the person with the money, not me. But, let's just pretend I'm the guy with the money. What car would I buy? Well, it's tough, but I'm going for the Range Rover. Despite its numerous flaws and less-than-sporty driving demeanor, it's the vehicle that made me feel the most special. That's what you want out of a $153,225 vehicle, isn't it? That being said, I wouldn't fault you for a second if you went with the $150,245 XB7. It's a brilliant driving machine that beats the Range Rover in just about every single objective way. There's just one issue with that: I don't care. The Range Rover is the car I'd buy simply because it's the one that made me happier, but now I'm sad because let's be real, I'll never be able to afford either of them.