Buy A Honda Accord If You Care About Rear Seat Passenger Safety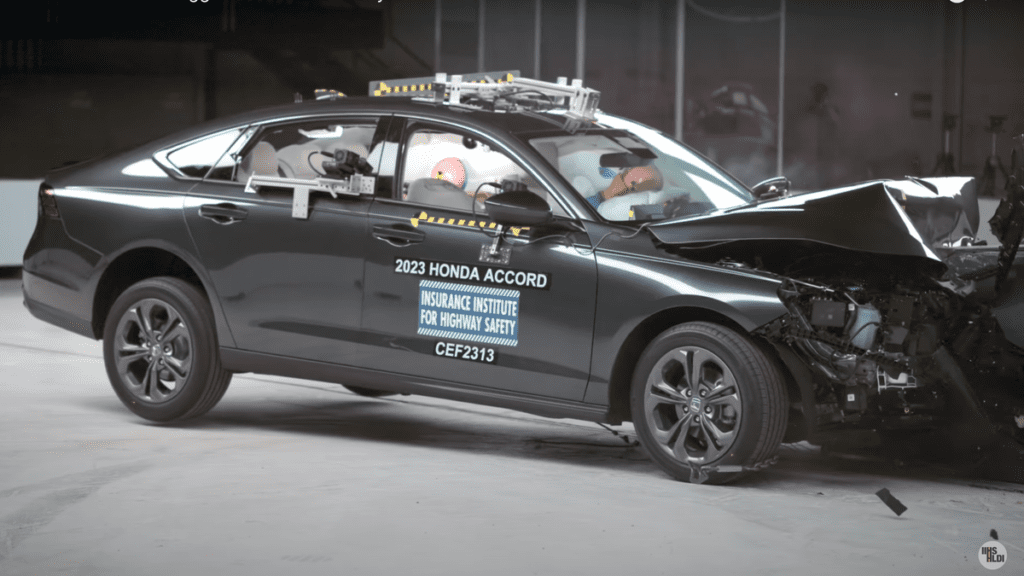 Cars today are so much safer than they've ever been in the past that you have to intentionally keep your head buried in the sand to think that things were somehow better back in the 1970s. Well, at least if you're inside the car. Thanks to the popularity of tall hoods, you're much more likely to be thrown under the car and run over if you're a pedestrian or cyclist, which is generally a bad thing. But just because cars are safer for drivers and passengers than they were in the past doesn't mean that all new cars are equally safe.
The International Institute for Highway Safety recently released the results of its updated moderate overlap front crash test of midsize sedans, and the results are not great for rear-seat passengers. Of the seven cars tested, the Subaru Outback received an Acceptable rating, while the Nissan Altima and Toyota Camry were only rated Marginal. Poor ratings went to the Hyundai Sonata, Kia K5 and Volkswagen Jetta.
We'd typically consider the Jetta a compact sedan not a midsize, but the current Jetta is bigger than its predecessor, so maybe the IIHS considers it a midsize sedan now? Either way, rear-seat passengers probably don't care how a car is classified after getting injured in a wreck.
"In most of the midsize cars we tested, the rear dummy slid forward, or 'submarined,' beneath the lap belt, causing it to ride up from the pelvis onto the abdomen and increasing the risk of internal injuries," IIHS President David Harkey said in a statement. "In the three poor-rated vehicles, measurements taken from the rear dummy also indicated likely injuries to the head or neck as well as to the chest."
The new Honda Accord, however, outperformed the competition, earning a Good score. According to the release, "The Accord provided stellar protection in the back seat. Measurements taken from the rear dummy showed no heightened risk of injuries, and the rear restraints did a good job controlling the dummy's motion."
So if you're in the market for a midsize sedan and care about rear passenger safety, the new Accord should definitely be at the top of your list. Although, as the IIHS points out, it's not that rear seats have become less safe. It's that front seats have become even more safe, and not every automaker has extended those safety advancements to the rear seats. Additionally, children are still much safer in the back, since they can easily be injured by front airbags.
Most midsize cars struggle in rear-seat safety test – IIHS News