Navigating Health Insurance for Small Businesses in Minnesota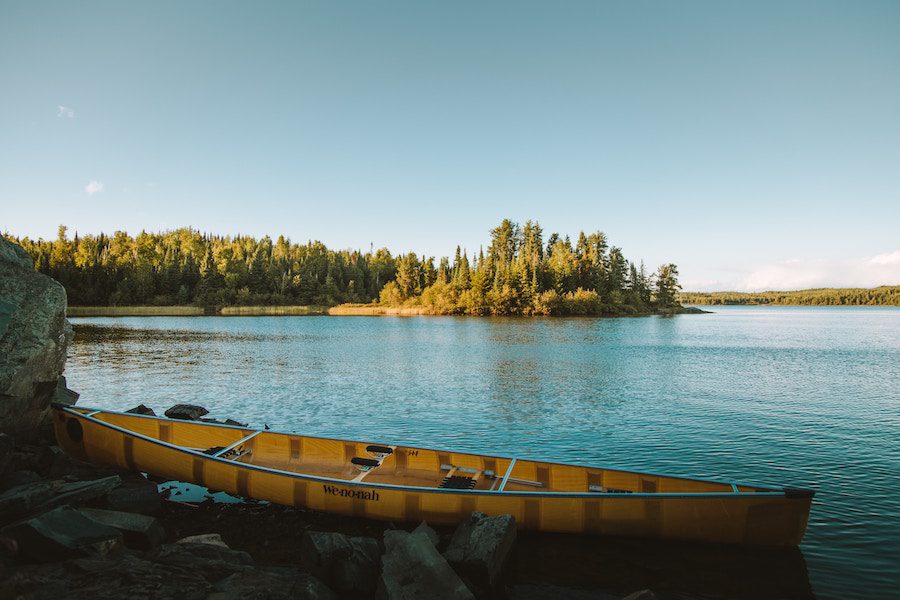 Running a small business in Minnesota comes with its own set of challenges and opportunities. As a small business owner, one of the key considerations is providing health insurance for your employees. Offering comprehensive health insurance not only attracts and retains talented employees but also demonstrates your commitment to their well-being. In this guide, we'll explore the options and considerations for health insurance for small businesses in Minnesota, helping you make informed decisions that benefit both your employees and your business.
Benefits of Providing Minnesota Small Business Health Insurance
Offering Minnesota small business health insurance to your employees brings numerous benefits for your small business. Here's a few of our favorites.
1. Employee Attraction and Retention
More than half of small businesses aren't offering health benefits, and they are losing talent as a result. In today's competitive job market, talented professionals are looking for more than just a paycheck. They want to work for companies that prioritize their well-being and offer benefits that go beyond the basics. By providing comprehensive health insurance, you are sending a clear message to potential employees that you value their health and are committed to their long-term success. This can give you a competitive edge when it comes to attracting and retaining top talent in your industry.
2. Improved Employee Well-Being
Access to quality healthcare leads to improved overall health and well-being for your employees, resulting in increased productivity and job satisfaction. When employees have access to regular medical check-ups, preventive care, and timely treatment, they are more likely to stay healthy and address any health concerns early on. This not only reduces the risk of serious illnesses but also helps employees manage chronic conditions effectively. As a result, they can perform their job duties more efficiently and with greater focus, leading to increased productivity.
3. Positive Work Environment
Providing health insurance demonstrates that you care about your employees' health and fosters a positive workplace culture. When employees know that their employer values their well-being and is invested in their health, it creates a sense of trust and loyalty. This, in turn, leads to a more positive work environment where employees feel supported and motivated to perform at their best.
4. Tax Advantages
Small businesses may qualify for tax credits when offering health insurance to employees, helping offset the costs. This can be a significant advantage for small businesses in Minnesota, as it allows them to provide comprehensive health insurance without incurring excessive expenses. One option that small businesses can consider is the use of Health Reimbursement Arrangements (HRAs). With HRAs, reimbursements for employee health insurance expenses are not subject to payroll tax, employer tax, or income tax.
5. Business Reputation
Offering health insurance enhances your business's reputation as a responsible and caring employer in the community. Not only does it demonstrate your commitment to your employees' well-being, but it also showcases your dedication to supporting the local community. By providing comprehensive health insurance, you are not only investing in the success of your business, but you are also contributing to the overall health and prosperity of your employees and their families. By prioritizing the health and well-being of your employees, you are investing in the long-term success and growth of your small business in Minnesota.
Health Insurance Landscape for Small Businesses in Minnesota
Minnesota offers various health insurance options for small businesses, including the following:
1. Small Group Health Plans
Small businesses can purchase small group health plans from insurance carriers. These plans are designed specifically for groups of employees and offer a range of coverage options. These can be expensive, one-size-fits-all, and subject to high renewals. 
2. Health Insurance Marketplace (MNsure)
MNsure is Minnesota's health insurance marketplace, where small businesses can explore and purchase health insurance plans that meet Affordable Care Act (ACA) requirements.
3. SHOP Marketplace
The Small Business Health Options Program (SHOP) Marketplace is a component of Healthcare.gov that allows small businesses to compare and purchase health insurance plans for their employees.
4. Health Reimbursement Arrangements 
Instead of dealing with one of the above options, business owners can simply reimburse employees for individual health plans purchased at Healthcare.gov or the State Exchange. It's tax-free, hands-off and affordable. Employees received personalized health plans that work best for their unique needs. 
Here are a few advantages at a glance:
Considerations When Choosing Health Insurance for Your Small Business
Selecting the right health insurance plan for your small business in Minnesota requires careful evaluation. Here are key considerations to keep in mind:
1. Plan Options:
Evaluate the different types of health insurance plans available, such as Health Maintenance Organization (HMO), Preferred Provider Organization (PPO), and High Deductible Health Plans (HDHP).
2. Network Coverage:
Check if the plans include a network of healthcare providers and hospitals that are convenient for your employees.
3. Cost Sharing:
Consider the premium costs, deductibles, co-payments, and coinsurance that your employees and your business will be responsible for.
4. Essential Health Benefits:
Review the essential health benefits covered by the plans, ensuring they meet the ACA requirements and provide the necessary coverage for your employees.
5. Employee Input:
Seek input from your employees to understand their health insurance needs and preferences. This can help you choose a plan that aligns with their requirements.
HRAs, the better option for Minnesota Small Business Benefits
Minnesota business owners should take a look at HRAs for a few reasons. For starters, cost control and taking care of your employees. Secondly, Minnesota has an incredible individual health insurance market with innovative carriers, plans with perks, and lots of options. Here are a few questions we hear often.
What can my employees buy? 
Minnesota boasts one of the most competitive individual health insurance markets in the country. For that reason, the state was one of the earliest adopters for these new models of HRAs.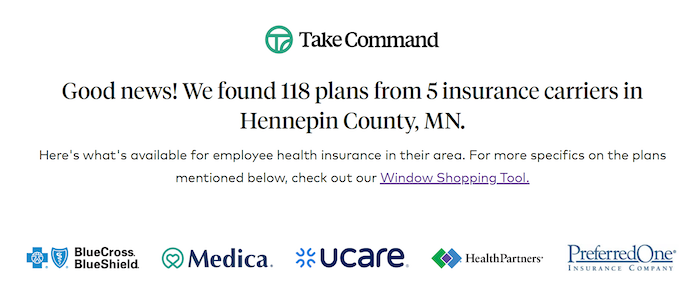 Source: Take Command's Market Snapshot Tool
Are they quality health plans? 
Minnesota small business employees are not limited to HMOs. There are EPOs, HMOs and PPOs depending on the level of coverage they need. And remember, all of these plans are high quality health insurance that meet the standards required by the Affordable Care Act, including covering preexisting conditions and ten essential health benefits.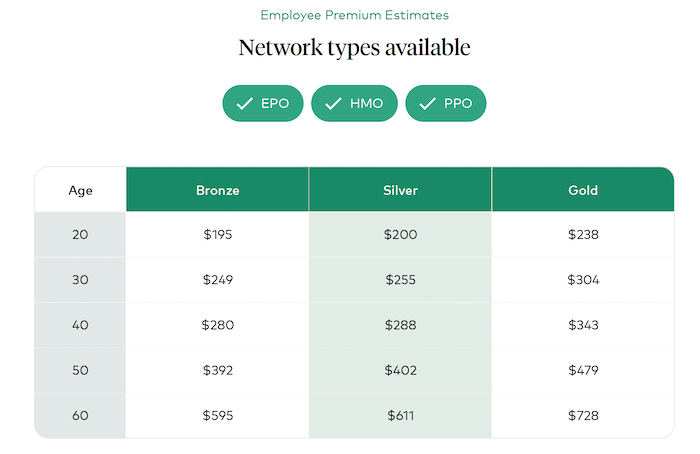 Source: Take Command's Market Snapshot Tool
Get more out of your benefits budget with HRAs 
Here's an example of Hennepin County. While $69 might not sound like a ton of savings, just remember that is per month and per employee. 
Individual rates are 14% cheaper than group in Minnesota's three largest counties.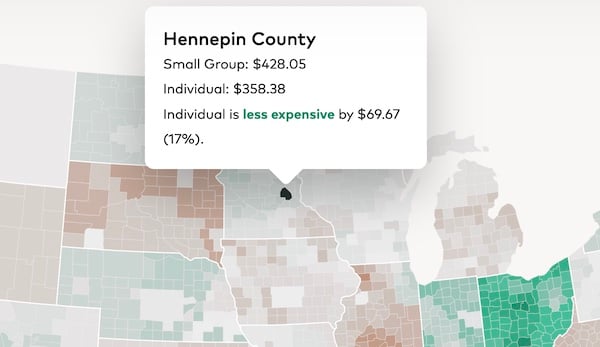 Source: HRA Heat Map 
Ready to get started? 
Reimbursing your employees tax-free through a Health Reimbursement Arrangement) has never been easier. Design and launch your QSEHRA plan in minutes with our HRA administration platform.
Manage benefits for an hour or less per month
Offer health insurance on your budget & save on taxes
Boost recruitment and retention in tight hiring market