Chevy Blazer Police Pursuit Vehicle is equipped for the chase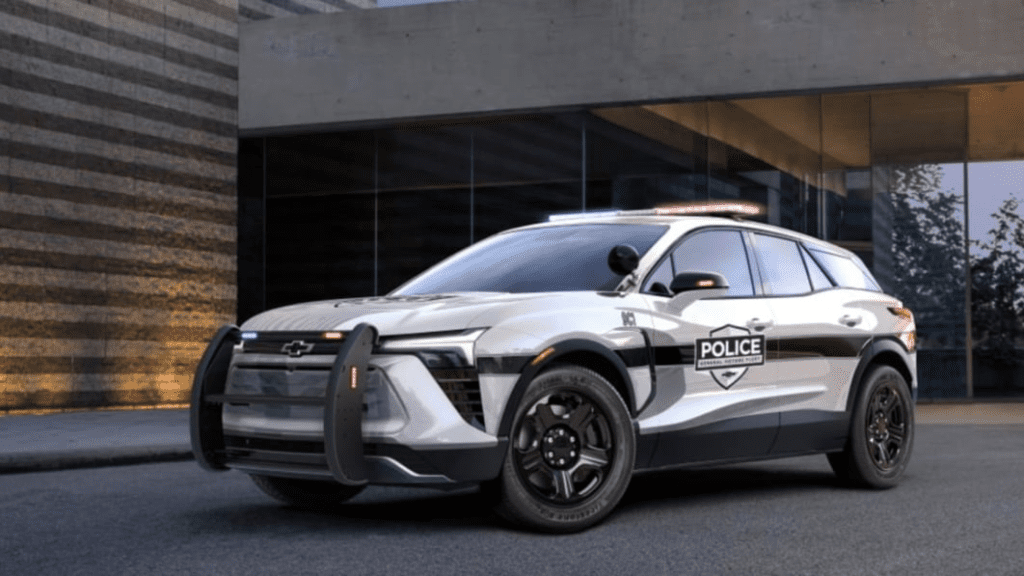 General Motors' GM Evolve has posted a super-macho, 12-minute video of its upcoming Chevy Blazer EV Police Pursuit Vehicle (PPV) that details its crime-fighting performance and technological highlights.
Based on the SS performance trim level of the Blazer and the Ultium platform, this 2024 machine is purpose-built for its tasks, and tailored for the high-speed chase, including a certified speedometer, heavy-duty suspension, underbody skid plates, and 20-inch steel wheels. It will stop thanks to a set of high-performance Brembo brakes.
A 400-volt all-wheel-drive system powers the PPV, and while its not quite a match for the SS model, the electric Blazer is capable of up to 498 horsepower and 531 lb-ft of instant torque.
The Ultium platform offers a low center of gravity for dynamic handling to meet the demands of law enforcement. Judging from the video, the PPV looks the part of a chase car with its beefy, aggressive design: As one commenter put it, he'd love to see it on the road, "just not in my rear view mirror."
This Blazer is equipped with a 105 kWh battery, providing a GM-estimated range of 250 miles with traditional emergency equipment. Its charging capabilities can add up to 71 miles of range in 10 minutes or 141 miles in about 30 minutes.
Other features included a rear camera mirror, rear door handles that can be disabled, keyless entry and contactless ignition. Once the key fob is detected, the vehicle will start. If the fob is removed, the vehicle will enter "Protected Idle," where the car is powered and unlocked, ready for a quick chase.
The company says the Chevy Blazer RS AWD will be the first to launch this summer, followed by the RS RWD and 2LT AWD, set to begin production this fall. Don't expect to see the police version until the first quarter of 2024.