COVID Claims Continue to Fail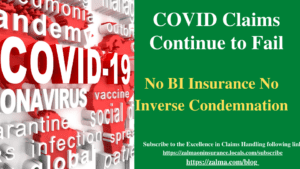 Golden Corral Corporation and Golden Corral Franchising Systems, Inc. (hereinafter referred to collectively as "Golden Corral"), appealed the district court's order granting Illinois Union Insurance Company's motion for judgment on the pleadings in Golden Corral's action seeking insurance benefits for business losses Golden Corral incurred during the COVID-19 pandemic.
In Golden Corral Corp.; Golden Corral Franchising Systems Inc. v. Illinois Union Insurance Company, No. 21-2119, United States Court of Appeals, Fourth Circuit (August 11, 2022) the Fourth Circuit affirmed the district court's order applying Uncork &Create LLC v. Cincinnati Ins. Co., 27 F.4th 926, 933-34 (4th Cir. 2022) that held that an insurance "policy's coverage for business income loss and other expenses did not apply to plaintiff's claim for financial losses caused by the COVID-19 pandemic in the absence of any material destruction or material harm to its covered premises and further observing that our holding is consistent with the unanimous decisions by our sister circuits, which have applied various states' laws to similar insurance claims and policy provisions.
The Fourth Circuit dispensed with oral argument because the facts and legal contentions are adequately presented in the materials before this court and argument would not aid the decisional process.
It seems plaintiffs and their lawyers refuse to read the opinions of every federal circuit and almost every state trial and appellate court that Covid-19 does not cause direct physical damage to the property of the insured which eliminates the possibility of collecting for business interruption. Some creative lawyers have tried inverse condemnation by the state for closing down businesses as a Fifth Amendment taking. One court said: "
The Supreme Court of Pennsylvania, however, has found the Governor's executive orders to be valid uses of police power and not a taking under the exercise of eminent domain power. Friends of Danny DeVito v. Wolf, 227 A.3d 872, 896 (Pa.), cert. denied, ––– U.S. ––––, 141 S. Ct. 239, 208 L. Ed. 2d 17 (2020)." [1600 Walnut Corp. v. Cole Haan Co., 530 F.Supp.3d 555 (E.D. Pa. 2021)]
Like this:
Like Loading…
Related
About Barry Zalma
An insurance coverage and claims handling author, consultant and expert witness with more than 48 years of practical and court room experience.
This entry was posted in Zalma on Insurance. Bookmark the permalink.