Dead: Maserati Quattroporte And Ghibli
Maserati Quattroporte TrofeoImage: Maserati
Maserati has confirmed to Car and Driver that it's discontinuing both the Quattroporte and Ghibli sedans at the end of 2023.
Maserati GranTurismo Comes in Gas and EV Models
For those that have been following the news, this shouldn't come as a surprise. Sedan sales have been dying off for a while now depending on the brand. And Maserati had already said that it was looking to consolidate its lineup, that means combining two sedans into one model with an EV version coming.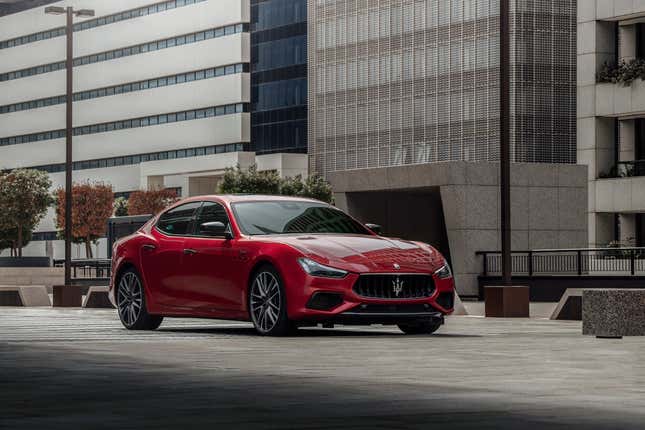 Maserati Ghibli TrofeoImage: Maserati
The death of the two sedans also follows Maserati's strategy for downsizing engines before going all electric. That means no more Ferrari-sourced, turbocharged V6 and V8 engines, both of which the Quattroporte and Ghibli used. Not all is lost if you're a Maserati sedan fan.
The brand was already planning to combine the two sedans into one, and it would seem that a new Quattroporte that does just that is supposed to be coming in 2025, at least according to recent report by Autocar. Car and Driver is also speculating that the Levante crossover is not long for this world either, though we'll have to wait and see how that pans out.
While Maserati could never rid itself of the historic Quattroporte nameplate long, this is the third time the Ghibli has met death. The name originally ran on a sports car from 1967-1973; it was brought back again on a compact luxury sports coupe from 1992-1998. As the brand's business strategy changed, it was brought back again in 2014 to help Maserati chase volume. But it was rather controversial as it was almost a poster child for the brand's unreliability. Because of that, though, it also has a "ballin' on a budget" status in some circles, as they're hilarious affordable when used.
For those that still want to purchase a Ghibli or Quattroporte, do so before the end of the year. You can also check out the recently introduced special edition Ghibli Ultima, made to celebrate the end of the Maserati's V8 run.