Dodge CEO Says 'Cool And Fun' EV Muscle Cars Are Coming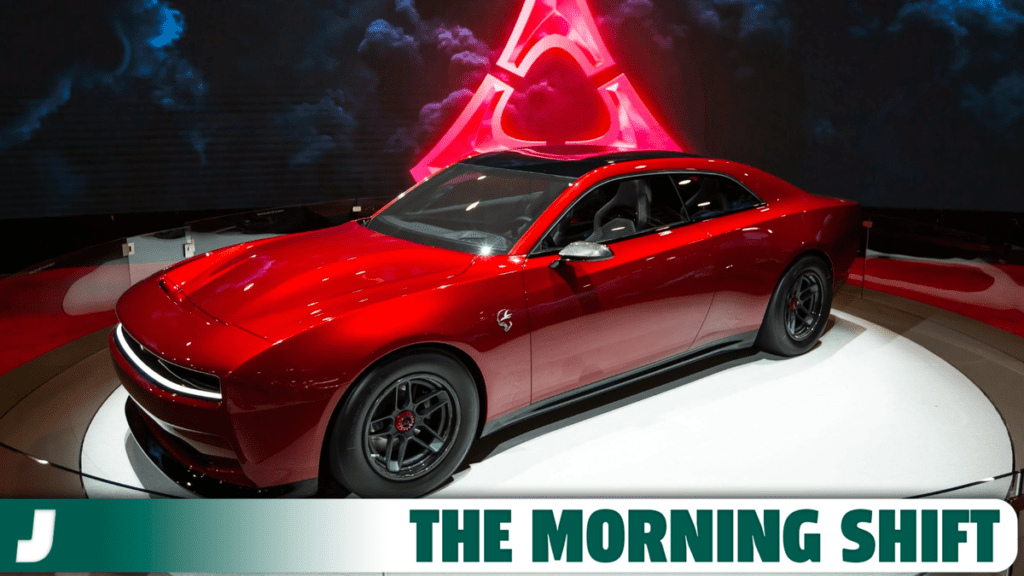 Good morning! It's Thursday, August 17, 2023 and this is The Morning Shift, your daily roundup of the top automotive headlines from around the world, in one place. Here are the important stories you need to know.
GM Just Cant Seem To Quit The Chevy Bolt
1st Gear: Dodge Thinks EV Muscle Cars Can Be Fun
Dodge's CEO Tim Kuniskis, who now also serves as Ram's CEO, reportedly said that the spirit of performance won't be going away as we get further into the EV age for vehicles. He made these comments at the Dodge-Sponsored Roadkill Nights event earlier this week. The automaker showed off all of its current V8 muscle while at the same time giving folks a preview of what's to come with the Charger Daytona SRT Concept and the plug-in hybrid Hornet R/T crossover. From Automotive News:
Kuniskis said the capabilities of EVs will steadily turn heads and gain a following.
When it comes to the EV transition, "everybody's panicked about it," Kuniskis told Automotive News. "It is what it is. This is the regulation. This is where the industry is going. This is what we have to do."
Kuniskis said the industry is in a similar position as it was in the 1970s, when regulations put a shackle on muscle cars. But Kuniskis feels this moment is different. He sees manufacturers delivering fun EVs with plenty of punch for speed lovers.
"There's tons of potential in this technology," Kuniskis said. "I get it: Not everybody is adopting to this technology right away, and not everybody will. It will take many years for everybody to, but people will. Early adopters will, and when they see what we can do with this technology, they will start coming along.
"Eventually people will see that this technology can make something cool and fun. It's probably going to sound different, but people tuning cars, making cars faster and competing against each other will not go away. They say the first drag race occurred the second the second car was built. People are going to compete. People are going to compete to have a cooler, faster, funner car and it's not going to change."
Don't worry, Mopar V8 lovers, those cars aren't going away just yet. Kuniskis tells the outlet that inventories of today's Charger and Challenger will climb as Dodge stocks up before production is shut down in December. It makes sense, since the next-generation vehicle isn't slated to arrive until the second or third quarter of 2024.
2nd Gear: Texas Goes With Tesla
Texas has reportedly approved plans that will require companies to include Tesla's technology in EV charging stations in order to be eligible for federal funds. The move comes despite the fact there have been calls for more time to re-engineer and test the connectors.
The decision by the Lone Star State, the biggest recipient in a $5 billion program meant to add EV chargers to U.S. highways, is being closely watched by other states. It's also a big win for CEO Elon Musk's NACS charger. From Reuters:
Tesla's efforts are facing early tests as some states start rolling out the funds. The company won a slew of projects in Pennsylvania's first round of funding announced on Monday but none last month in Ohio.
Federal rules require companies to offer the rival Combined Charging System (CCS) – a U.S. standard that has been preferred by the Biden administration – as a minimum to be eligible for the funds.
But individual states can add their own requirements on top of CCS before distributing the federal funds at a local level.
NACS has been gaining popularity recently among automakers. Ford, General Motors, Fisker, and Mercedes-Benz are just a few who have signed onto the tech.
In June, Reuters reported that Texas – which will receive and deploy $407.8 million over five years – planned to mandate companies to include Tesla's plugs. Washington state has talked about similar plans and Kentucky has already mandated it.
Florida, another major recipient of funds, recently revised it plans, saying it would mandate NACS one year after standards body SAE International, which is reviewing the technology, formally recognizes it.
Not everyone is on board, namely other charging companies. A few wrote to the Texas Transportation Commission and reportedly opposed the requirements in the first round of funds. They cited concerns about the supply chain and the certification of Tesla's connectors. They also said it would put the successful deployment of EV chargers at risk. The move forced Texas to defer a vote on the plan two separate times.
3rd Gear: Stellantis Invests Big In California Lithium
Stellantis is investing over $100 million in California's Controlled Thermal Resources. It's reportedly the automaker's latest bet on the direct lithium extraction sector amid a global hunt for a new source of the EV battery material.
The announcement comes as the green energy transition and the Inflation Reduction Act fuel concern that the supply of lithium and other materials may not be enough to satisfy demand. From Reuters:
DLE technologies vary, but each aims to mechanically filter lithium from salty brine deposits and thus avoid the need for open pit mines or large evaporation ponds, the two most common but environmentally challenging ways to extract the battery metal.
Stellantis, which has said half of its fleet will be electric by 2030, also agreed to nearly triple the amount of lithium it will buy from Controlled Thermal, boosting a previous order to 65,000 metric tons annually for at least 10 years, starting in 2027.
[…]
The company plans to spend more than $1 billion to separate lithium from superhot geothermal brines extracted from beneath California's Salton Sea after flashing steam off those brines to spin turbines that will produce electricity starting next year.
That renewable power is expected to cut the amount of carbon emitted during lithium production.
The company's CEO, Carlos Tavares, called its partnership with Controlled Thermal "an important step in our care for our customers and our plant as we work to provide clean, safe and affordable mobility."
4th Gear: Current Nissan Frontier Will Be Around For A While
Production of the current-generation Nissan Frontier pickup has been extended by two years at its Canton, Mississippi, plant beyond its previously expected redesign. It'll now carry through at least the 2029 model year. That's not too crazy, I mean the previous Frontier was in production for 17 years before being redesigned in 2021.
The news comes right as reports surface that Nissan will be pulling its Titan out of the full-size pickup segment that is dominated by American trucks. It'll instead put all of its attention and resources into midsize pickups. From Automotive News:
In the memo, Nissan didn't offer suppliers a reason for the life cycle extension, but one supplier briefed on the matter, who asked not to be identified, told Automotive News that the previously planned changeover would have come just as the Canton factory is gearing up to build new Nissan and Infiniti electric vehicles.
Nissan doesn't want "a major model launch during the time that they're starting up" EV production, the source said.
It is now unclear whether the pickup will receive another redesign, the person said.
One possibility is that the Frontier will reemerge around 2030 as an electric pickup, according to the supplier.
A battery-powered truck could boost Nissan's drive to reclaim relevance in the EV segment it pioneered more than a decade ago with the Leaf.
A Nissan spokesperson declined to comment on future product plans.
Nissan is reportedly investing about half a billion dollars at its 4.7 million-square-foot plant in Canton to initially build four EVs. Production of a pair of battery-powered Nissan and Infiniti sedans is slated to begin in 2026. Then a Nissan electric crossover will come in 2027, and an Infiniti crossover the year after that.
Reverse: Billy Joel Kills A Guy
Neutral: I Bought New Sneakers
On Tuesday, I asked you folks to help me buy running shoes. Well, I didn't listen to any of you, but you can all be happy in knowing that I really like my Brooks Ghost 15s. Thank you for all your help.
On The Radio: Carly Rae Jepsen – "Run Away With Me"
Carly Rae Jepsen – Run Away With Me