The 2023 Dodge Challenger Swinger Edition Refuses To Go Away Quietly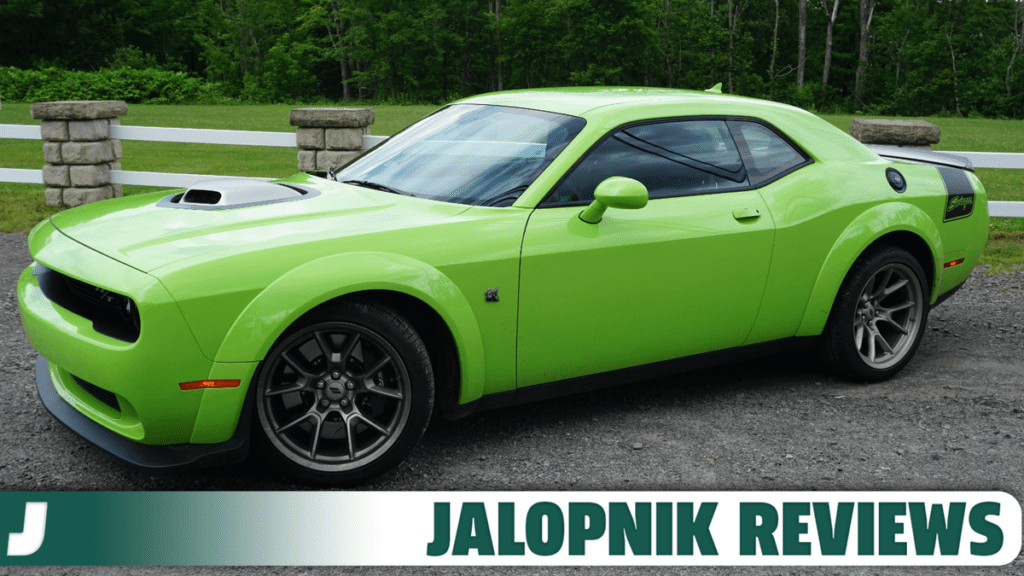 It's the end of the road for the Dodge Challenger and Charger. After 15 and 17 respective years, Dodge is pulling the plug on its two iconic models for something – well – with a plug. But, don't think these two cars are going away without a bang.
WCSYB_CHALLENGER_031523_FINAL
Dodge decided to grace the world with seven "Last Call" edition Challengers and Chargers. As the resident Dodge fanboy, I wanted to give one a spin. Specifically, I wanted to drive the Challenger Swinger, mostly because of its silly name and the fact it had a Shaker Hood.
What I found after over 500 miles of driving was a deeply flawed car with outdated technology, old-school (not always in a good way) driving dynamics, the square footage of a medium-sized boat and character most automakers could never dream of bestowing on one of their vehicles. I've found one of the best cars on sale today, even though it's objectively one of the worst.
Full Disclosure: Dodge was kind enough to lend me a fully-fueled Challenger Swinger to do as I pleased over the long 4th of July weekend. God Bless America.
2023 Dodge Challenger Swinger: Driving and Powertrain
Photo: Andy Kalmowitz / Jalopnik
6.4-liters of naturally aspirated American V8 fury is going to dominate just about any automotive experience. But, when you put that engine in something as relatively bare-bones as a Dodge Challenger, you've got something real special. It's made even better by a lovely – and extremely beefy – Tremec 6-speed manual transmission. The gearbox – which operates with the same heft as a piece of early 19th-century farm equipment – does a wonderful job of sending the Challenger's 485 horsepower and 475 lb-ft of torque to the car's 305-mm rear tires.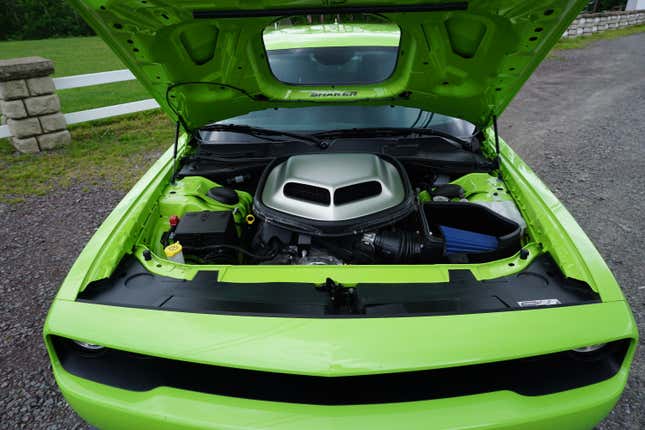 Photo: Andy Kalmowitz / Jalopnik
Theatrics and weight are the two biggest things you notice when you're driving the Challenger Swinger. Every day is a show in this car, and whether they like it or not, everyone within one city block of you is the audience. This thing is loud. It doesn't matter what gear you're in, what your throttle position is, or how fast you're going. Cold starts are also loud enough to start an incident that ends up on your neighborhood's Facebook page. People will hear the Challenger Swinger coming. Then they'll see its lime green paint and stare at you. If that isn't good for your social anxiety, then this isn't the car for you.
The Dodge Challenger Swinger Edition Is Loud, Ostentatious and Perfect | Jalopnik Reviews
The second half of this equation is weight. I don't mean the physical weight of the Challenger Swinger – though it does weigh right around 5,300 pounds. I'm talking about the feel. The steering, clutch, shifter, and even the doors, felt heavy. It makes you feel like a titan of industry, a master of your own destiny. Is it necessary? Certainly not, but you get a good workout. You're yanking on things in the Challenger to get what you want. It's a wonderful feeling.
Photo: Andy Kalmowitz / Jalopnik
As far as driving is concerned, even with 305 tires at all four corners, a corner carver the Challenger Swinger is not. We all sort of knew that at this point. After all, this car has been on sale since before Obama won a presidential election. That being said, it can still be fun in the twisties. There's a sense of satisfaction available if you're able to hustle a behemoth like this through a tight corner – body roll be damned.
Where the Challenger Swinger excels is on the highway or a straight bit of backroad – anywhere you can cruise. A Scat Pack Challenger is all about hearing the V8 roar as you glide along down a not-too-twisty or bumpy road. The Swinger isn't too keen on bumps. You really do feel every imperfection in this car, for better or worse.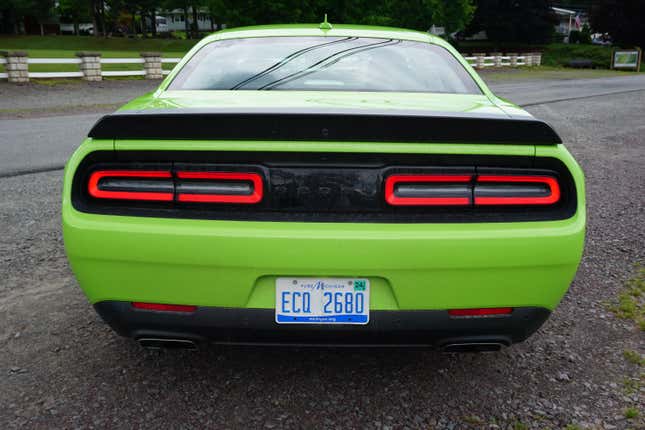 Photo: Andy Kalmowitz / Jalopnik
With all of this in mind, please know that the Challenger Scat Pack is not a fast car. You'll get where you're going fast enough, but it never really feels like something with nearly 500 hp and 500 lb-ft of torque. But again, it's not about the speed. It's about the vibe, baby. It's got 500 vibe power under the hood.
Inside the Challenger Swinger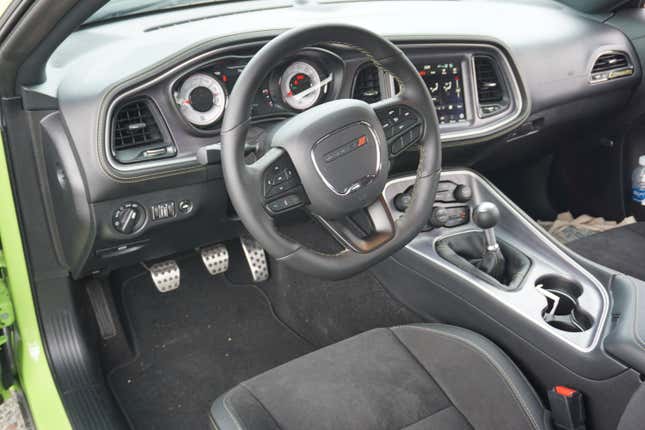 Photo: Andy Kalmowitz / Jalopnik
If you're looking for refinement and luxury in your car, then the Challenger Swinger is not for you. Despite its $66,815 (including destination) price tag, you've still got the roots of a 30-something thousand dollar rental car, but that can all be forgiven. After all, that's what the Challenger is.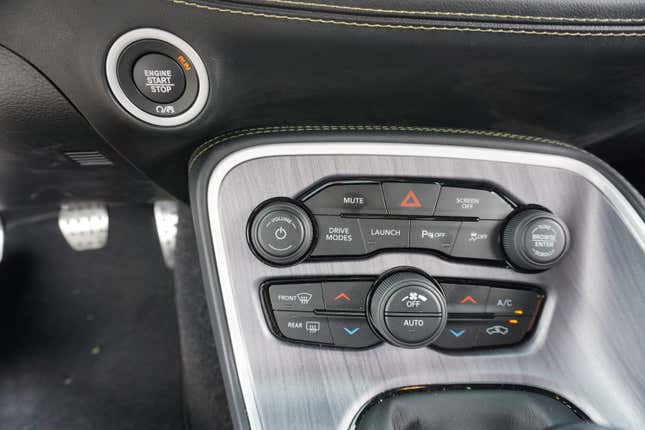 Photo: Andy Kalmowitz / Jalopnik
Unfortunately, that was not really where my issues lay. I don't know if it was just my particular car, but it was all sort of falling apart. The lime green stitching was starting to unthread behind the steering wheel, and there were some squeaks, rattles and a weird resonance behind the dashboard.
On top of that, there was a piece of misaligned trim at the front of the driver's door that would get slightly caught every time I opened and closed it. And you know what? I do not care. It's a Dodge Challenger. This is what you sign up for when you buy one. Who gives a shit if there's a weird rattle every once in a while? Just mat the accelerator and all is forgiven.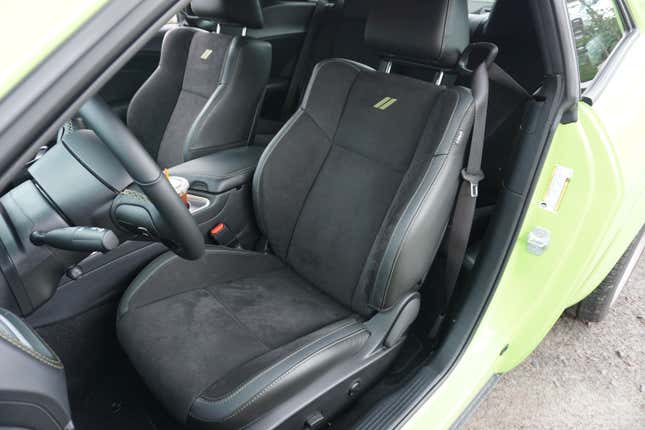 Photo: Andy Kalmowitz / Jalopnik
In terms of other aspects of the interior, well, it's stupendously comfy. These have to be some of the fastest La-Z-Boy seats on the market today. After hundreds of miles of driving, my spine never once complain. Some of that comfort also comes from the fact that it's just huge. It's a massive car. There are miles in front of you and miles behind you. Because of that, there's tons of space. God's honest truth you can get five adults (granted one has to be a bit small to ride in the middle) into a Challenger. It's a family car, Barb!
The Challenger Swinger's "Tech"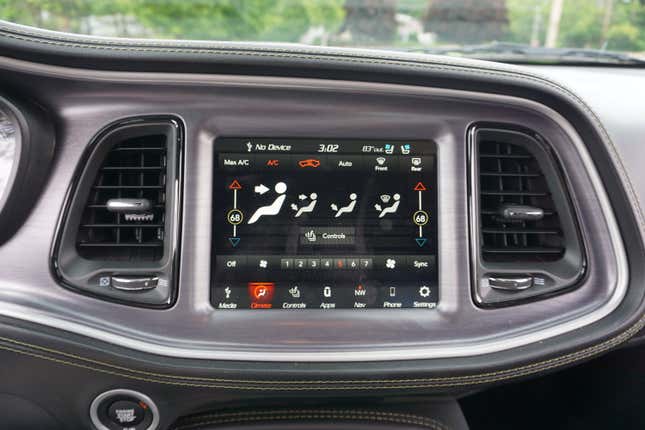 Photo: Andy Kalmowitz / Jalopnik
Let's be real here, you're not buying a Challenger for the tech it comes with, but it would be nice to get some stuff for the nearly-67 large you're paying for the thing. Sure, you've got basics like an 8.4-inch infotainment screen and backup sensors, but that's just about it.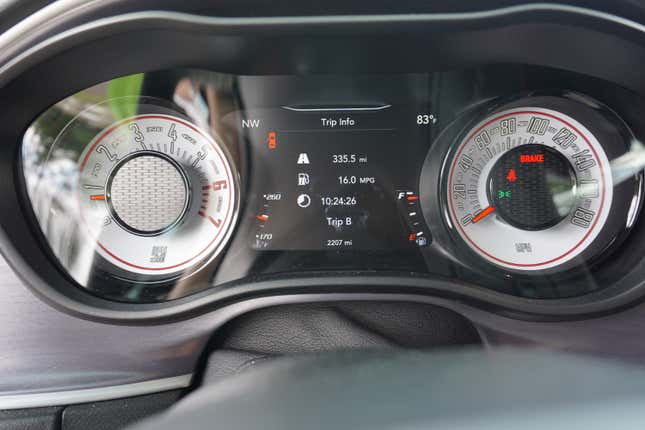 Photo: Andy Kalmowitz / Jalopnik
Honestly, even those things aren't that great. Dodge's infotainment system is capital-O old at this point, and it feels it. The unit is laggy, buggy and lacks the crispness you'd expect from new vehicles. There's also way too much stuff baked into it. Heated and cooled seats, the heated steering wheel and even the mirror dimmer are built into the unit. It's pretty damn annoying. The backup camera is also dogshit. I mean this when I say it's the worst backup camera I've ever used. It's barely useful. That being said, the Performance Pages are pretty neat if you're a hooligan… which you are.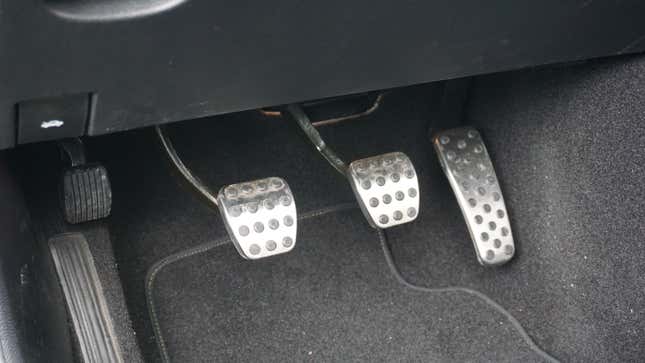 Photo: Andy Kalmowitz / Jalopnik
You're also missing other stuff that comes on other vehicles in this price range (and a lot cheaper) like radar cruise, a surround-view camera system and front parking sensors. Hell, you don't even get fully electric seats. Your backrest is manual like something out of the '70s.
Again, though, I ask the question: who gives a shit? If you're buying a Challenger for the tech, get bent. Flooring it solves all technological shortcomings.
The Looks and What "Swinger" Gets You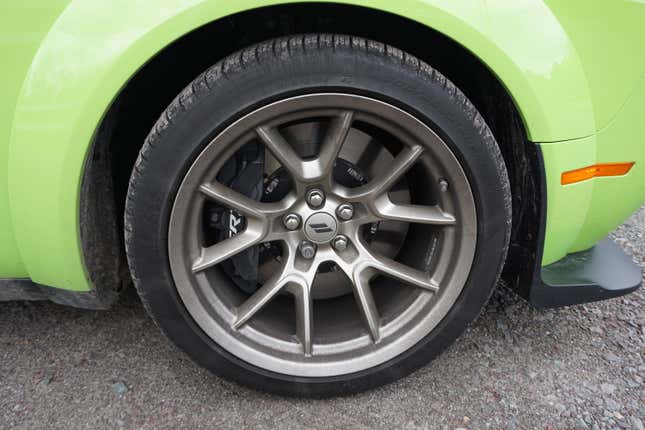 Photo: Andy Kalmowitz / Jalopnik
The Challenger is an incredibly divisive vehicle. One-half of the population looks at it with the sort of "hell yeah brother, mullets rock, these colors don't run *eagle squawk*" reverence that is usually reserved for whatever domestic beer company you're not mad at. Meanwhile, the other half of the population looks at it like a January 6th nightmare coming to life.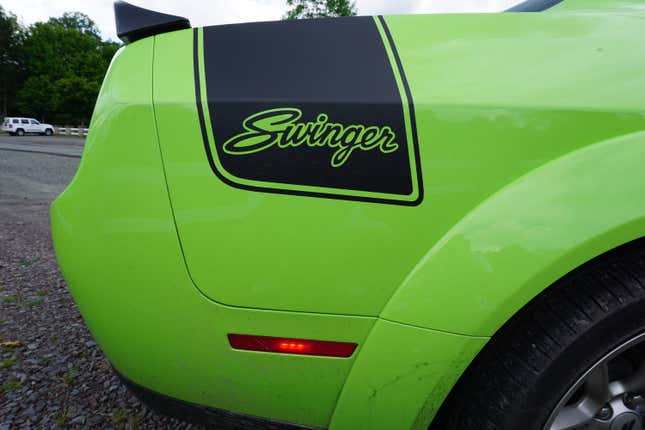 Photo: Andy Kalmowitz / Jalopnik
There is truth to both sides, but one thing is indisputable: this is one mean-looking machine. It has as much road presence as anything else on the road today, and its design has held up and aged wonderfully despite the fact it came out before Captain Sully landed that plane. Front to back, it looks wonderful and exactly how a muscle car should look, but that isn't for everyone.
As for what the Swinger gets you, well it's a lot of appearance stuff. That's not too surprising. The name "Swinger" is supposed to harken back to the Dodge Dart Swinger of the early-70s.
The Dodge Challenger Swinger Edition's Internal Combustion Symphony Masterpiece
On the outside, the package comes with a bunch of "Gold School" (read: gold-tinted) badging all around the exterior of the car. The wheels are also finished in that color. There's also a very large retro "Swinger" fender graphic out back, as well as black six-piston Brembo brakes.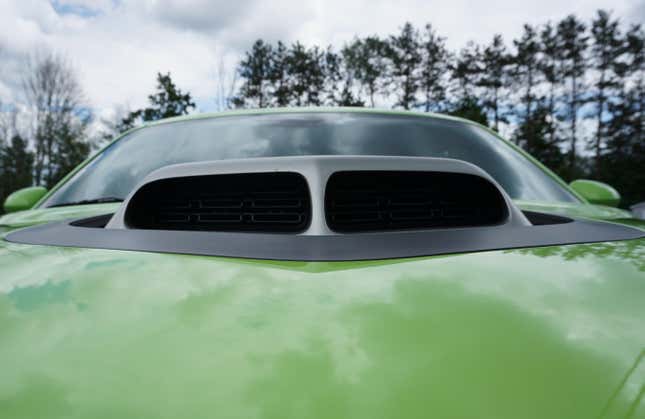 Photo: Andy Kalmowitz / Jalopnik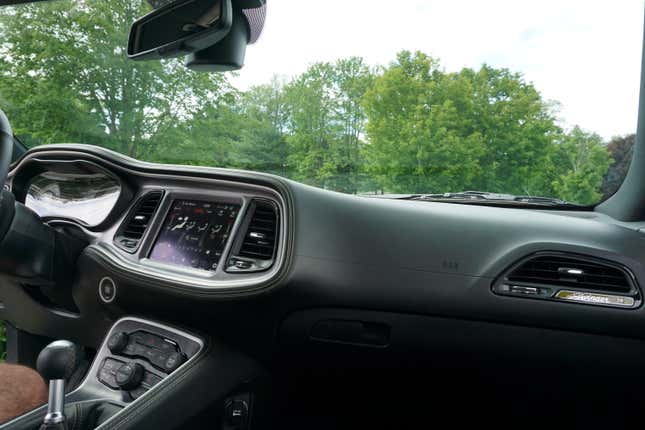 Photo: Andy Kalmowitz / Jalopnik
Inside you get some very neat wood-like aluminum bezels around the shifter and center stack. It may be a bit gimmicky, but I like it! You also get Napa leather and Alcantara seats with green stitching and a green Dodge logo, a green Swinger interior badge and green interior accent stitching on the console and doors. I think it's just fabulous, but be warned: people will make jokes about the name, and they're going to act like they were the first to come up with it.
The whole package will cost you $5,590 on top of the $5,995 Widebody package and $47,265 base price.
A Final Act
Photo: Andy Kalmowitz / Jalopnik
So, what have we learned here? Well, I want one. I don't just want one. I need one. Driving around a Challenger Widebody for a week has been a transformative experience for me. Sure, it's mostly a terrible and outdated vehicle, but that's where its charm lies.
The Challenger Swinger knows exactly what it is: a vehicle meant to be seen in and have fun driving. It won't apologize for being a bit shitty. It knows it is. Is nearly $67,000 a lot of money to pay for ~charm~ and not too much else? Sure, but that doesn't matter to me. This is a car you buy because it makes you happy on a personal level, and that's never going to show up in any sort of stats sheet.
2023 Dodge Challenger R/T Scat Pack Widebody RWD Specs
Engine type
Premium Unleaded V-8
Transmission/Drive
Manual w/OD