Fireworks Truck Crash Produces Fiery Light Show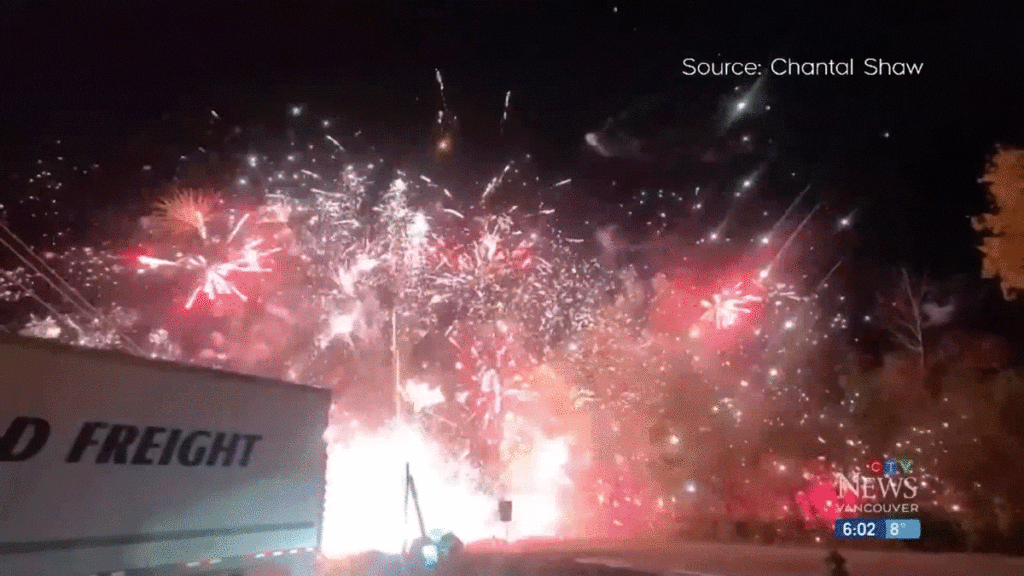 A tractor-trailer on the Trans-Canada Highway collided with a pickup truck towing its own trailer stuffed with fireworks last week. The crash caused the fireworks to start going off. Onlookers saw a spectacular display of colorful explosions as the pickup went out in a blaze of glory.
Nick Offerman On The Freedom Of Getting An Airstream RV
The Royal Canadian Mounted Police stated that the collision happened on Highway 1 at 10:00 p.m. about six miles west of Hope, British Columbia, CBC News reports. The night sky offered the perfect backdrop to this pyrotechnic carnage. The eastbound lanes were cut off by a wall of burning hot light. The only thing that drivers could do was sit there and watch for the next hour until the fireworks stopped.
Crash sets off fireworks on B.C. highway
Neither driver was seriously injured in the crash, but one driver was taken to the hospital to be treated for minor injuries. Chantal Shaw reached the scene after the crash and told CTV how she recorded the explosions, "I was hiding in the car, just holding my phone out the sunroof because I didn't want to get hit by a stray rocket or anything. It was just so loud and so huge."
Once the fireworks cleared, it became a bit easier to see what happened to the vehicles involved. The pickup truck was completely burnt out in a roadside ditch while the tractor-trailer veered off the highway and hit a boulder. The RCMP is investigating the cause of the incident. Fireworks can be transported safely in a vehicle, just please use a spark-proof container and don't end up off the road.