Ford Drops The Base Bronco Trim For 2024
2024 Ford Bronco Outer BanksImage: Ford
Ford has had trouble getting vehicles made, and many people still can't get their hands on popular models like the Mustang Mach-E, Maverick and Bronco. That hasn't stopped Ford from updating their lineup every new model year. Ford Authority reports on the recent updates for the 2024 model year for the Bronco. The big news is the base trim has been dropped.
Ram Rampage Small Truck Pre-Orders Sell Out In 28 Minutes
Before, a base Bronco was the cheapest way to get into one. For $34,595 (before destination charges), you could buy a base-steel wheeled Bronco and be happy. That is, if you could actually find one at the dealer. The trim was popular, so much so that it was one of the models that Ford had trouble building because demand was so high. Buyers won't have a choice now as the base trim is no more for 2024.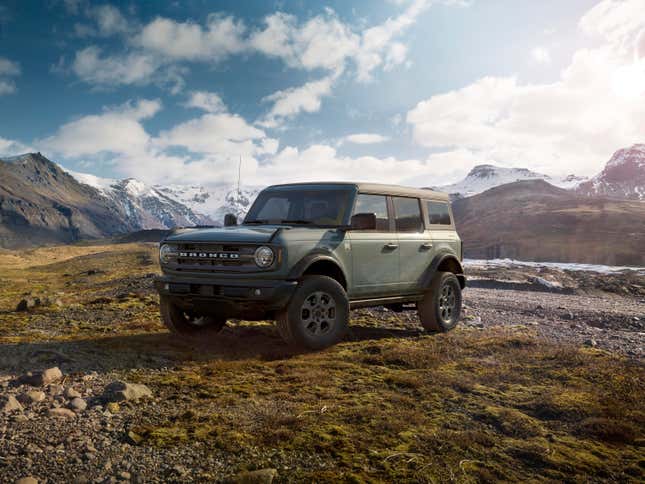 Ford Bronco Big BendImage: Ford
This means that the Bronco Big Bend is now the entry point in the Bronco lineup, which comes with a price increase, as the two-door Bronco Big Bend starts at $39,130 (not including $1,895 for destination; throw on another $740 if you want two extra doors). While this sucks for buyers because they have to dig a bit deeper in their wallet to get a Bronco, the Big Bend trim becoming the entry point means more standard equipment and it allows for faster production, something a Ford spokesperson admitted to The Drive.
Other changes for the Bronco lineup for 2024 include:
The Everglades returns for another yearA 12-inch touchscreen and Sync 4 are standard on all trimsThe Badlands comes with a heavy dusty modular bumper as standardThe Bronco Raptor gets two new exterior colors, a Code Orange package and an option for color matched fenders
Order banks for the 2024 Bronco open up August 16th.