Fortuity is an Affirmative Defense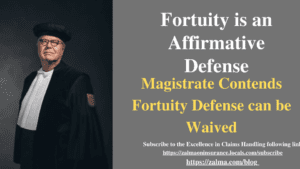 See the full video at https://rumble.com/v1fms4b-fortuity-is-an-affirmative-defense.html and at https://youtu.be/c2MHgQOwlh8
Homeland Insurance Company of New York ("Homeland")  sued Clinical Pathology Laboratories, Inc. ("CPL") and CPL's parent company, Sonic Healthcare USA, Inc. ("Sonic USA") (collectively, "Defendants") for a declaration that it has no duty to reimburse Defendants for defending a number of medical negligence lawsuits filed against them in Ireland in Homeland Insurance Company Of New York v. Clinical Pathology Laboratories, Inc. And Sonic Healthcare USA, CIVIL No. 1-20-CV-783-RP, United States District Court, W.D. Texas, Austin Division (July 19, 2022)
BACKGROUND
CPL is an Austin, Texas-based provider of medical laboratory services. CPL and Sonic USA are subsidiaries of Sonic Healthcare Limited ("Sonic"), a global healthcare company headquartered in Sydney, Australia. Sonic also owns Sonic Healthcare (Ireland) Limited ("Sonic Ireland") and MedLab Pathology ("MedLab"), both of which are Irish providers of medical laboratory services.
Coverage Dispute
On June 30, 2013, Homeland issued a Medical Facilities and Providers Professional Liability, General Liability and Employee Benefit Liability Policy to Sonic USA and CPL for the policy period June 30, 2013 through June 30, 2014. (the "2014 Policy"). The 2014 Policy covered certain claims for wrongful acts and personal injury. The parties renewed the 2014 Policy for the 2015-2016 period. Notably, the 2014 and 2015 Policies covered only claims made in the United States, its territories, or Canada.
In August 2015, the family of a woman ("Ms. O I") who died after developing cervical cancer filed a negligence lawsuit in Ireland against CPL, Sonic USA, and other entities, based on alleged misread pap smear slides. After CPL was served with the lawsuit, it filed an insurance claim with Homeland. On July 7, 2016, Homeland denied the claim because the 2014 Policy did not cover lawsuits filed in Ireland.
Closing the Gap in Coverage
Once Defendants became aware of their gap in coverage, they "sought to secure worldwide coverage from Homeland starting with the 2016-17 policy period so that if similar claims arose in the future, they would be covered." Homeland agreed to provide such coverage. On August 30, 2016, the parties executed a Worldwide Territory Endorsement ("WTE") (Endorsement No. 12, Policy No. MFL-004062-0616) to the 2016 Policy, which extended coverage to claims filed against Defendants "outside the United States of America," effective June 30, 2016.
Homeland alleges that it agreed to the expanded coverage only after requiring Defendants to agree to certain "warranties" in a letter dated July 27, 2016, written by Stephen Shumpert, then CPL's President and Director and Sonic USA's Chief Executive Director and Director who promised there were no pending claims.
Homeland issued the same WTE to Defendants' 2017 Policy, which was effective June 30, 2017 through June 30, 2018.
In August 2018, the family of "Ms. S" filed a negligence lawsuit in Ireland against MedLab based on an alleged misread pap smear slide. Sonic Ireland and CPL were added as defendants in May 2019. CPL settled the case in October 2019. MedLab and Sonic Ireland did not contribute to the settlement. On July 10, 2020, Homeland denied CPL's claim on the grounds that: (1) the 2016 and 2017 Policies' prior knowledge and prior notice exclusions preclude coverage because MedLab had provided notice of the Ms. S claim to MedLab's insurer, Vero Insurance Company, in 2016; and (2) the 2016 Letter was inaccurate and contained misrepresentations.
Litigation
On July 24, 2020, Homeland sued CPL, Sonic USA, Sonic Ireland, Sonic Limited, and MedLab, seeking a declaratory judgment that "there is no coverage for the Ms. S Claim under the Primary Policy or the Excess Policy" based on the prior knowledge and prior notice exclusions, and because the 2016 Letter was inaccurate.
ANALYSIS
Because the purpose of insurance is to protect insureds against unknown, or fortuitous, risks, fortuity is an inherent requirement of all risk insurance policies. The fortuity doctrine relieves insurers from covering certain behaviors that the insured undertook prior to purchasing the policy. Under the doctrine, an insured cannot obtain coverage for something that has already begun and which is known (or should have been known) to have begun. The fortuity doctrine precludes coverage for known losses or losses in progress. A "known loss" is one that the insured knew had occurred before the insured entered into the contract for insurance. A loss in progress is an ongoing progressive loss that the insured is, or should be, aware of  at the time the policy is purchased.
The fortuity doctrine does not require an insured to have specific, actual knowledge of the loss. Instead, the doctrine precludes coverage when the insured is or should be aware of an ongoing progressive or known loss at the time the policy is purchased. In addition, it has been recognized that the known loss doctrine does not apply if the insurer also knew of the circumstances on which it bases the defense. The insurer bears the burden of establishing that the fortuity doctrine bars coverage.
The Fortuity Doctrine Is an Affirmative Defense
In recent years, the fortuity doctrine's known loss and loss-in-progress rules have become potent affirmative defenses in coverage litigation that carriers have turned to with increasing frequency.
The doctrine has its roots in the prevention of fraud; because insurance policies are designed to insure against fortuities, fraud occurs when a policy is misused to insure a certainty. Fraud is an affirmative defense under Texas law. For these reasons, the Court concluded that the fortuity doctrine is an affirmative defense under Texas law.
Homeland Waived the Defense
Based on the specific facts of this case, the Court finds that Homeland's delay in raising the fortuity defense constitutes unfair surprise. Homeland did not request and was not granted leave to assert the fortuity doctrine defense.
Homeland nevertheless waived it because it did not assert the fortuity doctrine until its Response to Defendants' Motion for Summary Judgment.
The fortuity issue is only one of many issues brought to the court and resolved by the recommendations of the Magistrate Judge. The District Judge may accept or reject the recommendations of the Magistrate Judge's lengthy opinion. Since there is a need for fortuity as the essence of insurance and as a recognized unwritten exclusion in every policy it appears the Magistrate Judge erred when he concluded that asserting the defense late is an "unfair surprise" on the defendant insureds since the insureds should have known that fortuity is always an unwritten exclusion and could not, therefore, be surprised, fairly or unfairly. Since almost every answer to a suit contains an affirmative defense of a failure to state a cause of action the fortuity defense was asserted. It is always there and can't be hidden.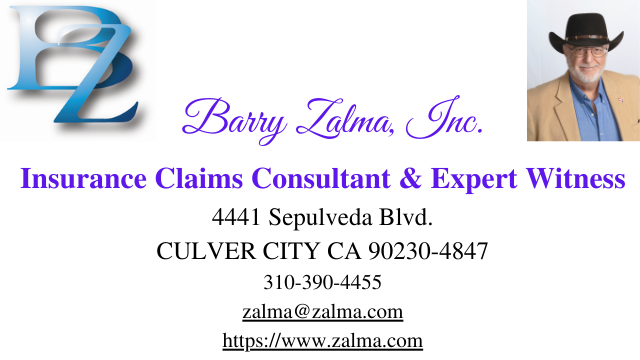 (c) 2022 Barry Zalma & ClaimSchool, Inc.
Barry Zalma, Esq., CFE, now limits his practice to service as an insurance consultant specializing in insurance coverage, insurance claims handling, insurance bad faith and insurance fraud almost equally for insurers and policyholders. He practiced law in California for more than 44 years as an insurance coverage and claims handling lawyer and more than 54 years in the insurance business. He is available at http://www.zalma.com and zalma@zalma.com.
Subscribe and receive videos limited to subscribers of Excellence in Claims Handling at locals.com https://zalmaoninsurance.locals.com/subscribe.
Subscribe to Excellence in Claims Handling at https://barryzalma.substack.com/welcome.
Write to Mr. Zalma at zalma@zalma.com; http://www.zalma.com; http://zalma.com/blog; daily articles are published at https://zalma.substack.com. Go to the podcast Zalma On Insurance at https://anchor.fm/barry-zalma; Follow Mr. Zalma on Twitter at https://twitter.com/bzalma; Go to Barry Zalma videos at Rumble.com at https://rumble.com/c/c-262921; Go to Barry Zalma on YouTube- https://www.youtube.com/channel/UCysiZklEtxZsSF9DfC0Expg; Go to the Insurance Claims Library – https://zalma.com/blog/insurance-claims-library/
Like this:
Like Loading…
Related