From Rookie To Pro Rider: How Royal Enfield Is Creating A New Generation Of Female Motorcycle Racers
Seconds after parking on a hill in the infield at Road America, I'm summoned trackside by the crescendo of a field of deep, guttural engines. At first it sounds like multiple vintage bikes racing around the corner, but this is a MotoAmerica race weekend, and there's nothing remotely vintage on the schedule. I wait for the source to peek out from the tree line and pass my sliver of track, hoping to catch a glimpse of what it was I was hearing before it disappeared into yet another tree line.
They look vintage, but they're not vintage. The retro-looking bubble farings are designed for show and function, as well as to compliment the classic-inspired bikes being put through their paces on the track. If you had no idea at first glance what these bikes are, you'd think it was a classic bike run. But, what you're really seeing is a pro MotoAmerica class of Royal Enfield Continentals racing, piloted by an entire group of female riders. This is Royal Enfield's Build. Train. Race. program.
Full disclosure: This was part of an epic racing weekend set up by our friends at MotoAmerica and Royal Enfield. Mostly, they provided me a hotel for the weekend, but I drove and fed myself, while enjoying the company of true motorcycle enthusiasts along with some wicked fast motorcycle racing.
Royal Enfield's Build. Train. Race.
Now you're thinking, Royal Enfield? Racing? That's just one of the many fun things about the program. It's putting an unexpected Indian (formerly British) bike among a part of the motorcycle world (in regards to road racing) that has been dominated by Japanese and Italian manufacturers. Luckily, these Enfields are not up against any of those long-storied bike makers — they race in a class of their own.
The other unique and unexpected aspect to the program is that every rider racing in the Build. Train. Race. (BTR) program is a selected female rider who has had no or limited experience racing. Rider Kayleigh Buyck started with the BTR class of 2022 with some competition under her belt. But another rider, returning for the 2023 season, Hannah Stockton, had only been riding for maybe a year, with one track day to her name. Mikayla Moore is also new this 2023 season, but she's not new to riding or racing at all — having been riding since she was six, racing since 12, and maybe the proof is in the pudding in that way — the now 19-year-old has swept every race weekend this season.
Each of these women applied to be a part of Royal Enfield's BTR program, and were the lucky handful selected from the hundreds of applicants to be a part of the pro-level series. Sure, most of the 12 women in the paddock are fairly new to the racing game, but this series is serious. They were hand selected to be pros, racing among a weekend of other serious pro-riders as part of the MotoAmerica series.
MotoAmerica Royal Enfield Build. Train. Race. Race 1 Highlights at Road America 2023
What they signed up for would be a challenging and incredible several months of building their own race bikes, learning how to race from World Champion motorcyclist Freddie Spencer, taking all of their skills to the track in the hopes of improving as a rider and a racer, and maybe winning a real championship themselves. All while holding down their full-time jobs.
The Build.
Riders participating in the RE's Flat Track or Road Racing BTR program are provided a Royal Enfield bike to build into a racing machine. Flat Track participants receive an INT650 to ready for dirt tracks, while participants with the road racing program receive a new Continental 650. Prior to the 2023 season, riders would receive their new race bike at home, where for three months they would learn to tear it apart and build it up to race-sanctioned standards before it was picked up to be delivered to the first race.
Buyck, a 2022 BTR rider returning for the 2023 season, was significantly surprised at the arrival of that very new bike for the previous season. Then it was all-in turning the classic-inspired roadster into a bonafide race bike.
"You break it down to frame and motor — the only things we weren't able to touch," Buyck shared. "Other than that, I tore everything apart. I'm cutting pieces off or reducing the weight. And then I'm looking at it — realizing I have to put this back together."
A second-year rider, Stockton, faced a bit more of a challenge when her bike finally arrived. The bike was originally at home in the garage, but she quickly found she didn't have all the tools to build the bike, nor the knowledge to know where to start.
"I was constantly having to load the bike and take it somewhere else to use a tool or whatever. I wound up finding a community garage in Kansas City called Hickory Union Moto. You pay a membership, and you leave your bike there; they have all the tools, and they have people that work there that will guide you through it. And they can teach you anything you want to know."
Stockton added, "We had more of a build kit that we had to do. But from there, it was kind of up to you to figure it out. And I struggled with figuring it out, because I didn't know anything. When they said you're going to change gearing, I thought we were changing gearing in the motor. How are we going to change gearing at the track? That doesn't make sense to me. I didn't know you could change a sprocket. I didn't know what a quick shifter was — there [were] lots of things that I didn't know.
"I thought we were changing gearing in the motor. How are we going to change gearing at the track? That doesn't make sense to me. I didn't know you could change a sprocket. I didn't know what a quick shifter was — there [were] lots of things that I didn't know."
The six new-to-BTR riders for the 2023 season were given a little bit of a different experiment for this year's bike building. Instead of getting bikes at home, they were brought down to Texas to build their bikes together with support from Royal Enfield. There, for three days, riders were provided the proper tools and had experts on hand to help with any particular struggles on the build. They were making modifications to lighten up the bike but also put on sponsored manufacturer parts that were more appropriate for racing. A stock Continental 650 isn't something to bat your eyelashes at, but a few adjustments make it a suitable track beast for a team of new riders.
The end result is not only a race bike, but a field of self-sufficient women who can build an entire bike and know every part that's on it. They'll learn how those parts affect their riding, and they become their own pit crew, able to make quick adjustments on the fly to suit their riding needs.
"They put their bike together, they understand how it works — why these certain things, like the forks, react in a certain way," Wayne Rainey, three-time World Champion and current President of MotoAmerica told me in an interview at Road America that weekend.
"When you're actually putting it together like they are… when they're on the racetrack, they'll have a good feel for why the bike feels a certain way and how much the forks go down when they're on the brakes, and how can they make the bike not go down as fast," Rainey said. "They could think, 'okay, I'll put some preload on it,' and they understand how the preload works because they put the bikes together. And this is really, really cool. This is something that a lot of the racers need to do."
Train.
Beginning with the 2023 season, it's preferred that applying, hopeful racers have at least some form of track experience. From there, riders are put into the care of three-time World Champion Freddie Spencer who serves as the BTR program's rider coach and mentor. Spencer draws on over 50 years of riding experience — including his own path to becoming a world champion rider, 11 years training over 6000 students how to ride in Las Vegas, and his current training of pro riders — to guide these young women from track novice to a legitimate pro racer. These women are receiving the same encouragement and training as the greats Spencer trains in MotoGP.
"They're gonna become better riders — going to trust themselves even more," he said. "What I was looking for was an opportunity to help with these individuals — these ladies reach their potential, building up certain training, and then come in here for our first event and step out of their comfort zone. Understand that when you push yourself, that's when you really see what you can do. And every step of the way, it builds confidence and — it's this feeling inside, it's hard to describe unless you've experienced it."
That first race weekend, Spencer was busy in the Royal Enfield paddock, talking riders through their first qualifying and race (or just through qualifying and the race(s) for returning riders). The debrief, if you will, is approached the same as it would be if Spencer were training other pro racers. These women are treated no differently.
"My ultimate goal is getting every single participant to understanding what the bike work does — understanding how suspension works, their interaction with the bike, the proper, basic technique of how everything happens in front of you," Spencer said. "The other thing is the enjoyment part; you know that they feel that they enjoyed the experience."
A BTR rider in the pits to have the bike assessed for an issue during a practice session at Road America, June 2023.Photo: Lalita Chemello / Jalopnik
Training isn't limited to just how to ride or race the bikes. There's also a lot of help on-hand at races to talk racers through bike setups, repairs, or anything else they might need assistance with. Holly Varey, the field's representing Canadian and first-time BTR contender for 2023, has some wrenching experience working on old racing bikes for vintage racing but appreciates that she can ask any questions about anything and not feel intimidated or embarrassed.
"I really, really love that they check in with us. Even if they know that we've got a handle on things, they sometimes just come by and say 'Everything cool? Can I do anything for you?'" Varey said. "When you're in an event like this, it's a big deal. You just want to make sure you've got everything right. And they're very willing to come out. And they do explain things well to those of us who maybe haven't wrenched on bikes extensively."
Race.
This year, the BTR road racing program participated at four different tracks over the course of MotoAmerica's 2023 season. The first race was a back-to-back race weekend in June at Road America in Wisconsin. While taking on two races in your first race weekend sounds absolutely daunting, it's honestly the best thing for a new racer. Riders could tackle the first race and feel what it was like to really participate in an actual race. From there, they could come in with what they learned, change or repair what they needed to, set up their bikes for the next qualifying session, and then apply all they learned into that second race. It's a quick and (less) dirty way to get the most out of your training sessions and apply everything you have learned, without having to wait a few weeks to try it all over again.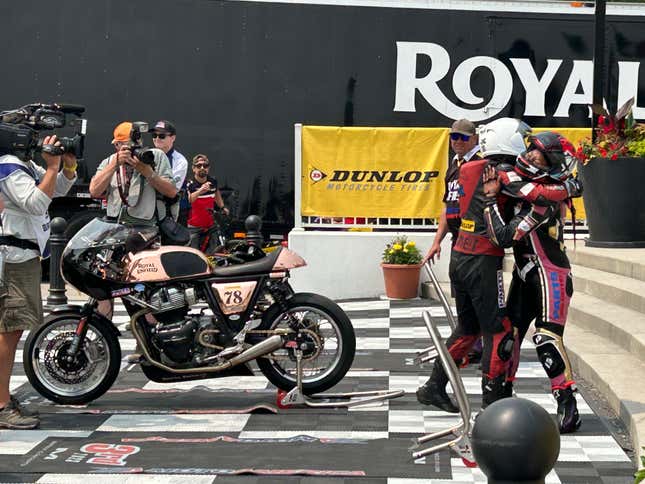 The camaraderie between this particular group of riders is admirable. Moore hugging another rider before the podium ceremony.Photo: Lalita Chemello / Jalopnik
There were certainly a few anxious riders prior to that first race, but the energy in the paddock changed shortly after the flag. They had raced. They had conquered. They were ready for more racing. Since that season opening weekend, BTR has raced at The Ridge Motorsports Park, Washington in late June and Brainerd International Raceway, Minnesota at the end of July. The 2023 season comes to a conclusion this weekend at Pittsburgh International Race Complex, Pennsylvania.
When the checkered flag waves for their final race, six of the women who raced in 2022 and 2023, will "retire" from the program — some of them may continue racing with another class in MotoAmerica or possibly other sanctioned motorcycle racing events. The six "newbies" will have the choice to stay with the program for the 2024 season. Whatever is next for them, they can take their skills as mechanics and professional racers and apply it to their riding, whether it's for sport or pleasure. They'll walk away more empowered, more confident in their riding and mechanical abilities — and they'll have hopefully inspired an entire generation of young girls to become racers.
Catch the final round of the BTR series this coming weekend live on MotoAmericaTV, or YouTube (for some classes). All races are broadcast on MotoAmerica Live+.
And, if you're interested in becoming one of the next riders of the Build. Train. Race. program, keep an eye out for applications.