GMC Hummer EV SUT Turns into a Mobile Home with EarthCruiser Upfit
The GMC Hummer EV SUT's EarthCruiser upfit gives the electric pickup truck a bed-mounted camper.The EarthCruiser transformation includes a carbon-fiber housing with a pop-up roof and a full-size bed that sleeps two.Solar panels on the roof help power the camper's accessories, which include a fridge, a water heater, and a 7.0-inch touchscreen control panel.
On its own, the hulking GMC Hummer EV pickup truck looks like it can take on anything and go anywhere—provided its battery has the juice to make it there and back. Now, after teaser images gave us a taste of its overlanding potential, GMC has fully revealed the new EarthCruiser upfit for the bed-toting Hummer. The transformation makes it an electric-powered mobile home, albeit one that most likely costs well north of $100K altogether.
Electric Adventuring
GMC teamed up with Oregon-based EarthCruiser Overland Vehicles to create the Hummer upfit. Adventurers with deep pockets and a desire to explore the outdoors—as well as a fearlessness to venture into the unknown on battery power alone—will be especially intrigued by the EarthCruiser conversion.
GMC
Mounted in the electric truck's five-foot-long bed, the housing is made of carbon fiber and features a pop-up roof. The structure's dimensions measure 217 inches long overall, part of which overlaps the crew-cab Hummer's roof (that's where the full-size bed goes). With the roof up, the camper is 117 inches tall, and inside there's up to 80 inches of standing room. Dropping the top lowers the total height to 90 inches.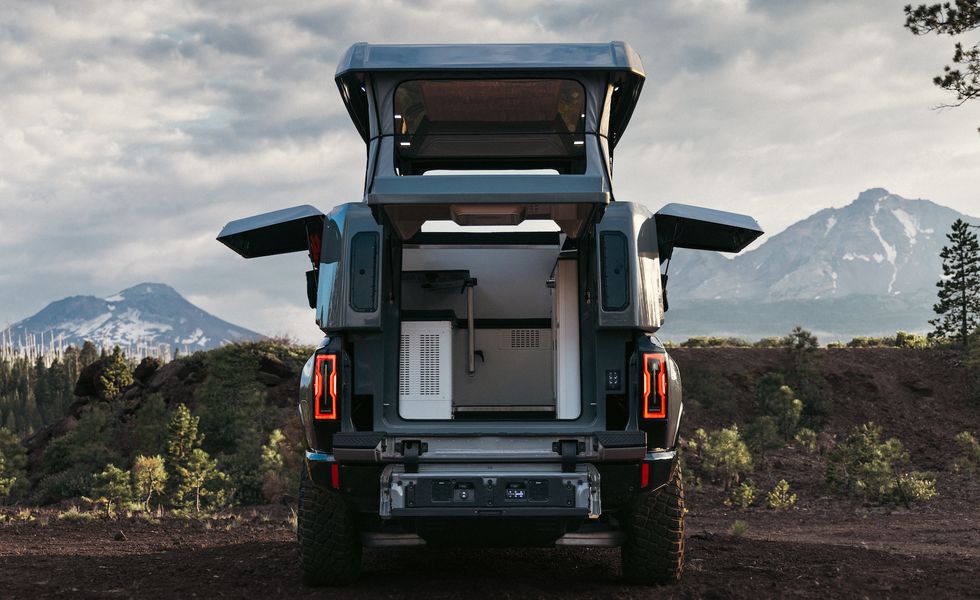 GMC
Off-Road Glamping
The Hummer's EarthCruiser upfit is more than a hardbodied tent. It has many of the same amenities as home. There's a fridge, a sink, a stovetop, a water heater, and a 7.0-inch touchscreen control panel that are all powered by the solar panels on the roof, which feed a 6.0-kWh electrical system that's said to provide power for seven days. In that time, people can keep clean with the EarthCruiser's outdoor shower, and at night there are exterior lights that set the mood.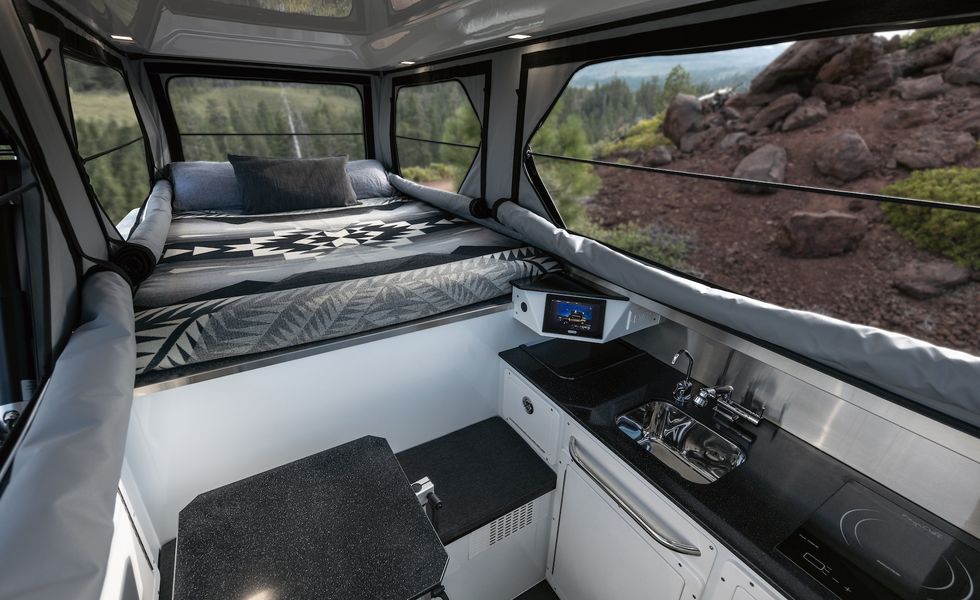 GMC
GMC says the conversion through EarthCruiser is expected to become available sometime in 2024. Those looking to reserve the EarthCruiser upfit for a Hummer EV SUT can do so on the company's website—just don't forget, you have to provide the truck separate. Also, the camper's extra weight and added aerodynamic drag will cut into its driving range, which currently is EPA-estimated at up to 329 miles.
Despite not knowing how much the upfit costs, EarthCruiser is known for hardcore conversions, which conversely cost a lot more than a humble Coleman tent. A 2023 Hummer EV pickup already costs close to six figures, so it's safe to assume their combined price won't be cheap. Still, we think those who can afford one will have one of the coolest looking overlanders on the road or the trail.
This content is imported from poll. You may be able to find the same content in another format, or you may be able to find more information, at their web site.
Senior Editor
Eric Stafford's automobile addiction began before he could walk, and it has fueled his passion to write news, reviews, and more for Car and Driver since 2016. His aspiration growing up was to become a millionaire with a Jay Leno–like car collection. Apparently, getting rich is harder than social-media influencers make it seem, so he avoided financial success entirely to become an automotive journalist and drive new cars for a living. After earning a journalism degree at Central Michigan University and working at a daily newspaper, the years of basically burning money on failed project cars and lemon-flavored jalopies finally paid off when Car and Driver hired him. His garage currently includes a 2010 Acura RDX, a manual '97 Chevy Camaro Z/28, and a '90 Honda CRX Si.