I Had A Panic Attack Before My Motorcycle Road Test — And Passed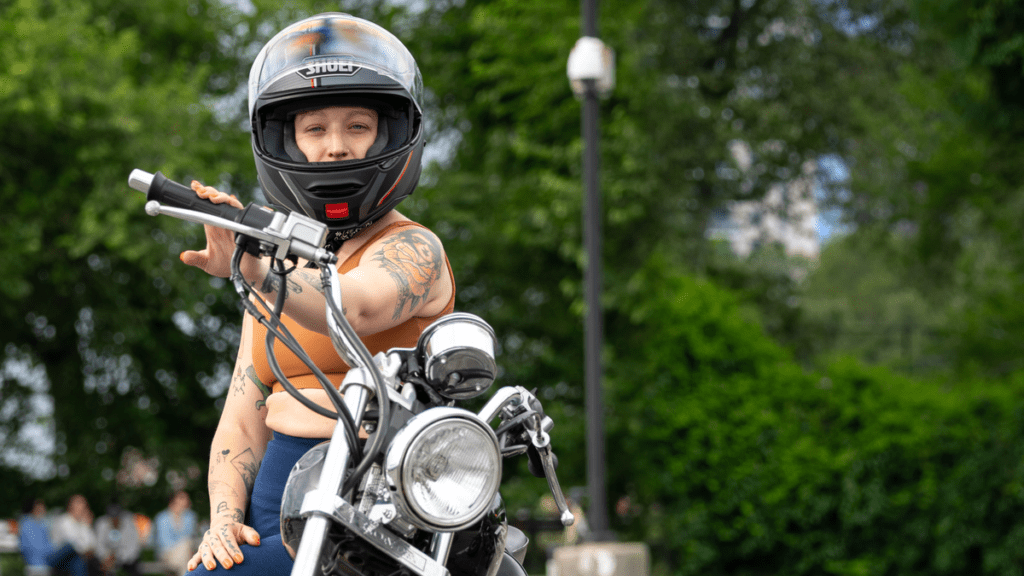 It's our final break before the skills test portion of our Motorcycle Safety Foundation course and I am shitting bricks. Passing the test gets you a waiver that you can bring to the DMV in place of a road test (if you already have your motorcycle permit), so there's a lot on the line. As the rest of my classmates (a group that includes Jalopnik's Steve DaSilva and Andy Kalmowitz) casually chat and hydrate to combat the soupy New York City humidity, I am having a minor panic attack.
The feeling is similar to one I haven't experienced in ages, one I'd get when waiting in line for big roller coasters as a young girl: increased heart rate, a knot in my stomach that wiggles like entangled eels, sweaty backs of the knees, and a perpetual welling of the eyes. A tear spills over and down my cheek as I shove tasteless popcorn in my mouth. I put the sun visor down on my Shoei helmet to hide it.
Photo: Steve DaSilva / Jalopnik
"I'm freaking out." I say loudly, because I've grown enough as a person to be able to admit I'm having a panic attack rather than quietly hyperventilating. Steve, Andy, and others reassure me. "You got this." "You're doing great." "When doing the U-Turn, either put a foot down to help yourself or go outside of the lines, don't do both." "Use your foot brake." "Keep your eyes up."
As I walk up to my bike, a Yamaha V-Star 250 with slightly crooked handlebars (someone else dropped it, not me), I start punching my thigh in an effort to hype myself up. I turn to Andy. "It's like Wolf of Wall Street," I say, my voice cracking. He pounds his chest in solidarity.
The first skills test is beginning. I flip up my bike stand, turn the ignition key, flip the switch, squeeze the clutch, and start the engine. My heart swells with the sound of the Yamaha roaring to life.
That was my first day on a motorcycle.
Full Disclosure: The staff at Jalopnik, along with the Motorcycle Safety Foundation, invited me to take the basic rider course to earn my motorcycle endorsement for my New York license. The course was free for journalists. We were also given new Shoei helmets and a pair of gloves, the first of which I could probably not afford anytime soon (it's modular and very cool).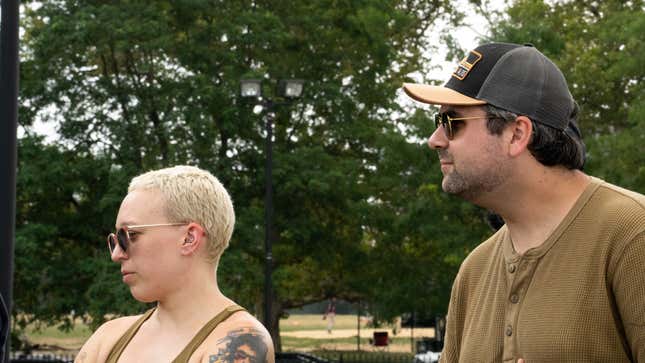 Photo: Steve DaSilva / Jalopnik
In the last few years I've felt a burning desire to become, as Rosalía so expertly puts it, a "motomami." I've always been into cars. As a kid, my dad would take me to local car shows and make me guess the year, make, and model of the beasts on display. We'd spend hours on the couch watching the Barrett Jackson Auto Auction in virtual silence, speaking only to "ooh" and "ahh" at cars we really liked. And my old car, a 2008 Mitsubishi Lancer GTS, was my entire personality while she was still mine. I plasti-dipped her rims, I installed a K&N air filter, I tinted my windows incredibly (and illegally) dark — I tinkered with what little mechanical knowledge I had. But after my ex totaled my Lancer a few years ago, it became clear that a car isn't useful in the city — though a motorcycle is.
And so a seed was planted: pictures of Rooney Mara as Lisbeth Salander in David Fincher's The Girl with the Dragon Tattoo were downloaded, Google searches were furtively conducted during a late night bout of insomnia while my partner slept next to me, and a new obsession was born.
The Girl with the Dragon Tattoo (2011) All Bike Scenes
The process of getting a motorcycle license in New York City, however, threatened to rob my seed of any growth potential. First, you need a permit (which you can get by taking an online test before picking it up in person at the DMV), but then you need regular access to both a motorcycle to practice on (so you'd have to buy one), and another person who already has a motorcycle license and their own bike who can ride alongside you, because you can't ride alone.
That's why something like the Motorcycle Safety Foundation's beginners course is so ideal — it not only teaches you the basics of motorcycle riding, but it provides you with a bike to learn on, a parking lot to zip around in, and a chance to bypass the NYS road test.
Thanks to the MSF, I spent twelve hours spread out across two days getting the feel for a motorcycle in a parking lot way up in the Bronx; learning how to utilize the clutch's friction zone to move forward without the throttle, the importance of keeping your head up when turning, and the sensitivity of both the front and rear brakes. I felt comfortable riding in second gear and turning at speed, and left after the first day sore (wrists, hips) and exhausted (brain), but confident (ego).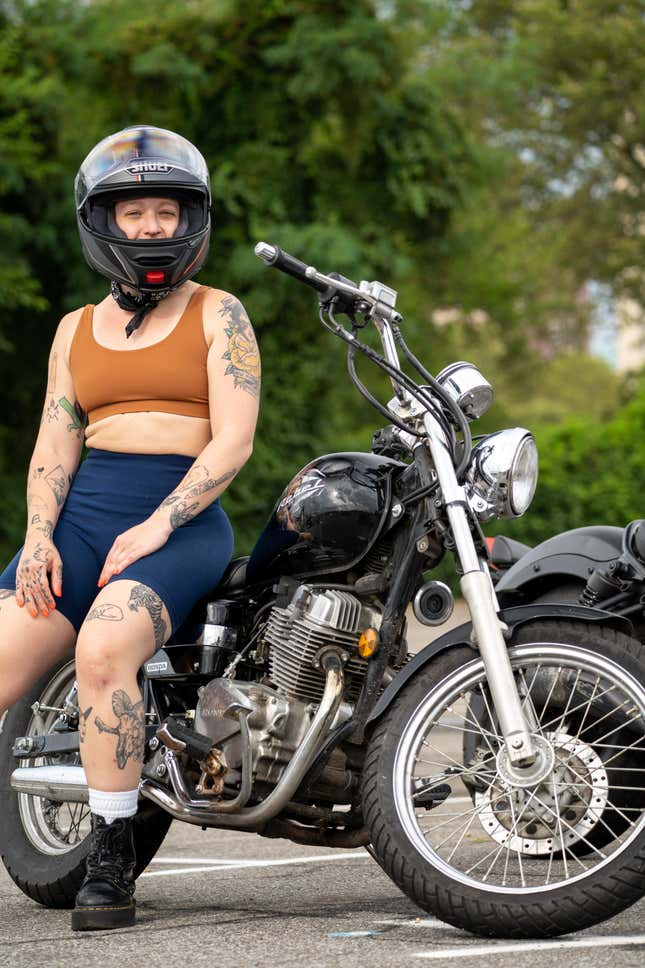 Photo: Steve DaSilva / Jalopnik
Then came day two, and the dreaded MSF box U-turn. My Yamaha's wonky handlebars and slightly tough-to-find friction zone made it even more difficult to pull off, and I kept getting gently yelled at for looking down while trying to do it. I put my foot down everytime. My confidence was shattered. The threat of failure loomed. It started raining just before we lined up for the test, a meteorological mirror of my inner turmoil.
But as I took the test, my nerves dissipated. The U-turn bit was early enough that I was able to mostly forget that I put my foot down yet again and focus on the skills I'd yet to demonstrate. Despite the slick surface, I pulled off an impressively smooth swerve at speed. I stopped at a decent distance from a decent speed after a set of marked cones. I fucked up my shift on the final portion, but chalked it up to my far-too-thickly-soled Doc Martens that I just had to buy to give me some extra height.
When we had all finished the test, the instructors huddled together, poring over their score sheets that were becoming more and more translucent by the minute thanks to the rain. My fellow students and I walked over to where our belongings sat gathering water, gear in hand. "I dunno if I passed, dudes," I said. Still unsure, but less panicky than earlier.
After a few minutes, we found out who passed and who failed — I was one of the former. I tried to remain cool, but could feel a surge of pride wash over me, sweeping away my insecurities like the tide coming in. I texted my partner, my parents, random teammates from my soccer team. I tweeted a picture I had taken mid-panic attack, now capable of laughing at it.
It's only been a few days, but I've already gone to pick up my interim license from the DMV, and I've already spoken to a Royal Enfield dealer about getting on one of their new Hunters. As my instructor told me when he handed me my road test waiver: I need more bike time. And I'm determined to get it.