Houseboats Get A New, Modern Upgrade As 'HouseYachts'
Houseboats were very popular. From people that actually used them as their full-time residence to families on vacation, it was sort of cool to actually reside on the water. But as the years went on they started to look and feel… old. One company is trying to bring houseboats into the 21st Century by reinventing them entirely. Robb Report highlights how one boating company has come up with 'houseyachts.'
My Mini Is Getting A Bit Cramped For Me And My Dogs | What Car Should You Buy?
Reina Boats has come up with a complete line of "houseyachts". In a statement, company founders Hayri Dayi and Emin Günal said that they came up with the idea of "houseyachts" during the pandemic after seeing a need for something that was spacious and stylish enough to live in that wasn't still stuck in the past like houseboats of yore.
Many boats do not have the living space to provide all the accommodations and comforts people want. Power catamarans offer more volume but also have become quite expensive. That left houseboats as the only option," Günal said.
In researching the U.S. houseboat market, however, Günal and Dayi realized that the vessel designs largely were outdated. "The existing houseboats were stuck in the design of the 1980s, and almost 90 percent of the houseboats on the water were commercially rented vessels. They were boats that yacht and catamaran owners would never consider buying," Günal said.
So the duo set about designing vessels that would be modern and appealing and surprisingly, something that wouldn't "cost a mint."
Reina Mini T4Image: Reina
Reina's lineup consists of five models. At the bottom for those that dont need much space, you can go for something like the Reina Mini T4, described as a "compact floating luxury home." You get things like hardwood floors, deck area, private bathroom, living room and full kitchen in 24 feet of vessel.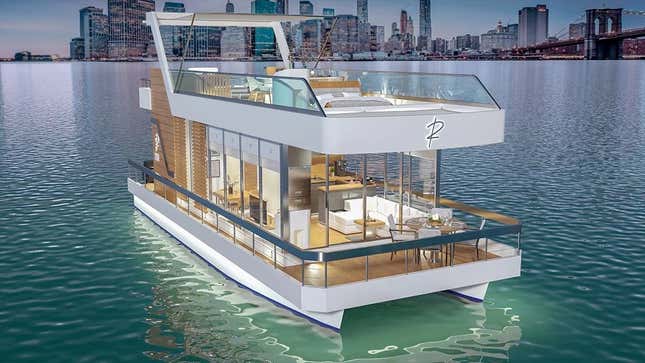 Reina Live L44DRImage: Reina Boats
If you want to go all out you can go for the Reina Live L44DR. The largest "houseyacht" model Reina offers, its a full two story floating condo.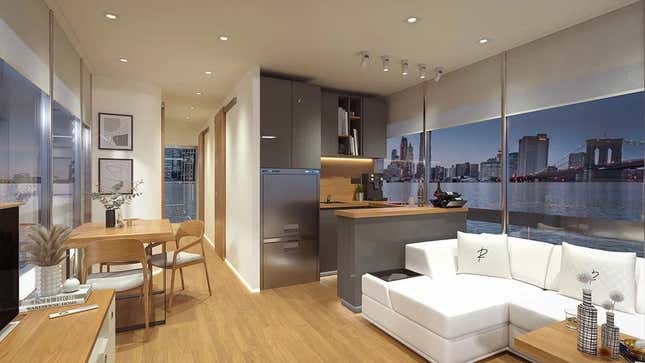 Living area of the Reina Live L44 DRImage: Reina Boats
Technically there are two bedrooms, but those are made up of one huge master bedroom that splits into two and has enough room for five people; there's a bathroom and shower and a c-shaped wraparound kitchen. Each model is equipped with the latest in smart home tech and high end appliances.
When its time to move these things, Reina says the ships meet U.S. Coast Guard standards, so they can float in any body of water, from lakes to the open ocean. They're also described as green and fuel efficient, with engines that are rated as ultra low emissions from CARB (California Air Resources Board). They can also be equipped with batteries instead of on board generators if owners want to go greener.
Reina Boats plans to build its line of "houseyachts" in Turkey with the first model set to make its debut at Fort Lauderdale's International Boat Show in October. Reina also isn't talking pricing yet. Don't count on them being cheap, but don't count on them costing as much as a regular yacht either.