Get Ready for a Fall Market Pullback, Baird Strategist Warns Advisors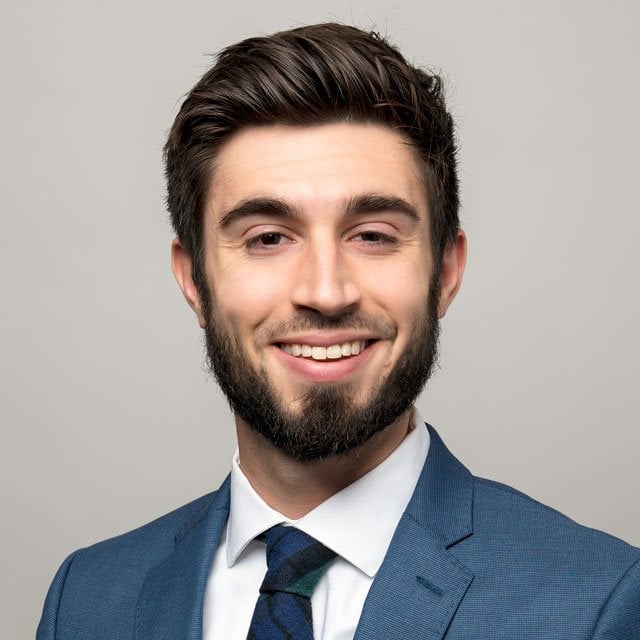 "There's a lack of boogeymen [threatening] the market. There isn't an obvious thing out there," argues Ross Mayfield, investment strategy analyst at Baird, in an interview with ThinkAdvisor.
Nonetheless, the chartered financial analyst unequivocally expects a "correction … or pullback" this fall.
"We've told folks to prepare for volatility and some pullback" but that "it's not a reason to get …spooked or scared [and] jump out of a financial plan … and affect how they're thinking about things long term," he says.
A resource for Baird's nearly 1,500 financial advisors nationwide, Mayfield, 31, creates video content and presents his research papers and chartbooks both in print and in webinars to support the firm's financial advisors as they serve clients.
Further, Mayfield speaks directly with clients to answer their burning investing and portfolio questions triggered by major developments in the news.
Perhaps the most important part of his job is to temper their mindset of the fear of missing out — or FOMO, as it is known — on so-called hot investments and themes, from which they'd hope to benefit.
"We write and talk a lot about the themes of the day but always bring it back to the plan clients have created with their financial advisors — the long-term thinking needed to be successful," Mayfield says in the interview.
In striving to be an "optimistic presence" for clients and advisors, he stresses that his way of "combating the negativity that might scare somebody out of the market [is] by focusing on long-term rational optimism."
He is indeed at the ready to explain major breaking news and investing implications, such as when the war in Ukraine erupted last February.
Geopolitics is always a big concern for Baird clients, he says; and Mayfield often answers questions in phone conference meetings with them and their advisors.
For example, issues like the debt ceiling and the regional banking crisis earlier this year brought questions from clients who wanted to know whether they needed to make changes in their portfolios.
With no "boogeymen" menacing the market right now, as Mayfield says, clients are mulling over artificial intelligence, a potential government shutdown later this year and the 2024 presidential election.
The firm's clients range across the demographic spectrum but are mostly older high-net-worth individuals, according to Mayfield.
The analyst has been with Baird since 2019, when Hilliard Lyons, the firm for which he previously worked in the same capacity, was acquired by Baird.
Right out of college, Mayfield joined Fidelity as a call-center rep. "I wasn't exactly sure what I wanted to do in the investment space. So I got my CFA," he recalls.
He clearly wasn't financial-advisor minded. The Fidelity job was "just to get a foot in the door of a firm with a good reputation," he says.
ThinkAdvisor interviewed Mayfield, who was speaking by phone from his base in Louisville, Kentucky.
"Politics is the No. 1 topic" clients ask about. "But usually, and pretty stringently, we tell people not to let their politics get involved with their investing.
"That will be a big message we'll be hitting next year as well," he adds.
Here are highlights of our interview:
THINKADVISOR: What's critical for financial advisors to know as we head into fall 2023?
ROSS MAYFIELD: After such a strong market rally as we've had, it's important to know that a correction — or pause or pullback — is probably to be expected.
But it's not a reason to get spooked or scared and jump out of a financial plan.
Trying to time the market is a fraught practice.
What are you telling Baird advisors and their clients in connection with your expectation?
We've been trying to prepare folks — especially talking to them in the middle of the year when the market was up 20-plus percent — that we're going to see a pullback.
The fall is historically a challenging time for the market anyway. So we've told folks to prepare for volatility and for some pullback but not to let it affect how they're thinking about things long term.
Why is market timing a "fraught practice"?
Another way of saying it is [that market timing] is "basically impossible" because you have to get it right twice: sell at the right time and also know when to buy back.
It's hard for most people who get the first part right to shift their mindset enough to get the second part right.
So we advise staying invested and being mentally and behaviorally prepared for volatility along the way, as opposed to being more short-term tactical because [market timing] is just so hard to get right.
Is there a particular type of question that clients ask you frequently?
A handful of big topics always cycle in and out of the news that they ask about. It could be concern about, say, COVID-19, the upcoming presidential election or the national debt.
A lot of our biggest clients' questions stem from a [major] concerning issue that's in the news. Earlier this year, it was the debt ceiling issue looming large over pretty much everything.
Our clients [wanted to know]: "How is this going to affect my long-term plan? Do I need to make changes based on that?"
So that and the regional banking crisis were the two big topics.
What development or theme are clients zeroing in on or worried about right now?
The market is up and has had a really great year. There's no obvious headwind, so there's definitely less concern right now.