How to prepare your caravan for winter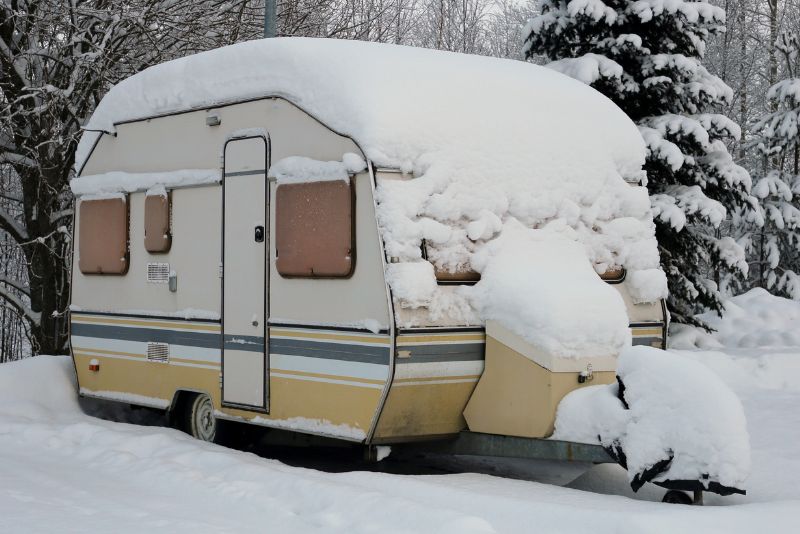 We hope you managed to get some good use out of your caravan this year, and returned from your breaks away with some lasting memories! With the weather changing, it's a good idea to run through our handy checklist to ensure your caravan stays tip top this winter, whether storing at home or in a storage facility.   
Ten ways to winterproof your touring caravan
1. Drain the water system
Draining the water system needs to be at the top of the list for caravan owners – even the smallest droplet of water left in the system could lead to freezing in the pipework. As water expands when frozen, it doesn't take a lot for it to split the pipes.
Stagnant water could also cause problems when you want to use your caravan next, so it is best to avoid this risk now entirely.
You can easily DIY this by switching off your water supply, and run the taps, flush the toilet and turn on the shower until it's all run dry (leave your taps on once dry to maintain airflow). There are also a number of 'drain down' kits available on the market which can push out any residual water.
2. Disconnect the gas
You can leave the gas bottles in the gas locker of your caravan as long as you disconnect the regulators. If the caravan is going into storage for the winter, you'll need to check the facility's gas storage policy as some don't allow you to leave gas cylinders on their site.
3. Address the electrics
Make sure you check your leisure battery throughout winter if possible. The reason is that, if they are left unattended, they will discharge which will shorten their life.
If you are storing your caravan at home, plug it into the mains to charge the normal way as you would on a pitch, which could also help you run not only a security system or tracker, but also the occasional heater or dehumidifier to keep the damp and mildew out. Another option is to remove it and keep it in your home, or even install a solar panel to supply a constant battery charge.
4. Clean your caravan thoroughly
Give everything a thorough clean, inside and out. Start on the roof and work your way down, using an old paintbrush to reach those tricky areas – you can even apply an exterior protector and a wax which will help protect the exterior during winter.  
Inside, pay particular attention to the refrigerator. Remember to leave the refrigerator's door open once you've cleaned it as this will help prevent mould from forming.
5. Clean and drain the toilet
Worth a separate mention to the 'clean your caravan thoroughly' as paying extra attention to your caravan's toilet now could save you a lot of hassle when you decide to use it again. Once you have drained your water system, empty the toilet cassette, dispose of the waste and clean it well before reinserting into position.
6. Use dehumidifiers
Dampness is an inevitable part of owning a caravan in winter – so many caravanners invest in a dehumidifier which can be plugged in if you are storing your caravan at home. For those placing them into storage, or preferring not to connect it to the mains, there are plenty of cheap, granular or crystal dehumidifiers on the market, which will last up to around two months in normal winter environments.
Our team also suggest leaving salt in bowls in your caravan along with dehumidifiers – and fly traps as flies can accumulate in your caravan during the winter.
7. Check and rotate your tyres
Before and after storing your caravan for winter, you'll always need to check your tyres. This is because, when your caravan has stood in one place for a long time, all the pressure is on the same place on the tyres. This can lead to cracking or perishing.
One way to help prevent this is to move the caravan backwards or forwards every now and then, or jack your caravan and rotate each wheel.
8. Secure your caravan
You are likely to already have a hitch lock and wheel clamp – most insurance companies require this as a policy condition. But it's worth considering adding extra security, including locking wheel nuts.
We would also advise installing a good quality alarm and a tracker, which can help you get your caravan back if it's stolen.
9. Cover your caravan
If you are siting your caravan at home for the winter, then consider a good quality cover that keeps the damp out but remains breathable (for this reason tarpaulin isn't recommended).
Some farms offer barn storage, while commercial storage facilities offer internal or external caravan storage, with CCTV and other on-site facilities, but this is of course a more costly option. It's worth noting that you'll need to check whether the storage facility you'd like to use is approved by your insurance cover.
10. Check your insurance
Of course, another way to protect your touring caravan is through the right type of insurance cover. You may need to check your cover at this time, particularly if you put your caravan into storage for the winter. Consider any upgrades or new contents added to it this year, and whether you need to protect any new awnings, for example.
We know that caravans are as individual as their owners, so it's important to talk to a broker to find out exactly what is right for you. Whether you are new to caravanning, or more experienced, our caravan insurance specialists are here to answer any questions you may have, so please do give the friendly team a call directly on 01527 881010.